FAQs about Covid-19 – Answered by Doctors | May 2020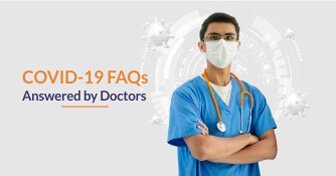 1. Is coronavirus a non-living DNA protein molecule or a living RNA organism?
Viruses can be classified based on the genome present in DNA and RNA virus groups, which are further sub classified. Corona Viruses are a RNA containing structure bound by a lipid membrane, bearing surface bulbous spikes (resembling a crown, hence named 'Corona" which means crown in latin). For a long time, viruses have been in the "grey zone", which is between living and nonliving organisms. Viruses need a host to replicate and multiply which makes them living organisms. In the absence of a host, they are inert (non-replicating/non-living) RNA molecules and proteins.
2. Is there any hope that Ivermectin can play a role to cure COVID-19?
Ivermectin is an approved anti parasitic agent, but it has been known to exhibit a broad spectrum of antiviral action. Initial studies and research have revealed a promising prospect of bringing about an effective ~5000-fold reduction in Viral RNA within 48 hours post addition of Ivermectin in the treatment plan. This is being classified as an essential medicinal drug by the WHO and is widely available now.
3. If I am exercising and I feel shortness of breath, can it be that I have coronavirus?
Hyperventilation can be a reason when one experiences the lack of required amount of air and feeling breathless. This is because a person is already breathing at the maximum rate and volume possible, leaving no further scope for increase. It may seem rather ironic that breathing too much can make one feel breathless. Hence, breathlessness after physical exertion/exercises is not an absolute sign of being symptomatic for COVID-19
4. Which vitamins help fight coronavirus?
Vitamin C & D, Zinc, DHA and Omega 3 fatty acids are crucial for optimal immune response of an individual. It is important to consume the right kind of nutrition in the right quantity. Vitamin C is essential for the growth and function of immune cells and antibody production. Vitamin D receptors are present in immune cells, while also signifying the role in immune response. It is recommended to consume larger doses of these supplements to tide over infections or boost an individual's response. Good nutrition and a wholesome diet is needed for an overall good immune system, which helps us fight all ailments, not just specific to COVID-19.
5. Can Hydroxychloroquine be given to a 17 yr old boy who is Covid positive?
Hydroxychloroquine is recommended by the ICMR/Ministry of health and family welfare as a chemoprophylaxis for health care workers who are treating either suspected or confirmed cases of the COVID-19 and to the household contacts of COVID-19 patients. There are no peer reviewed publications at present for the exposure prophylaxis.  The lack of evidence as such hardly justifies the state endorsed wide spread use of Hydroxychloroquine.
6. Is Methylxanthine, Theobromine and Theophylline helpful for coronavirus disease?
These compounds are normally found in tea (black tea to be precise) in very low quantities. These compounds are found to provide symptomatic relief to complaints such as throat pain and congestion like many other warm liquids. These can also bring about a mild reduction in blood pressure and also suppress cough, but preventing or curing COVID-19 is not something a cup of tea can do.
7. Is Favilavir showing sensitivity for coronavirus?
As per the Government of India's technical committee, there is no concrete evidence to suggest the efficacy of antiviral drugs such as Remedesivir or Favipinavir in the management of COVID-19. In countries that are using these two drugs for the management of their COVID-19 subjects, there is no reduction in mortality nor a reduction in hospitalization time.
8. Can HCQ be used against COVID-19?
Although initial reports from China showed evidence that HydroxyChloroquine may benefit people with COVID-19, but without a larger randomized clinical trial, we cannot conclude that the drug can improve clinical outcomes. Emerging reports from USA, Italy, France points that there is no significant clinical improvement for severe patients affected with COVID-19.
9. Can Amlodipine and Remdesivir help in treating COVID-19?
Remdesivir is an antiviral drug which was used with some success in treating previous respiratory viral diseases such as MERS-COV and SARS. So it is currently being investigated against COVID-19 for its effects on the same. Even though the initial reports are satisfactory, further studies are needed to confirm the effects of these drugs. As far as Amlodipine is concerned, it is a calcium channel blocker used for treating hypertension. It has no proven effect, specifically on Coronavirus, but a pre published small case series from China has concluded that the drug might improve disease outcomes in COVID-19 patients with hypertension.
10. How many adenines and cytosines are the main DNA of COVID-19?
COVID-19 is an RNA virus and not a DNA virus. RNA viruses have adenine, guanine, cytosine and uracil, while DNA viruses have adenine, guanine, cytosine and thymine.
11. Can baking soda remove COVID-19 virus  from vegetables?
Baking soda, also known as sodium bicarbonate, is alkaline in nature. Few non standardised studies have demonstrated mild antiviral and antibacterial nature in baking soda and vinegar, with a mild fungistatic activity. But these benefits are not clinically proven, but there is no harm in washing vegetables and fresh produce after soaking them in water which has baking soda. Baking soda has been found to remove pesticide residue from vegetables and fruits and such non-toxic and environment friendly substances can be used for household items and food cleaning purposes.
12. Are morning walks allowed during the COVID-19 pandemic?
Morning walks are allowed during the COVID-19 pandemic situation, but it is recommended to maintain social distancing of at least 6 feet while doing so. Wearing a mask or not during exercises and walks is a debatable topic, but with no proven evidence that suggests that donning face masks prevent the spread of the infection. Valved masks and masks with filters should be avoided when exercising, especially if they have been used before, since the blocked filters may not permit increased oxygen/air flow through them. This flow of oxygen/air is much needed when an individual is exercising. Un-met and increased oxygen requirements may lead to hypoxia.  In case a person does not wear a mask, it is highly recommended to keep a distance from people and cough or sneeze into the elbow. Maintain personal hygiene and don't forget to wash hands frequently. 
13. My child's MMR2 vaccine was due on 02/04/2020, but it got delayed. For how long can such vaccinations be delayed?
Vaccinations like MMR2 must not be postponed. Such vaccines should be given as soon as possible despite the lockdown and pandemic situation. Usually there are other vaccines also which are bound to be given alongwith MMR2. In such situations, one must consult their Paediatrician and give the vaccine without delay. Online consultations with paediatricians can help resolve all queries that parents may have with regards to inoculation.
 14.

Can mango or peepal leaves and oil mixture on the body prevent coronavirus disease?

Coronairus enters the body via the respiratory tract or through the mucous membranes of the nose, mouth or eyes. There is no evidence that it can penetrate intact skin. Any kind of oil film or substance mixture does not stay for long and would offer no significant protection from the virus.
15. Can eating one teaspoonful of chyawanprash help in fighting COVID-19?
No, eating chyawanprash does not offer specific protection against COVID-19. Chyawanprash is supposed to contain ingredients which help in building immunity. If exposed to the virus, chyawanprash will not be able to prevent an individual from getting infected.
16. Do onions with salt help in preventing COVID-19 disease?
Onions with or without salt cannot prevent contracting the SARS-CoV-2 virus. Though some home remedies such as warm salt water gargling have been advised for people having sore throat. There is no proven scientific evidence for or against this claim also, but there is no harm in doing warm salt water gargling as it may offer symptomatic relief from sore throat.
17. Does a mixture of neem leaves and keezhanelli leaves in a paste form, actually cure COVID-19 disease?
No mixture or paste of any natural substances has been proven scientifically to act against COVID-19  disease. Neem leaves may have a few antibacterial properties, but it must be remembered that SARS-CoV-2 is a virus and not bacteria.
18. Will neem twigs, reetha seeds and black pepper be useful to prevent COVID-19 disease?
No, natural substances have not  been proven scientifically to act against SARS-CoV-2 virus. Neem leaves and reetha may have a few antibacterial properties, but it must be remembered that COVID-19 is caused by a virus. Also, the antibacterial properties (against few bacteria) have been shown to be effective in lab conditions, only if the organism is in direct contact for some time and that too in good concentration of neem or reetha seed solutions. Their utility in the body (in vivo conditions) is not proven and so it is advised not to consume them sporadically.
19. Can copper kill the coronavirus disease?
Copper is a micronutrient essential for the body. It can be poisonous in large quantities. Copper has shown some antibacterial properties i.e. organisms survive for a shorter time on copper surfaces. Few viruses have also been shown to survive for less time on copper alloy surfaces, compared to other metals and plastic. Copper cannot be used as a medicine to be consumed to kill microorganisms. It is a costly metal and all surfaces and equipment cannot be made of copper. Where present, copper surfaces/door knobs etc are very difficult to maintain, since a green coating of copper oxide develops over it. Handwashing/sanitising is still the best and cheapest way to keep your hands safe after touching potentially contaminated surfaces to avoid infecting yourself with the virus.
20. Is Savlon/Dettol effective to fight COVID-19?
Savlon, Dettol and other sanitisers, disinfectants and hand wash lotion contain alcohol and related aldehyde compounds which are proven to act against microorganisms by destroying their cell membranes and cell constituents in certain concentrations. Such substances kill viruses effectively if hands are washed and sanitised with them in the standardised method.
21. Can consuming asafoetida prevent the coronavirus?
No, Asafoetida in any form cannot prevent or treat a virus contagion. There is no scientific evidence or proof regarding any antiviral property of asafoetida.
22. Can we take khajoor amidst the pandemic?
You can eat all the healthy food that you want during this pandemic. No variety of food can prevent or treat coronavirus infections, as of now. Eat healthy, exercise adequately, maintain social distancing, practice hand, respiratory and personal hygiene while having a handwashing regime to stay safe at this hour of crisis.
23. What will happen if we mix raw pumpkin flowers with female gourd flowers? Will it be beneficial to fight the virus?
You can eat healthy food in any form that you want during this pandemic, but it is important to understand that no variety of food or a food group can prevent or treat the COVID-19 disease as of now. Eat healthy, exercise adequately, maintain social distancing, practice personal, hand and respiratory hygiene and frequently wash hands to be safe during this pandemic.
24. Can onions cure the coronavirus disease?
Healthy food can be incorporated in our daily diet and is highly recommended during the pandemic. But it must be noted that no specific variety or food group can prevent or treat COVID-19 as of now.
25. Can a covid positive patient cure the disease by drinking neem juice?
Neem juice and other neem derivatives have been shown to have good medicinal effects on the body. However no benefit of Neem has been demonstrated specifically for patients suffering from COVID-19
26. Can mustard oil prevent contracting COVID-19?
There is no scientific evidence that proves that mustard oil has benefits that prevent COVID-19 disease. No natural substances or food can prevent or treat the virus yet. It is recommended to eat healthy, exercise adequately, maintain social distancing, practice respiratory and hand hygiene by frequent handwashing to be safe during the pandemic.
27. Can the coronavirus be cured by consuming paracetamol and bleach?
Paracetamol is an Anti-Pyretic which means that it can only bring down a fever. This medicine can be used for conditions that cause fever and by themselves have no proven action or benefit against the coronavirus disease.
Bleach is not meant for human consumption and the intake of bleach is extremely harmful. Bleach must only be used to clean surfaces and disinfect them.
28. Are yoga methods for breathing exercises good during the COVID-19 pandemic?
Yoga and breathing exercises are a good way to stay fit and destress during the pandemic and at all other times as well. Breathing exercises, if done correctly help in increasing lung capacity,  aiding in better oxygenation and exhalation of carbondioxide.
29. Can steam inhalation with the juice of clove help prevent COVID-19?
There is no proven scientific evidence to vouch for the role of steam inhalation to prevent COVID-19. Steam inhalation gives symptomatic relief for nasopharyngeal congestion. Adding a bit of clove in steam can certainly make one feel better and there is no harm in doing steam inhalation to find comfort when having a throat congestion.
30. Role of vitamin B6 in coronavirus infection.
Vitamin B6 and all other vitamins are essential for proper body functioning and growth regardless of the pandemic. There is no special proven benefit of vitamin consumption specifically to prevent COVID-19. Eat healthy, exercise adequately, maintain social distancing, ensure hand and respiratory hygiene and frequent handwashing regime to stay safe during the pandemic.
31. Arsenic for COVID-19 disease.
Arsenic in any form has not been scientifically tested or proven to be helpful in preventing contracting COVID-19 since it is neither preventive or curative. Arsenic compounds taken in excess quantity can be dangerous and poisonous. It is recommended to avoid consumption of potentially dangerous compounds under false impression. There are a few arsenic formulations in homeopathy medicines, but there are no studies or evidence to prove its role in preventing or curing COVID-19 disease.
32. Does practising pranayama increase the risk of infection?
Pranayama is a form of breathing exercise to synchronise breathing and body movement in yoga practice. They do not increase risk of any infections. In fact breathing exercises done correctly are healthy, promote adequate oxygenation and aid in exhaling carbon dioxide. Pranayama done correctly and regularly helps in increasing lung capacity. 
33. Using the homeopathic medicine camphor to prevent COVID-19
There are no studies, evidences and proof that any homeopathic medicine or compound is effective in any way to either prevent or cure the COVID-19 disease and the virus. The role of these compounds have not been studied or tested. It is recommended to eat healthy, exercise adequately, ensure physical distancing, practice respiratory hygiene and frequent handwashing regime to stay safe during the pandemic.
34. Can air conditioners (AC) be used during the COVID-19 pandemic?
Owing to the heat and humidity, the use of an air conditioner is unavoidable, especially in regions with hot climate. The stand alone air conditioners that we use in our homes are relatively safe to use. It is strongly recommended to open all windows whenever possible for fresh air circulation. Window can also be kept minimally open when the AC is running. There is no evidence that proves that SARS-CoV-2 spreads from the air coming out of air conditioning systems. According to a standard advisory, the temperature of a home run AC should be 24-30 degree celsius and the humidity should ideally be between 40-70%.
35. What is the name of the first government hospital in India which successfully launched convalescent plasma therapy (CPT) for covid positive patients?
The King George Medical University (KGMU), Lucknow, Uttar Pradesh became the 1st government (govt) hospital in India to successfully launch the Convalescent Plasma Therapy (CPT) treatment for COVID-19 patients. The 1st dose of CPT was administered to a 58-year old patient. It is a procedure for COVID-19 patients, where plasma which is a blood component taken from a cured patient is transfused to a critically ill COVID-19 positive patient. It has been found that the blood of the recovered COVID-19 person has antibodies to fight the virus.
36. Can ginger help in reducing symptoms of COVID-19?
The World Health Organization (WHO) has mentioned that while natural remedies such as ginger may have a 'positive impact on health', they are not medically proven as treatment options to prevent COVID-19. Health experts, including the WHO have rejected notions and rumors of home remedies to be curative and have healing powers to fight against COVID-19. WHO and many health authorities have warned against sharing advice that has not been approved by recognized health institutions or doctors.
37. I have a serious tooth problem and I need to see a dentist. Is it possible to see a dentist during the pandemic?
Dentists need to treat and work in the mouth area and that can potentially transmit the infection or virus in — the mouth, teeth and around the nose. These areas are unavoidable during a dental treatment. So it is a potential risk for both the dentist and the patient. It is recommended to consult the dentist over the phone who can prescribe medicines or home remedies. With telemedicine or online consultation with the help of smartphones and laptop webcams, dentists can see the most vulnerable dental patients safely in their homes thereby eliminating the risk of infection for all concerned. One can visit a dentist if it is an emergency or your condition is getting unbearable or worse. But the patient and the dentist must take all necessary precautions like wearing a mask, use gloves and frequently wash hands.
38. Is it advised to not have central air conditioning during the pandemic &  instead only use windows air conditioning systems to avoid spread of COVID-19 disease?
We must keep in mind that, Air conditioning cannot be avoided in areas of hot climate. There is no scientific evidence that proves that the virus spreads through the air conditioning systems and its vents. Ventilation with outdoor air is strongly advised when the AC is not in use and the filters of the AC unit must be cleaned out more frequently. It is strongly recommended to open all windows whenever possible for fresh air circulation. Windows can also be kept minimally open when the AC is not in use
39. How do you wash fruits and vegetables during the COVID-19 pandemic?
There is no evidence to prove that Coronavirus can spread through fruits and vegetables, as of now.
All fresh produce should be washed under running water before eating, even when the skin cannot be eaten, such as bananas, melons and oranges. Germs can be passed to the flesh when cutting or peeling.
There are some precautions and generic guidelines one can follow to ensure food safety by keeping it free of germs. Dirt and bacteria can be transferred from the peel to the inside and edible portion of the fruit when cutting through a banana or a grapefruit. Bacteria and dirt can be transferred even while peeling or handling the fruit.
The importance of washing hands to prevent the spread of COVID-19 cannot be emphasised enough. Wash them for at least 20 seconds prior to cleaning fruits and vegetables. It is a good idea to wash them afterwards too, as suggested by the FDA. Hands must be thoroughly washed with soap and water before washing produce like vegetables, fruits.
40. What is the recommended Air conditioner (AC) temperature especially during the pandemic?
The latest health advisory mentions that the temperature of the home-run air conditioner (AC) should be between 24-30 degrees celsius. While using ACs at home, the humidity should be between 40-70 per cent. If possible, wnde must try to keep a window or a door partially open so as to have ventilation.
41. How to clean eggs during the COVID-19 pandemic?
In a bowl, add water that is warmer than the egg but not hot. Dip the egg into the water and lightly wipe it clean. After wiping it, rinse the egg under cool running water. Gently air dry the eggs. Refrigerate or use immediately.
42. Is bitter food like neem good to prevent corona?
There are many home remedies and herbal treatments like neem, turmeric,garlic and ginger which are believed to boost immunity, but not specifically against the coronavirus infection. There is no harm in consuming these, but the most important steps you can take now to protect yourself from COVID 19 is to practice hand and respiratory hygiene, and ensure social distancing.
43. What are the advantages of oranges for curing coronavirus?
Oranges are good for health and you can consume them, but not with the intention of preventing or curing COVID-19. There is no special proven benefit of any vitamin consumption specifically for COVID-19. Oranges are rich in vitamin C and all vitamins are essential for proper body functioning and growth. Essential nutrients are required for working towards having good health. Eat healthy, exercise adequately, maintain social distancing, practice personal, hand and respiratory hygiene and frequent handwashing techniques to stay safe during the pandemic.