Top 8 Surgical Oncology Doctors in Hyderabad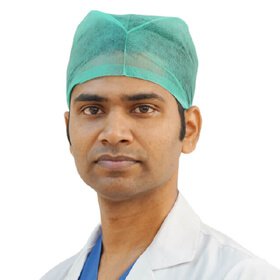 Dr. Dayakar Rao
MS, M.Ch (Surgical Oncology)
8 Years Of ExperienceConsultant Surgical Oncologist
1 awards
Expertise
Gastrointestinal Malignancies
Paediatric Tumours
Laparoscopy
Gynaec Malignancies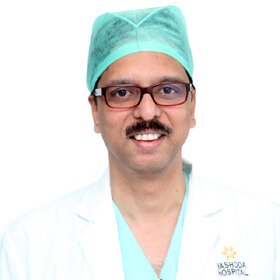 Dr. K. Sreekanth
MS, M.Ch (Surgical Oncology)
19 Years Of ExperienceConsultant Surgical Oncologist
Expertise
Breast & Gynec oncology, Minimally Invasive Surgery, GIT & Head & Neck oncology
Available on Request
MON - SAT
11:00am - 6:00pm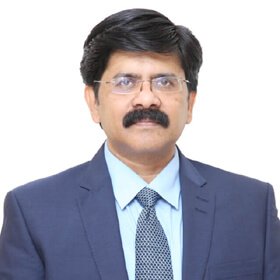 Dr. Jagdishwar Goud
MS, M.Ch (Surgical Oncology)
HOD - Surgical Oncology and Clinical Director Robotic Surgery
Expertise
Robotic Surgery Especially Esophagectomy With Nodal Dissection.
Low Anterior Resection
Video Assisted Thoracoscopic Surgery
Laparoscopy, Gyneac- Oncology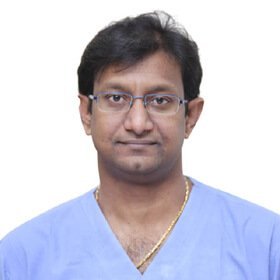 Dr. Sreekanth CN
MS, M.Ch (Surgical Oncology)
Consultant Surgical Oncologist
Available on Request
MON - SAT
9:30 AM - 6:00 PM
Thursday (Not Available)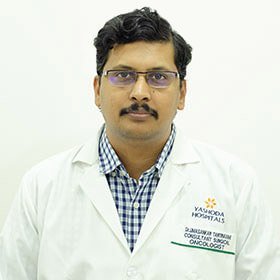 Dr. Umasankar Tantravahi
MS, M.Ch (Surgical Oncology)
5 Years Of ExperienceConsultant Surgical Oncologist
Expertise
Gynecological oncology
Colorectal oncology
Peritoneal malignancies
Thoracic oncology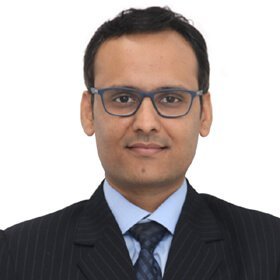 Dr. Sachin Marda
MS, DNB, MCh, DNB (General Surgery, Surgical Oncology)
13 Years Of ExperienceConsultant Surgical Oncology & Robotic Surgeon (Cancer Specialist)
11 awards
Expertise
Breast Cancer
Head and Neck Cancer
Gynaecology and Urological Cancer
Gastro - Intestinal Cancer
Available on Request
MON - SAT
10:00am - 5:00pm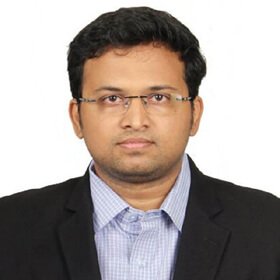 Dr. M. Bala Vikas Kumar
MS, Fellow in Surgical oncology & Robotic surgery
Consultant Surgical Oncologist
Expertise
Robotic pelvic surgeries
Robotic colorectal surgeries
Robotic radical hysterectomies
HIPEC surgeries (Colon, Ovary, Appendix and peritoneal malignancies)
Dr. Sowmya Korukonda
MS, DNB (Surg. Onco.), FMAS
Consultant Surgical Oncologist
1 awards
Top 12 Radiation Oncology Doctors in Hyderabad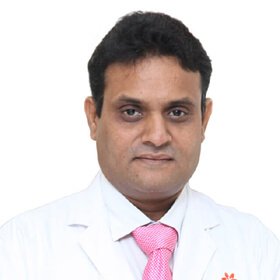 Dr K Srinivaas
MD, DNB (Radiation Oncology), PDCR
20 Years Of ExperienceConsultant Radiation Oncologist
2 awards
Expertise
Cervic, Endometrial Cancers etc
Head and Neck Cancers , Lung Cancer
Brain Tumors , Prostate Cancer
Advanced techniques - SBRT
Available on Request
MON - SAT
9:00 AM - 3:30 PM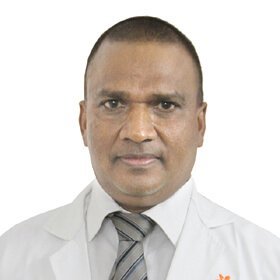 Dr. M Jagan Mohan Reddy
MD (Radiation Oncology)
23 Years Of ExperienceConsultant Radiation Oncologist
1 awards
Expertise
All Pre Procedures Radiation Oncology
Intensity modulated radiotherapy (IMRT)
RapidArc - Radiation Therapy for Cancer Treatment
SRS (Stereotactic Radiosurgery)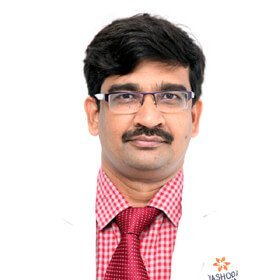 Dr. K. Kiran Kumar
MD, DNB (Radiation Therapy)
13 Years Of ExperienceConsultant Radiation Oncologist
Expertise
Rapid Arc Technique/SRS/SRT
Available on Request
MON - SAT
12:00pm - 4:00pm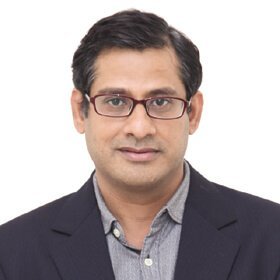 Dr. Shyama Prasanna Satpathy
MD(Radiation Oncology)
9 Years Of ExperienceConsultant Radiation Oncologist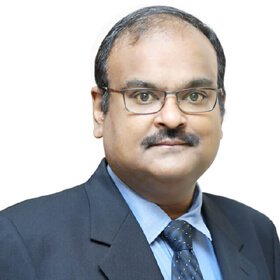 Dr. P.P. Mohanty
MD (Radiation Oncology)
21 Years Of ExperienceSenior Consultant Radiation Oncologist
Expertise
High Precision Radiotherapy and Radiology
CNS Tumours, Head & Neck Cancer, Breast Cancer, Gynaecological Malignancies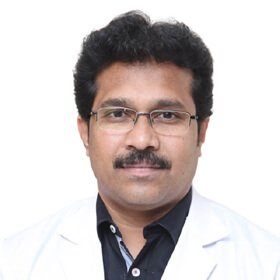 Dr. B. Ramakrishna Prasad
MD (Radiation Oncology)
14 Years Of ExperienceConsultant Radiation Oncologist
Available on Request
MON - SAT
10:00 AM - 5:00 PM
2nd Saturday (Not Available)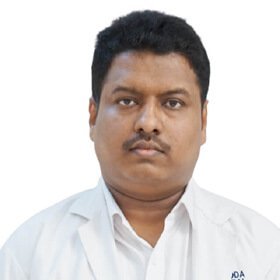 Dr. K. Syed Akram
MD (Radiation Oncology)
7 Years Of ExperienceConsultant Radiation Oncologist
3 awards
Expertise
External beam radiation therapy, 2 DRT, 3DCRT, IMRT, IGRT, SRS, SRT, RAPID ARC
Brachytherapy for cervix cancer: Intra cavity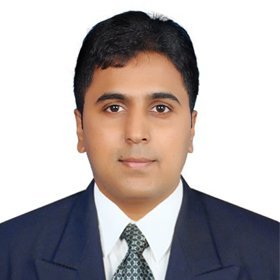 Dr. G. Bharath Chandra
MD (Radiation Oncology), ECMO
5 Years Of ExperienceConsultant Radiation Oncologist
4 awards
Expertise
Sterotactic Techniques in Radiation Oncology
Clinical trials in Oncology
Head and Neck, GI Malignancies, Thoracic
Palliative care in Oncology
Available on Request
MON - SAT
10:00am - 5:00pm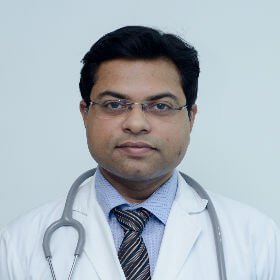 Dr. Kirti Ranjan Mohanty
MBBS, MD (Radiation Oncology)
6 Years Of ExperienceConsultant Radiation Oncologist
2 awards
Expertise
External beam radiation therapies:
• Conformal 3DCRT, IMRT, ELEKTA, NOVALIS Tx and TR
Brachytherapy:
• HDR - Intracavitary and Interstitial brachytherapy
• Plaque b
Chemotherapy: Experience in chemotherapy drugs for solid tumours.
Special Interest: Pediatric malignancies, ocular malignancies, CNS malignancies and benign tu
Available on Request
MON - SAT
10:00am - 4:00pm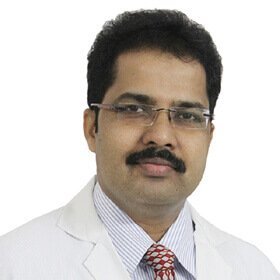 Dr. R Bala Shankar
MD (Radition Oncology)
15 Years Of ExperienceConsultant Radiation Oncologist
Expertise
Highly skilled in High precision radiotherapy (IMRT/IGRT/SRS) and interstitial Brach therapy.
Other areas of interest are gynecological malignancies, Head and Neck cancers. Brain tumors, Tot
He has published original research papers in Indexed International & National Journals.
Available on Request
On Call Appts Only
10am - 5pm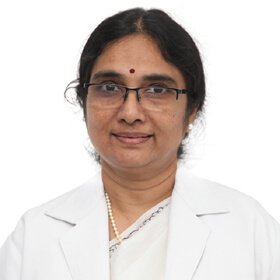 Dr. Y. Nalini
MD, DNB (Radiation Oncology)
26 Years Of ExperienceConsultant Radiation Oncologist
Expertise
Expertise in the management of solid tumors with simultaneous chemotherapy, targeted therapy and hor
Gastrointestinal cancers and breast cancers with specialization in Internal Modulated Radiotherapy
Image-guided radiotherapy and Rapid arc radiotherapy & stereotactic body radiation therapy
Available on Request
MON - SAT
11:00am - 2:00pm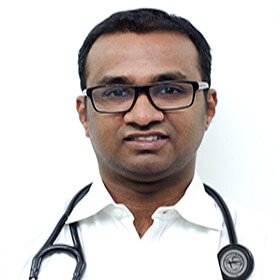 Dr. D Shiva Prasad
M.D (Radiotherapy)
Consultant Radiation Oncologist
Expertise
IMRT/SBRT/SRS
IGRT
PARTICLE THERAPY
Head and neck onclogy
Available on Request
MON - SAT
3:00pm - 5:00pm
Cancer specialists in Hyderabad
Yashoda Cancer Institute comprises of some of the best medical oncologists in Hyderabad. Its team also includes leading radiation oncologists and surgical oncologists in Hyderabad. Cancer treatment is highly specialized and requires years of experience and expertise, and we provide excellence to each and every patient at Yashoda Hospitals, Hyderabad.
Our best cancer specialists in Hyderabad treat a variety of cancer conditions, including brain tumor, breast cancer, cervical cancer, colon cancer, bone cancer, rectal cancer, pancreatic cancer, skin cancer, leukemia, lymphoma, prostate cancer, throat cancer, and lung cancer. Our primary oncology staff is supported by a team of skilled nurses, rehabilitation therapists, plastic surgeons, pharmacists, fertility specialists, hematologists, etc. This ensures the provision of comprehensive care for our patients under a single roof.
Their skills are complemented state-of-the-art technology for diagnostics, imaging studies, and robotic surgery in Hyderabad. We also provide dedicated chemotherapy centers, operation theaters, and dedicated intensive care units (ICU).
With a leading team of cancer specialists in Hyderabad, our team provides holistic treatment and care for a wide range of cancers. It excels in the application of breakthrough research while providing personalized care to enable the patient's quick recovery.
Where to seek cancer treatment in Hyderabad?

While choosing a hospital and doctor for cancer treatment, take into account the facilities available at the hospital and the experience it has in treating the type of cancer. Since every cancer is different, treatment can differ, and the facilities required may also change.

Yashoda Hospitals is one of the best oncology hospitals in Hyderabad. Established in 1989, it has been serving patients with diverse medical needs for over 3 decades. Its 3 cancer institutes are equipped with advanced equipment for diagnosis and treatment of various types of cancer. Each patient is evaluated on an individual basis by a tumor board, consisting of specialists from multiple disciplines, including surgical oncology, medical oncology, radiation oncology, hematology, fertility, etc. Their skills are complemented with the latest technology to diagnose and treat cancer:

3.0 Tesla MRI
SPECT CT gamma camera
FFF radiosurgery
HD PET scan
Varian RapidArc Linear Accelerator
Robotic surgery

Treatment for each patient varies based on their unique health condition. Surgery, chemotherapy, radiation therapy, hormonal therapy, etc. can be used in combination to maximize the benefits and provide the best outcome to the patient.

As a pioneer in the field, the cancer institute is involved in clinical research collaboration with leading institutions across the globe. It has also successfully imparted technology transfer to countries like Sri Lanka, Indonesia, Australia, and Russia

Who are the best cancer doctors in Yashoda Hospitals, Hyderabad?

At Yashoda Hospitals, leading cancer specialists in Hyderabad serve over 16,000 patients each year from across India and neighboring countries. They provide high-quality care with holistic treatment.

A tumor board, which is a multidisciplinary team, provides comprehensive and holistic care to each patient by understanding their health needs. The team consists of surgical oncologists, medical oncologists, radiation oncologists, fertility specialists, etc. who focus on treating the patient through advanced therapeutic procedures and methodologies.

Yashoda cancer institute is equipped with the latest technologies for diagnosis and treatment, including RapidArc linear acceleration, 3.0 Tesla MRI, and robotic surgery. Thus, robotic surgery in Hyderabad can be availed for the best outcomes. Other novel procedures such as PET scan and FFF beam further improve diagnosis and treatment respectively.

How to find the best cancer specialist in Hyderabad?

For the best possible medical treatment for cancer, it is important to understand the type of cancer before choosing a hospital or cancer specialist. Depending on the type of cancer, the treatment will vary. It can be treated through either surgery, chemotherapy, radiation therapy, or a combination of the three. Choose a hospital with oncologists who have experience treating the patient's cancer. Since each cancer is different, essential knowledge includes how it functions, what the treatment options are, and the success of the treatment. This information will guide the patient's choice in picking the best cancer specialist in Hyderabad for their medical needs.

Oncologists at Yashoda Hospitals have experience treating patients with a wide variety of cancers. They serve over 16,000 patients each year from across India and abroad, providing holistic care through multidisciplinary treatment. Yashoda Cancer Institute's collaborations with leading cancer institutions worldwide for clinical research enables them to use the latest technology to treat cancer effectively and help the patient to go back to normal life.

Who is an oncologist?
An oncologist is a medical professional who deals with the prevention, diagnosis, and treatment of cancer.
What diseases do oncologists treat?
Oncologists treat cancer. Depending on the type of cancer, the treatment options and the cancer specialist may change. For instance, a hematologist-oncologist may treat leukemia or blood cancer, but a surgical oncologist may be required for surgical management of tumors.
What are the types of oncologists?
There are three major specialists-oncologistst: surgical, medical, and radiation. Medical oncologists treat cancer with chemotherapy, targeted therapy, etc, while radiation oncologists do so with radiation therapy.
Who is a surgical oncologist?
A surgical oncologist specializes in surgery for removing tumors and surrounding tissue. He/she may perform biopsies that help to diagnose cancer.
How do oncologists diagnose cancer?
Oncologists diagnose cancer through imaging tests such as an X-ray scan, CT scan, MRI scan, PET-CT scan, etc. A biopsy may also be recommended to confirm the diagnosis.
Does an oncologist treat all types of cancer?
Yas, oncologists treat a wide range of cancers. Depending on the type and stage of cancer, the treatment options will vary, so will the cancer specialist(s) treating it.