Top 2 Pain Medicine Doctors in Hyderabad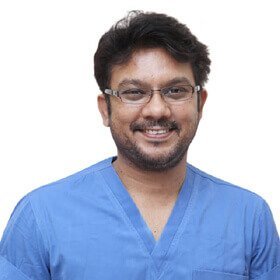 Dr. Ram Mohan G
MBBS, MD, FRCA, PG Cert (Pain)
Consultant Anaesthetist & Pain Specialist
Expertise
Low Back Pain, Disc prolapse, Pinched nerve, Canal Stenosis
Neck Pain / Cervical Spondylosis
Facial Pain / Trigeminal Neuralgia
Headaches - Occipital headache, Migraines, Cluster headaches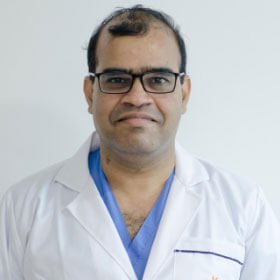 Dr. S. Prashanth Reddy
DA, MD, PDCC (Cardiac Anaesthesia)
12 Years Of ExperienceConsultant Anaesthesiologist & Pain Physican
Expertise
Critical incidents in anesthesia and perioperative care
Difficult airway workshop
Ultrasound in ICU
Mechanical ventilation workshop
Pain Management Specialists in Hyderabad
The multidisciplinary team at Pain Management Center in Hyderabad has best pain management specialists in Hyderabad who strive to provide most advanced and evidence-based therapies available to ease pain, improve general and emotional well being and bring back the lost zing in life. Pain Management Center provides pain treatment for several health conditions, in both out-patient and in-patient departments such as muscular pain, shoulder pain, arm pain, low back pain, neck pain, headache, facial pain, myofascial pain and fibromyalgia, neuropathic pain such as cervicogenic headache, neuropathic pain, diabetic neuropathic pain, post-injury chronic pain, chronic headaches, trigeminal neuralgia, musculoskeletal pain such as arthritis, chronic musculoskeletal pain, chronic widespread pain, motor vehicle or work related injuries, sports injuries, oncology and surgical pain such as post surgical pain syndromes, abdominal pain, pelvic pain, complex regional pain syndromes, cancer pain.
Pain Management Center, Yashoda Hospitals is a trusted healthcare provider in Hyderabad, Telangana. Our team of pain medicine specialists, spine specialists, neurologists, surgeons, physiotherapists and rehabilitation specialists treat patients in Yashoda Hospitals – Somajiguda, Yashoda Hospitals – Secunderabad and Yashoda Hospitals – Malakpet. We provide round the clock emergency services. However, we recommend prior appointments for specialty consultations. The team of anesthesiologists, neurologists, surgeons, psychologists, physiotherapists and occupational therapists, and nurse practitioners, enable us to address the simplex to complex pain with utmost care and personalized treatment plan.
Select Department
Not Sure of the Specialty?
X
Choose your date & Slot
Enter Patient Details
Please Note: This session ends in 3:00 mins
Not Finding Your Preferred Slots?
Change Doctor
or Location
Call Helpline
040 - 4567 4567