Top 9 General Surgery Doctors in Hyderabad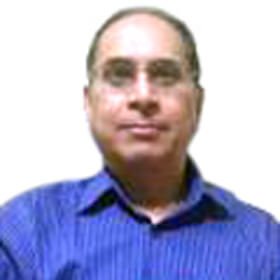 Dr. G. Laxmana sastry
MBBS, MS
16 Years Of ExperienceConsultant General & Laproscopic Surgeon
2 awards
Expertise
General Surgeon
Laparoscopic Surgeon
Available on Request
MON - SAT
11:00 AM - 6:00 PM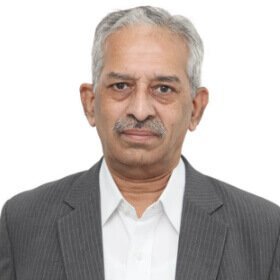 Dr. B Upender Rao
M.B.B.S, M.S (Gen. Surgery)
38 Years Of ExperienceConsultant General Surgeon
Expertise
General Surgeries
Cardio-thoraic surgery
Plastic surgery
Neurosurgery
Available on Request
MON - SAT
3:00pm - 4:00pm
Locations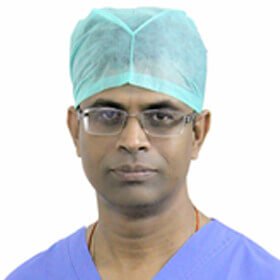 Dr. M. Manisegaran
MS, M.Ch, DNB, MNAMS, FRCS (ED), FRS (ITALY)
23 Years Of ExperienceConsultant Surgical Gastroenterologist
Expertise
Available on Request
MON - SAT
10am - 5pm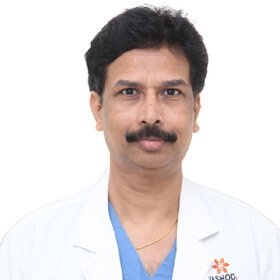 Dr. D. S. Sai Babu
MS, FSGE, FMAS, FBMS (Bariatric & Metabolic), FAIAS
21 Years Of ExperienceConsultant Surgical Gastroenterologist | Hepato-Pancreatico-Biliary- Surgeon
1 awards
Expertise
Hepato pancreatic Bilary Surgery
Bariatric & metabolic surgeries
Advanced laparoscopic surgeries
Available on Request
MON - SAT
10am - 7pm
4th Saturday (Not Available)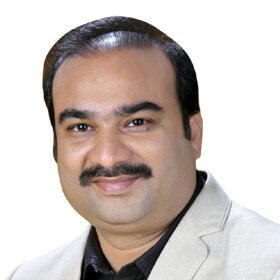 Dr. Venu Madhav Desagani
MBBS, MS, FMAS, FBMS
12 Years Of ExperienceConsultant General, Laparoscopic & Bariatric Surgeon
1 awards
Expertise
Advanced laparoscopic surgeries
Bariatric surgeries
Complicated open general surgeries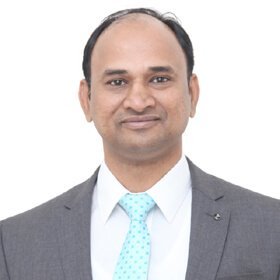 Dr. Tokala Surender Reddy
MS, FMIS, FAIS, FMAS & FICRS
19 Years Of ExperienceConsultant General, Laparoscopic & Robotic Surgeon
Expertise
Robotic General Surgery
Minimal Invasive Surgery, Laparoscopy
Expertise in Mini-lap Surgery and Robotic Surgery
Available on Request
MON - SAT
10am - 7pm
Friday (Not Available)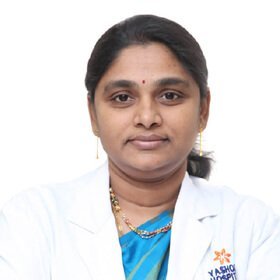 Dr. Santhi Vardhani
MBBS, MS (General Surgery), FMAS, FIAGES
Consultant General & Laparoscopy Surgeon
Expertise
Laser Treatment for piles or Hemorrhoids
Sphincterotomy
Laser Treatment for Fistula and Fissure
Available on Request
MON - SAT
3:00 PM - 6:00 PM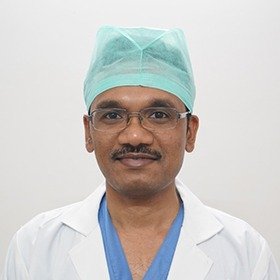 Dr. G. V Srinivas
MBBS, MS (Gastroenterology), M.Ch. (Surgical Gastroenterology)
10 Years Of ExperienceConsultant Surgical Gastroenterologist
Expertise
Pancreatic disorders
Gastrointestinal cancers
Advanced laparoscopic surgeries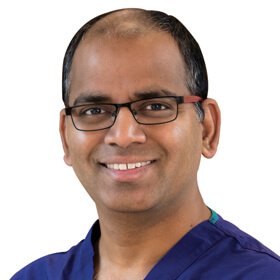 Dr. Pradeep Kumar Pallati
MS(AIIMS), FACS, FASMBS
17 Years Of ExperienceSenior Consultant General Surgeon/Minimally Invasive and Bariatric Surgery
6 awards
Expertise
Morbid Obesity
Inguinal Hernia
Umbilical Hernia
Ventral Hernia
Top Surgical Gastroenterologists in Hyderabad
The centre of excellence in surgical gastroenterology at Yashoda Hospitals in Hyderabad has best gastroenterologists who offer therapeutic services such as oesophageal dilation, variceal sclerotherapy / banding, mucosal resection of polyps and early mucosal tumors, endoscopic, ulcer Injection, argon plasma coagulation, polypectomy, removal of foreign bodies, percutaneous endoscopic gastronomy, gastric or enteric feeding tubes, therapeutic ercp, colorectal stricture dilation, esophageal / colonic stent placements and emergency endoscopy services. GI bleeding is one of the most commonly encountered emergencies in gastroenterology.
We have a large team of experienced surgical gastroenterologists in Hyderabad i.e. Secunderabad, Somajiguda, Malakpet who have experience in performing surgical procedures such as bariatric surgery, trauma & emergency surgery: closure / resection / other procedure for perforation for esophagus, stomach, pancreas: frey's procedure, small bowel and colon.
Exploratory laparotomy, appendectomy, splenic repair, splenectomy, repair or resect hepatic fracture, pancreatic injury, drainage, pancreatic injury, resection, fracture, open reduction rib, debridement & suture major wounds, bladder injury, repair or bypass, colorectal, laparoscopic anterior resection, esophageal surgery, colon by pass, emergency thoracostomy and neck exploration, skin and soft issues: sentinel lymph node procedures for skin malignancies, endoscopy: sigmoidoscopy, anoscopy, ultrasound, F.A.S.T. (Focused Abdominal Sonography in Trauma), lateral pancreaticojejunostomy, whipple, liver, portal hypertension, spleen, proximal splenorenal shunts, splenectomy and oesophagogastric devascularization and hepaticojejunostomy.