Top 9 Neuro Surgery Doctors in Hyderabad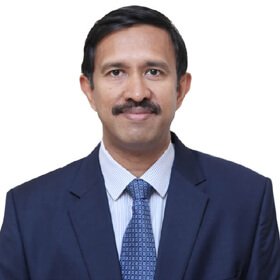 Dr. Anandh Balasubramaniam
MS, MCh (Neurosurgery), & DNB (Neurosurgery)
24 Years Of ExperienceConsultant Neurosurgeon
Expertise
Neurooncology - Surgery for Brain / Spinal Tumors- Gliomas, Maximal Safe Resection of Gliomas in Elo
Endoscopic Surgery for Pituitary Tumours / Anterior Skull Base Tumours with Image Guidance and Intra
Endoscopic Minimally Invasive Surgery for Intraventricular Tumours / Colloid Cyst
Functional Neurosurgery-for Movement Disorders- Parkinsons Disease - Deep Brain Stimulation Surgery
Available on Request
MON - SAT
09:00am - 5:00pm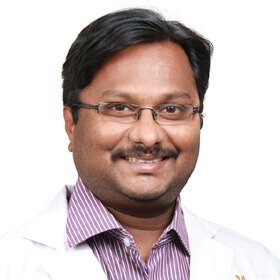 Dr. Ravi Suman Reddy
MBBS, M.Ch
15 Years Of ExperienceConsultant Neuro & Spine Surgeon
1 awards
Expertise
Frameless Stereotactic Radiosurgery
Minimal Invasive Spine Surgery
Spine Stabilization
Cranial Micro Neurosurgery
Available on Request
MON - SAT
9:00am - 03:00pm
Locations
Dr. B. J. Rajesh
MS, M.Ch (Nerosurgery)
Consultant Neurosurgeon
Expertise
Endoscopic Endonasal Surgery
Functional Neurosurgery
Paediatric Neurosurgery, Neurovascular Surgery
Skull base Tumors, Spine Surgery
Available on Request
MON - SAT
9:00am - 05:00pm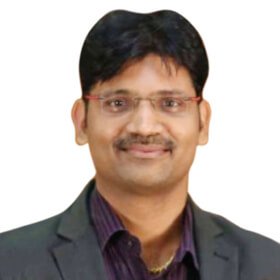 Dr. Venugopal G
M.Ch (Neurosurgery)
13 Years Of ExperienceConsultant Neurosurgeon
1 awards
Expertise
Minimally invasive techniques in Neurosurgery
Brain surgeries under neuronavigation and neuromonitoring using 3T intraoperative MRI
Available on Request
MON - SAT
10:00am - 03:00pm
Locations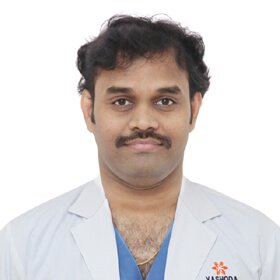 Dr. Srinivas Botla
MS, M.Ch (Neuro Surgery), FSFN
9 Years Of ExperienceConsultant Neurosurgeon
Expertise
Brains Tumors
Trauma
Cerebro Vascular Surgery
Spine Surgery
Available on Request
MON - SAT
10am - 5pm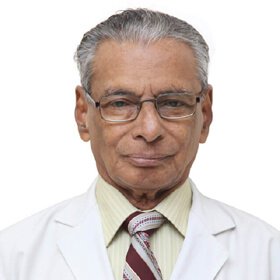 Dr. I. Dinakar
MS, M.Ch (Nero Surgery)
59 Years Of ExperienceConsultant Neurosurgeon
Expertise
Thromboendarterectomy of carotid or vertebral circulation
Rigid spinal endoscopic surgery ( Cervical Thoracic)
Rigid Spinal endoscopic surgery (Lumbar)
Percutaneous Verteral Kyphoplasty
Available on Request
Tuesday & Thursday
2:00 - 3:00 PM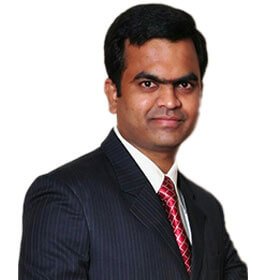 Dr. Bhavani Prasad Ganji
MBBS, DNB (Neurosurgery)
Consultant Neurosurgeon
1 awards
Expertise
Wide range of exposure to all neurosurgical cases like Brain and spine trauma, Neuro-oncology, Cereb
Neuronavigation, Endoscope, Microscope
Comprehensive knowledge of medicine and chemistry of the brain
Available on Request
MON- SAT
09:00am - 05:00pm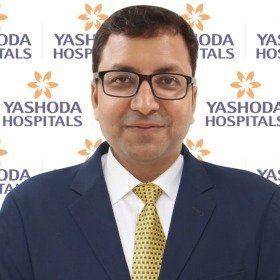 Dr. K S Kiran
MS, MCH (Neurosurgery)
Consultant Neurosurgeon
2 awards
Expertise
Skull base surgeries
Vascular surgeries
Minimal invasive surgeries
Available on Request
MON - SAT
09:00am - 05:00pm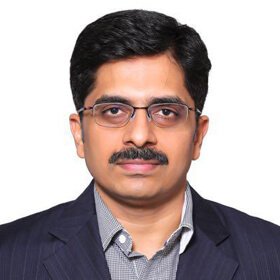 Dr. Rama Krishna Chowdhary. Y
M.S (General Surgery), M. Ch (Neurosurgery)
Consultant Neuro Surgeon (Brain & Spine)
Expertise
Skull Base Surgeries (Open and Endoscopic)
Neuro Vascular Procedures (Aneurysm clippings, AVM's)
Cranial Endoscopy
Stereotactic Procedures
Neurosurgeons in Hyderabad
Yashoda Institute of Neuroscience has best neurologists and neurosurgeons in Hyderabad. Yashoda Institute of Neuroscience is adequately equipped with latest instrumentation and infrastructure for diagnosis such as 3 tesla intra operative MRI and skilled with invasive and non-invasive treatment, rehabilitation, neuro-critical and general patient care. Yashoda Hospitals is a leading provider of expert neurological care at our centre in Hyderabad. Our team of the best neurologists and neurosurgeons is highly experienced and skilled who work tirelessly to deliver world-class neurological care to our patients.
Our team of best neurologists in Hyderabad are dedicated to the diagnosis, treatment, and management of the entire spectrum of brain and spine conditions including epilepsy- absence seizure, febrile seizure, tonic clonic seizure, movement disorders including parkinsons disease, dystonia, peripheral neuropathy, alzheimer's disease, dementia, strokes, traumatic brain injuries, genetic neuromuscular disorders, headache, migraine, upper back pain, sciatic nerve pain, cervical pain, shoulder pain, neck pain, neuralgia – posthepetic neuralgia, occipital neuralgia, stenosis, cervical stenosis, disc injuries, hernia, bulge disc, slipped disc, neuropathies, acoustic neuroma and spine disorders.
Our best neuosurgeons have expertise in doing all neurosurgery procedures such as stereotactic radiosurgery, epilepsy surgery, trigeminal neuralgia, deep brain stimulation.
Our panel of neurologists, neurosurgeons and spine surgeons are experts in non-invasive surgeries, minimal invasive surgeries, pediatric neurology, emergency neurological care, neuro-onclogy, and neurological imaging. In continuance with our dedication to excellence, we have an experienced team of support staff including nurses, technicians, therapists, and more.
With an expert team and latest technological instruments, you can be assured that you will receive the best treatment for neurological disorders in Hyderabad.
1. Who is a neurosurgeon?
A neurosurgeon is a medical professional who specializes in the diagnosis and surgical treatment of disorders of the brain and nervous system.
2. Which diseases does a neurosurgeon treat?
Patients with symptoms pertaining to headache disorders, Alzheimer's disease, Parkinson's disease, brain tumors, trauma to the brain or spine, etc. can seek medical attention from a neurosurgeon.
3. Does a neurosurgeon treat only through surgery?
A neurosurgeon along with the comprehensive neuro care team may attempt to manage the condition through medicines alone before recommending surgery to provide the patient with some relief.
4. How is a neurologist different from a neurosurgeon?
A neurologist can diagnose and treat conditions of the nervous system through medication and other therapies. On the other hand, a neurosurgeon is trained to perform surgeries.
5. Can a brain tumor be treated by a neurosurgeon?
Yes, a neurosurgeon can remove the brain tumor through surgical procedures, such as MRI guided surgeries, endoscopic endonasal neurosurgery, craniotomy (open surgery) and biopsy.
6. Can a neurosurgeon treat neural birth defects?
Yes, a neurosurgeon can operate on neural conditions present since birth.
7. Can a neurosurgeon treat pituitary cancer?
Yes, a neurosurgeon can treat pituitary cancer. He/she can treat conditions related to the nervous system such as brain tumors, Alzheimer's disease, carpal tunnel syndrome, epilepsy, cerebral palsy, etc.
8. Should I visit the neurosurgeon for headache disorder?
Yes, you can visit the neurologist/neurosurgeon if you experience headache disorders such as migraine, cluster headache, or tension-type headache.
9. Can Alzheimer's disease be treated by a neurosurgeon?
Yes, Alzheimer's disease can be treated by a neurologist/neurosurgeon.
Patient Testimonials For Neuroscience