Dr. S. Prashanth Reddy
Consultant Anaesthesiologist & Pain Physican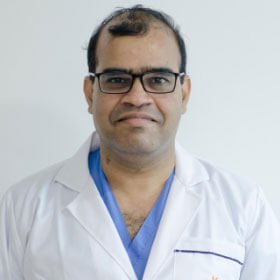 Dr. S. Prashanth Reddy
Department:
Pain Medicine
Designation:
Consultant Anaesthesiologist & Pain Physican
Major open (hepatobiliary, pancreatic, etc) and laparoscopic surgical GE procedures requiring invasive monitoring including use of CCO devices.
In SICU, managed all the post-surgical patients requiring prolonged ventilatory and multi-organ supports. In endoscopy suites, anesthetized patients coming for UGI endoscopy, colonoscopy, endosonography, ERCP, ESWL etc.
Education Qualifications
PDCC (Cardiac Anaesthesia): Amrita Institute of Medical Sciences, Kochi, Kerala, 2010 - 2011
MD: NIMS, Hyderabad, 2006- 2008
DA: NTRUHS, AP, 2002 - 2004
MBBS: NTRUHS, AP, 2001

Experience
Chief Anesthesiologist at National Institute of Gastroenterology and Liver Diseases, 2016 - 2019
HOD - Anesthesia ,SICU and Pain at Century Hospital as part of Prerna Team, 2014 -2016
Consultant Liver Transplant Anesthesiologist, Asian Institute of Gastroenterology & Prerna Team, 2012 - 2014
Consultant Cardiac Anesthesiologist, Care Hospital, Musheerabad & Prerna Team, 2011 -2012
Consultant at Asian Institute of Gastroenterology & Prerna Team, 2008 - 2010
Registrar and Jr consultant at Asian Institute of Gastroenterology & Prerna Team, 2004 - 2006
Liver transplantation Anesthesia Observership at Appollo Hospital, Indraprastha, Delhi - 2009
Executive program on Hospital Administration at IIM Ahmedabad in September 2015

Services offered
Percutaneous tracheostomy, Bronchoscopy, Chemoport insertion, Basic TEE & TTE
Cardiac anaesthesia,Transplantation anaesthesia, Perioperative intensive care

Special Interest and Expertise
Critical incidents in anesthesia and perioperative care
Difficult airway workshop
Ultrasound in ICU
Mechanical ventilation workshop
Transesophageal echocardiography workshop
Regional anesthesia workshop
Book Doctor Appointment
Choose the mode of consultation