Pregnancy After Weight Loss Surgery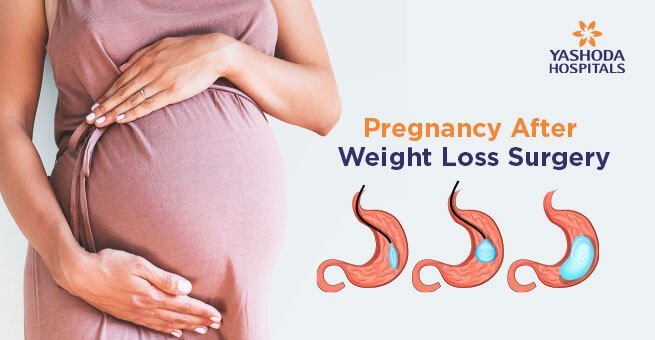 Weight loss surgery is known to increase the chance to get pregnant. It is recommended to wait at least 1 year after the surgery, and a person should plan for a pregnancy only after seeing improved results of the surgery. After the procedure, it is advised to follow prenatal care and follow the recommendations given by an Obstetrician, a Weight loss surgeon and most importantly a Dietitian, in order to have a healthy baby.
A few things for a Pregnant woman to keep in mind.
Is pregnancy safe after a weight-loss surgery?
Women with high BMI are more likely to have complications such as high blood pressure, gestational diabetes, postpartum hemorrhage and may have to deliver the baby with excessive birth weight. Weight loss surgery can reduce these risks and help to have a safer pregnancy.
Have an ideal weight after a weight loss surgery for a healthy pregnancy
Optimal weight gain is necessary during pregnancy for a healthy outcome. It is advised to consume well balanced meals that contain adequate protein. For a healthy baby, it is advised to gain 5-18Kgs of weight over the course of pregnancy. The doctor or dietitian will help in  determining the amount of weight gain that is appropriate for an individual. The table below provides an estimate of how much weight gain can be planned considering the current weight of the individual.
Recommended diet if the surgery was performed less than six months ago
The goal should be to slow down or minimize the weight loss and increase food intake gradually. It is recommended to plan the diet for 4 -5 meals/day, since it is not advisable to eat excessive quantities due to the surgery.
What is the recommended diet if it has been more than six months after the surgery?
Recommended diet 6 months after the surgery is similar to routine pregnancy. Eat a balanced diet high in whole grains, vegetables, fruits, low fat dairy, and lean protein. One should be getting around 1200-1500 calories per day routinely by this time after surgery and pregnancy requires additional 300 calories per day.
What is the required protein Intake?
As the baby grows, it is advised to take additional protein to support the growth of the baby and mother. If 45 grams of protein intake is required before pregnancy, then approximately 60g of protein per day is required during pregnancy. Eating large amounts is not preferred after weight loss surgery, it is suggested to concentrate on foods that are rich in protein such as:
Chicken
Lamb
Eggs
Milk
Yogurt
Paneer
Cheese
Cooked beans (kidney, rajma, lentils)
Whey protein isolate
Are vitamin and mineral supplementation required?
All patients after weight loss surgery are prescribed to take one multivitamin everyday to meet the basic requirement. For pregnancy, it is recommended to add additional prenatal vitamins besides the daily supplements as prescribed by an Obstetrician. A thorough medical examination is done for blood to detect vitamin and mineral deficiency at the initial stages and throughout the pregnancy as required.
The below mentioned are monitored during all three trimesters. 
Folic Acid: Adequate amount is given as prenatal multivitamins. Lack of this vitamin in early pregnancy can result in some congenital malformations and adequate intake is crucial.                                 
Iron: Additional Supplementation may be required based on the results.
Calcium: The daily requirement is 1200-1500mg. 
Vitamin B12: Additional Supplementation may be required based on the result.
What is the ideal fluid intake during pregnancy?
Drink fluids consistently throughout the day to prevent dehydration. Approximately eight 250mL cups or 2 litres of water should ideally be consumed during pregnancy .
Can artificial sweeteners be used during pregnancy?
Splenda (Sucralose) is an artificial sweetener made from table sugar. Its use does not need to be restricted during pregnancy. The use of saccharine is not recommended during pregnancy. Also, the sweetener aspartame should be restricted during this period. A dietitian can help figure out the best sweetener depending on the individual and their condition during the pregnancy.
How much caffeine can be consumed during pregnancy?
During Pregnancy, limit the amount of caffeine to 200 milligrams (mg) per day which is equal to 2 cups of instant coffee. High levels of caffeine in pregnancy can result in babies having a low birthweight, which can increase the risk of health problems in later life. Too much caffeine can also cause a miscarriage.
Breastfeeding after weight loss surgery
It is still safe and recommended for a pregnant woman to breastfeed after weight loss surgery. The health benefits of breastfeeding include reduction in the risk of respiratory infections, asthma, leukaemia and sudden infant death syndrome. It also provides positive effects on brain and neuronal development and might be associated with a higher Intelligence quotient (IQ). Vitamin B12 deficiency while breastfeeding can result in anemia and needs to be aggressively corrected for an expectant mother. Continue with additional vitamin supplementation while breastfeeding that you are doing while you are pregnant.
Conclusion
Pregnancy after weight loss surgery is safe. Current recommendations are to delay pregnancy for at least 1 year after weight loss surgery. Inform your obstetrician regarding the weight loss surgery and take prenatal vitamins regularly. Consultation with your weight loss surgeon, Obstetrician and dietitian to get timely care and support will prevent any further risks during or after pregnancy.
References:
Pregnancy After Bariatric Surgery, Michigan Medicine, University of Michigan,

https://www.uofmhealth.org/health-library/abk0973

. Accessed on 2nd October 2020.

Pregnancy after gastric bypass: Is it safe?, MayoClinic,

https://www.mayoclinic.org/healthy-lifestyle/getting-pregnant/expert-answers/pregnancy-after-gastric-bypass/faq-20058409#

. Accessed on 2nd October 2020

Pregnancy after bariatric surgery: a narrative literature review and discussion of impact on pregnancy management and outcome, BiomedCentral,

https://bmcpregnancychildbirth.biomedcentral.com/articles/10.1186/s12884-018-2124-3

. Accessed on 5th October 2020

Preparing for and Managing a Pregnancy After Bariatric Surgery, NCBI,

https://www.ncbi.nlm.nih.gov/pmc/articles/PMC3345131/

. Accessed on 5th October 2020