Should I get weight loss surgery?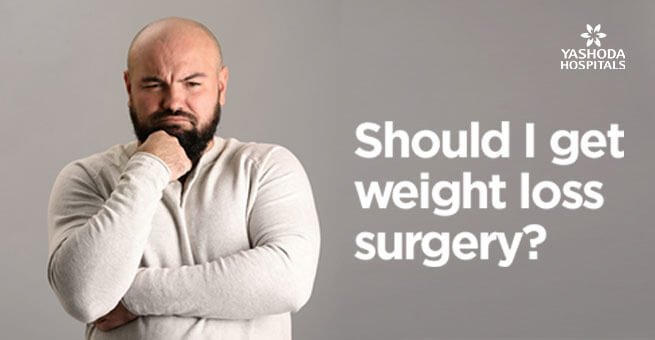 At a Glance:
Weight loss surgery may be an option for you if you are not able to lose weight with diet and exercise. While the surgery might seem appealing, it is accompanied by a lifelong commitment to living a healthier lifestyle afterward. You will have to undergo a thorough evaluation to determine if you are an eligible candidate for weight loss surgery.
What is weight loss surgery?
Weight loss surgery is a procedure that helps individuals to cut down on weight by making surgical changes in the stomach and small intestine. It is performed on individuals who are very overweight and are not able to lose weight with diet and exercise. 
Should I undergo bariatric surgery if my BMI is high?
Body mass index (BMI), is a numerical value of your weight in relation to your height, which determines your eligibility for bariatric surgery. You may qualify for bariatric surgery if your BMI score is:
Above 40 or higher 
Between 35 to 39 and you have significant health issues like type 2 diabetes, sleep apnea, and high blood pressure qualify for the surgery
Above 30 and you have serious weight-related issues. 
However, the surgery is not for everyone who is overweight, and it requires approval from the doctor. To get weight loss surgery approved, you must undergo a whole-body screening and meet the medical guidelines to qualify for this surgery, including age, medical condition, weight history, and psychological status.
What is the best weight loss surgery? 
There are several types of bariatric surgery, and your bariatric surgeon may recommend one depending on your medical condition and other factors.
Laparoscopic Adjustable Gastric Banding (LAGB): Laparoscopic surgeries use small incisions  The surgeon uses laparoscopic tools to place an inflatable silicone band around the stomach. This creates a very small stomach pouch that can hold lesser food so the patient feels full sooner, eats less and thus loses weight. 
Laparoscopic Gastric Sleeve Resection (LGSR): The surgeons remove part of your stomach and join the remaining portions together to make a new banana-shaped stomach or "sleeve." With just a small sack, about 80% of the stomach is removed and that makes people feel full a lot quicker than before. Patients will not be able to eat as much as they used to, which helps them lose weight. While gastric banding is reversible, gastric sleeve resection is irreversible.
Roux-en-y Gastric Bypass (RYGB): Gastric bypass, also called Roux-en-Y gastric bypass surgery is one of the most common weight-loss surgeries that involves creating a small pouch from the stomach and connecting the newly created pouch directly to the small intestine. The bypassed portion of the stomach and the duodenum remain connected to the small intestine so that digestive juices can reach the small intestine and aid digestion.
Biliopancreatic diversion with duodenal switch (BPD-DS): A biliopancreatic diversion with a duodenal switch is a less common weight-loss procedure. The first step is a sleeve gastrectomy in which the doctor removes a large part of the stomach and also changes the way food moves to the intestines. The second step bypasses the majority of the intestine and connects the end portion of the intestine to the duodenum near the stomach.
How does a doctor evaluate who is ready for weight loss surgery?
There are several weight loss surgery options. The doctor will decide your readiness for surgery by looking at the following factors: 
Understanding the procedure: You should meet your bariatric surgeon and psychologists several times to thoroughly understand the implications of the surgery and what follows afterward.
Health status:Doctors often suggest the surgery only after making all possible changes in the patient's physical activity, diet and prescribing suitable medications.
Psychological status: You should be emotionally prepared. It may be recommended to manage mental health conditions such as binge-eating disorder, depression, schizophrenia, etc. before undergoing weight loss surgery.
Motivation & Commitment: The surgery alone may not be enough. The patient must follow the lifestyle changes suggested by the surgeon post-surgery.
Taken together, bariatric surgery can manage problems linked to obesity. Ultimately, talk to your doctor to check if bariatric surgery is the right option for you. Surgery is only offered when the patient meets medical eligibility. If you make an informed decision to undergo the surgery, you have to remain motivated and make lifestyle changes, such as healthy eating and regular exercise, to ensure your wellbeing. It is a lifelong commitment and will require a lot of hard work from you and support from those around you. 
Reference
"Who can get weight loss surgery?". TeensHealth, The Nemours Foundation – kidshealth.org/en/teens/weight-loss-surgery.html Accessed 7 January 2020.
"Gastric bypass surgery: who is it for?". Mayo Clinic, www.mayoclinic.org/healthy-lifestyle/weight-loss/in-depth/gastric-bypass-surgery/art-20046318. Accessed 7 January 2020.
"Obesity: Should I have weight loss surgery?". UWHealth, University of Wisconsin Hospitals and Clinical Authority.   www.uwhealth.org/health/topic/decisionpoint/obesity-should-i-have-weight-loss-surgery/ug2364.html Accessed 7 January 2020.
"Guides to types of weight-loss surgery". Mayo Clinic, www.mayoclinic.org/tests-procedures/gastric-bypass-surgery/in-depth/weight-loss-surgery/art-20045334. Accessed 8 January 2020.