Management of Pediatric Cancer Patients During COVID-19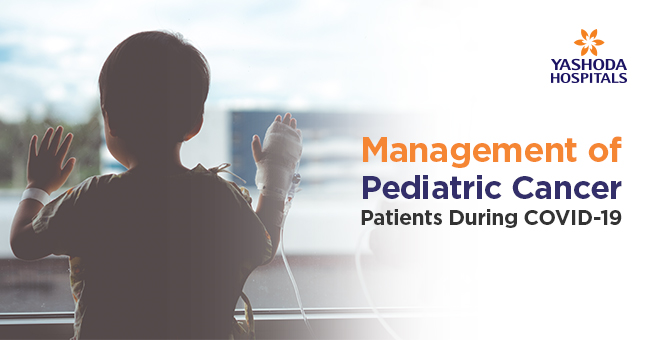 The COVID-19 pandemic presents an unparalleled global challenge to the safe and effective care for children with cancer. There is an urgent need for health practitioners and families in this rapidly evolving and unpredictable situation with the standard treatment for cancer, while maintaining the health and safety of staff, patients and families.
For reasons so far unknown, children are reported to be far less affected than adults. Also, severity of the COVID-19 appears to be largely less when compared to that in adults. Children have been reported to be a potential asymptomatic reservoir of the disease. Most childhood cancers behave aggressively and need immediate treatment, often requiring prolonged periods of intensive multiagent chemotherapy. As such, postponing of therapy, which could be
considered on a case-by-case basis for adults with cancer, is not an option for children. Although isolation as an inpatient is common practice for children who are receiving intensive chemotherapy or stem cell transplant, most children with cancer are treated in the outpatient setting, and hospital visits or intermittent hospital admission is unavoidable for appropriate delivery of therapy.
Children, teenagers, and young adults undergoing cancer treatment have lowered immunity which could make it more difficult for them to combat infection such as COVID-19. As a parent or caregiver of a child, young or teen with cancer, it is important for you to take extra precautionary measures. The group of patients who are vulnerable to this infection includes:
Undergoing chemotherapy
Receiving treatment for leukaemia or lymphoma
Have received their own stem cells back (autograft transplant) in the last 12 months
Have received a donor stem cell transplant (allogeneic transplant) in the last 24 months
Under immunotherapy treatment
Under other antibody treatments for cancer
Receiving targeted cancer treatments
Have completed treatment for cancer but have ongoing chronic lung, heart, kidney or neurological conditions
Shielding in Children
Shielding is for the individuals (including children) at very high risk of coronavirus infection. Shielding measures should be used where an extremely vulnerable individual, with or without external assistance, resides in their own home. Some children remain at greater risk for COVID-19-infection and these children should be protected by 'shielding' as much as possible from infection.
Shielding measures include:
Strictly avoid contact with those having coronavirus symptoms (COVID-19) such as persistent cough, fever, cold etc.
Do not leave your house except for any essential medical visits to the hospital for treatment as advised by the doctor 
Nurses who visit your home and provide essential support should be continued as advised by your doctor
Do not attend any gatherings with friends and families in private spaces such as family homes, weddings and festivals
Do not go out for shopping, or travel. The deliveries of food or medication should be left at the door to minimize contact.
Consult and take advice from your doctor through online using phone or internet
What are the measures to be taken during treatment to prevent infection?
There are certain measures to be followed for pediatric cancer patients to avoid risk if COVID infection.
Screening: When the patient or visitor visits the hospital, they have to be screened for the symptoms of COVID. For suspicious patients, lung CT examination or nucleic acid test should be performed.
Preventive measures during hospitalization: Cross-infection can occur between the medical personnel and patients. Strict enforcement of these preventive measures should be followed including hand washing, medical waste collection and other initiatives to prevent infection in hospital.
Chemotherapy: Chemotherapy is one of the effective treatment modalities for pediatric cancers. The family members of the child should discuss with the doctor and their team for scheduling of the treatment taking all the precautionary measures to avoid coronavirus infection.
Radiotherapy: The effect of radiotherapy on immune function is comparatively less than that of chemotherapy; thus, continuing radiotherapy is appropriate. 
Surgery: With suspected or confirmed COVID‐19, if surgery has to be done, pre-operative preparation should be carried out in an isolation ward, and transport should be carried out through special channels. During surgery and anesthesia effective precautions for the prevention and control of infections must be carried out strictly. During the procedure the operating room should be completely disinfected.
Follow‐up: For patients who require regular follow‐up after surgery should contact the oncologist to discuss a follow‐up plan.
What are the general measures to mitigate Pediatric Radiation Services during COVID?
Decrease patient numbers by    prioritization of treatment when feasible   
Screening of patients prior to    their appointments or visit to hospital   
Strict adhere to the standards of to social distancing
Limit foot traffic into the department by allowing a    single patient   
Restrict the entry to children who may be vectors of the virus 
Clean and sanitize the hands and surfaces in between consultations, with approved disinfectants so as to avoid any risk of infection
Always use masks so as to avoid any direct contact of droplets of infection   
Safeguarding the staff by implementing a shift system for therapists, nurses and other clinic personnel where possible
Pediatric oncologists should keep them updated on the prevention and control of COVID-19 infection in children with cancer. Some principles are paramount and should be considered for all children with cancer:
Physical isolation is important for all children with cancer who are currently undergoing treatment. Try to get consultation at home through phone, digital and video communication during the treatment
Screen the patients and visitors for any suspicious symptoms of infection
Restrict single parent access to pediatric wards and clinic rooms. Promote and enforce social distancing rules in these areas; at least 6 ft. between individuals, and avoid grouping / gathering
Schedule the visits of the pediatric patients during the treatment so as to avoid the risk for infection
Try to adhere to online or video consultation with a doctor. The patient can visit hospital if there any emergency for medical assistance
Follow basic principles of infection control in order to avoid any risk of cross‐contamination
Palliative Care & Family Support
During this COVID-19 pandemic, children with high risk cancer represent a highly vulnerable population, especially when it comes to palliative care needs. In addition to their anxiety during the cancer diagnosis and treatment, these children are at increased risk for depression as well as psychological and emotional trauma due to suspicious symptoms of COVID-19 infection. Assisting with multifactorial pain, encouraging difficult decision-making and handling clinical confusion are central qualities of pediatric palliative care that are important to respond to the needs of certain patients and families.
Palliative care can help in early identification and treatment of physical, psychosocial, and spiritual distress to prevent and relieve suffering in patients with life-threatening illnesses and their families. The early integration of this approach is standard of care and must be instituted when a high-risk cancer is diagnosed and should continue throughout the course of illness, regardless of whether or not a child receives treatment directed at the disease. Children with cancer suffer    from a    distinct    and significant symptom secondary to both the primary disease and the toxicities of    treatment, and these    adversely affect the quality of life for both patients and their families.   
Palliative care can help in the early detection and management of physical, psychological, and social distress in order to prevent and relieve suffering in patients and their families with life-threatening diseases such as cancer. This approach is of great help when a patient is diagnosed with high-risk cancer. The care should continue throughout the course of treatment. Children with cancer suffer from a distinct and significant secondary symptom such as anxiety or depression along with primary symptoms of the disease which can affect the quality of life for both patients and their families. Thus, palliative care can be of great help in such situations.
COVID-19 is leading to increased demand for healthcare services. In these challenging times, it is important to incorporate palliative care into the ongoing treatment of children with cancer by encouraging early access to hospice and palliative care facilities, fostering awareness, and implementing policies and procedures that can be of great help on comfort and quality of life in the pediatric patients.