Healthy Diet for Children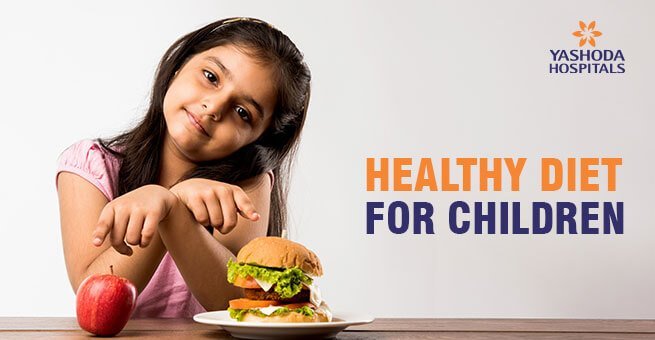 At a Glance:
Making conscious food choices for children right from childhood can have a significant impact on their mental and physical development. It is essential to introduce wholesome and balanced meals to children in the initial developmental phase itself, so that this habit gradually and progressively stays with them even in their adulthood. Children need certain nutrients like vitamins, minerals, protein, fats and carbohydrates from different food groups and at different stages of their life as per age, weight and height. Read further to understand the need for ensuring nutrition and a healthy diet for children.
Why is a healthy & balanced diet important for children?
In the first few years, nutrition plays a fundamental role for their growth and development not only for their body but also their brain. A structured eating routine and incorporating an active play and exercise regime allows them to stay fit. A healthy and balanced diet has numerous benefits.
It stabilizes their energy.

Increases alertness and concentration.

It improves their thought process and behaviour. 

Brings in lighter and brighter moods.

Helps them maintain a healthy body weight.

It helps prevent mental health conditions and future onset of diseases. 
What should an ideal diet for children consist of?
 Ideally, a healthy diet should consist of nutrient-dense foods and should aim to provide a variety of vegetables, including dark green, red and orange, beans and peas.  It is important that children get a balanced diet that includes whole grains, fruits and vegetables, lean proteins, dairy products and a small amount of healthy fats.  Children will need food that gives them nutrients for their growth and development. 
For normal growth and development of bones Calcium,Vitamin D should be provided in good quantities. 

Iron- rich food helps in normal cognitive development in children.

To support their immune system, Vitamin D and C and zinc rich foods are essential sources. 

Omega-3 DHA supports normal brain function.

Water rich foods, like curd, fruits and green vegetables should be added to meals. Children should consume sufficient amounts of water throughout the day. 
Above all, quantity plays a pivotal role. Children shouldn't be overfed, or be allowed to overeat. With gradual growth spurts, a child's appetite tends to vary, it is important for parents to understand the nutritional requirements of children from the time from when they are infants to toddlers and even in their teens, and provide adequate quantities of meals accordingly. An obese child is at risk for developing chronic medical conditions such as diabetes, high blood pressure, asthma and sleep apnea.
What food types help in brain development? 
Incorporating the right food groups can contribute to a child's brain development and help kids stay alert and focussed. Some examples of brain foods are: 
Protein

-C

hoosing good sources of protein-rich foods

,

such as foods like

meat, poultry, seafood, beans and peas, eggs, soy products, nuts and seeds, as well as dairy.

Iron

– Meats, beans and lentils, fortified cereals and breads, dark leafy vegetables, and baked potatoes are among the best sources of Iron. 

Choline

– Meat, dairy, and eggs have lots of choline and are also available in most vegetables. 

Iodine

– iodized salt, seafood, dairy products, and enriched grains.

Vitamin A

. Carrots, sweet potato, and spinach are good sources of this vitamin.

Vitamin D-

include fresh fatty fish (salmon, herring, mackerel and sardines), liver, some mushrooms and egg yolks.

Vitamin B6

– Starchy vegetables, fruit (not citrus), organ meats, fish and potatoes provide Vitamin B6. 

Vitamin B12

– Such as meat, fish, eggs, and dairy.

Fruits and Vegetables-

Including fruits and vegetables into every meal. 

Fiber-

Selecting whole grains so children can get more fiber, such as whole-wheat bread, cereals, oatmeal, and brown or wild rice. 

Dairy-

Children should be encouraged to eat and drink dairy products, such as milk, yogurt and cheese.
What food items should be avoided?
Anything in excess is unhealthy, moderation is the key especially when it concerns packaged food.  Food items that should be limited or avoided in excess are: 
Saturated Fats

: Avoid excessive fried food and instead switch to healthier cooking methods such as broiling, grilling, roasting and steaming. 

Snacks

: Low-nutrient snacks, such as chips and candy and other fast food should be avoided which are loaded with high sodium, high salt, trans fat and artificial flavours 

Aerated drinks

: Replacing water and milk with sugary drinks, such as soda and fruit-flavored drinks is a big NO.
However, building a healthy diet and focusing on nutrition rather than quantity helps prevent the onset of chronic diseases. Some children can be picky about the foods they eat, they should be rightly encouraged to consume healthy foods.  
It is always advisable to visit a doctor if children have dietary issues or other health related concerns. To consult experienced pediatricians and diet consultants book your appointment.
Reference:
"Children's Health",

Mayo Clinic,

https://www.mayoclinic.org/healthy-lifestyle/childrens-health/basics/childrens-health/hlv-20049425

. Accessed on 9th June 2020.

"Healthy Eating",

Kids Health

,

https://kidshealth.org/en/parents/habits.html

. Accessed on 9th June 2020.

"The 11 Most Nutrient-Dense Foods on the Planet",

https://www.healthline.com/nutrition/11-most-nutrient-dense-foods-on-the-planet#TOC_TITLE_HDR_1

. Accessed on 9th June 2020.

Nutrition and Healthy eating,

Mayo Clinic,

https://www.mayoclinic.org/healthy-lifestyle/nutrition-and-healthy-eating/basics/healthy-diets/hlv-20049477

. Accessed on 9th June 2020.

"Top 10 brain foods for children",

WebMd,

https://www.webmd.com/parenting/features/brain-foods-for-children#4

. Accessed on 9th June 2020.