Yashoda Hospitals Child Health Check-up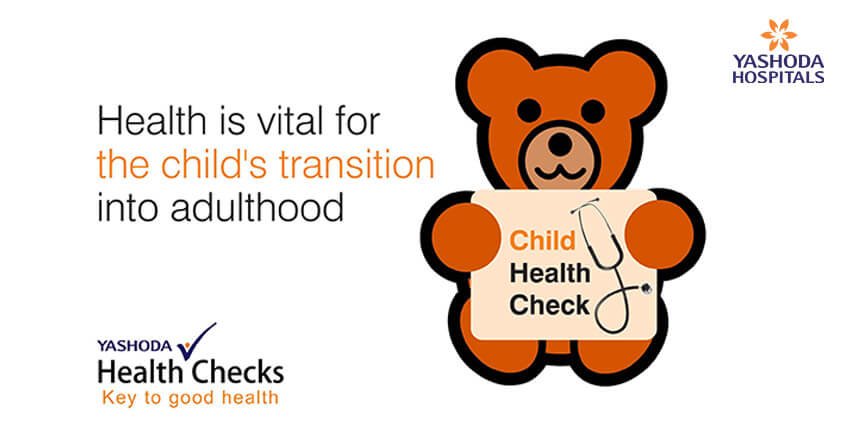 A child is any individual who is between birth and puberty. Legally, a child is considered as a minor, those who are below 18 years of age. All children are dependent on adults or caretakers for support and basic needs. A special child needs much more attention than others. The motor and cognitive skills of the child develop with age, guidance from parents and teachers, and peers.
Significantly, the child may or may not have the ability to identify a health condition. It is up to the parents and caretakers to help the child to remain healthy. Personal hygiene, grooming and etiquette are vital for the child's transition into adulthood.
The family is the first point of contact for the child, where health and hygiene are closely observed. At the school, teachers observe the child' general health condition, especially of contagious diseases and follow-up on the right treatment with parents.
Child Health Check-ups are available at public and private hospitals. Each child health check-up offers comprehensive and preventive health screening service. These check-ups need to be availed as per the schedule or periodicity.
Yashoda Hospitals Hyderabad offers comprehensive and preventive child care on a regular basis. The basic objective of our child health check-up is to identify and correct any medical condition before the condition becomes serious and disabling. The consulting doctors collect details about the child's medical history and immunizations.
The child health check-up includes a host of lab investigations that cover haematology, histopathology, biochemistry, microbiology and cardiac investigations. The haematology tests blood grouping & Rh typing, Complete blood picture (CBP), Complete urine examination, Stool routine test & Mantoux Test. The radiology investigations include chest radiography.
Our child health check-up emphasizes on diet and nutrition provided to the child, as good food is primary for the growth and development of the body, in general and different organs of the body in particular. The consulting nutritionist advises on nutritious foods to be taken.