Rigid Bronchoscopy – Cryobiopsy of Protruding Mass – Endobronchial Blocker(Fogarty Balloon)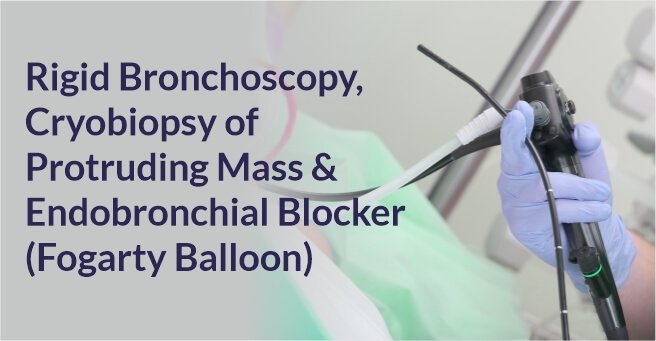 Background
60 year old alcoholic and diabetic patient presented with complaints of fever, cough, loss of appetite and loss of weight.
Diagnosis And Treatment
CT chest was suggestive of cavity in left upper lobe. FOB was suggestive of pus oozing from left upper lobe bronchus with a clot mass adherent to left upper lobe bronchus. Subsequent bronchoalveolar lavage was predominantly neutrophilic. Staining and culture for pyogenic, fungus, tuberculosis and nocardia was negative. Cytology was negative for malignancy. A diagnosis of Invasive Mucormycosis was made.
Rigid bronchoscopy + Cryobiopsy of protruding mass + Endobronchial blocker ( Fogarty balloon) was done.
CT chest – cavity in left upper lobe
Bronchoscopy – Pus oozing from left upper lobe bronchus
Bronchoscopy – Mass/ Clot occluding the left upper lobe bronchus
Cryobiopsy of the protruding mass suggestive of invasive mucor mycosis (Broad aseptate hyphae)
About Author –
Dr. Viswesvaran Balasubramanian, Consultant Interventional Pulmonology and Sleep Medicine, Yashoda Hospital, Hyderabad
MD, DNB, DM (Pulmonary-Gold Medal), Fellowship in Sleep Medicine (Gold Medalist), Fellowship in Interventional Pulmonology (Malaysia)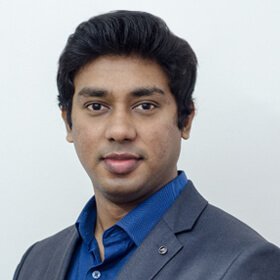 Dr. Viswesvaran Balasubramanian
MD, DNB, DM (Pulmonology-Gold Medal), Fellowship in Sleep Medicine (Gold Medalist), Fellowship in Interventional Pulmonology (Malaysia)
Consultant Interventional Pulmonology and Sleep Medicine