Step-by-step process to handle Spinal Trauma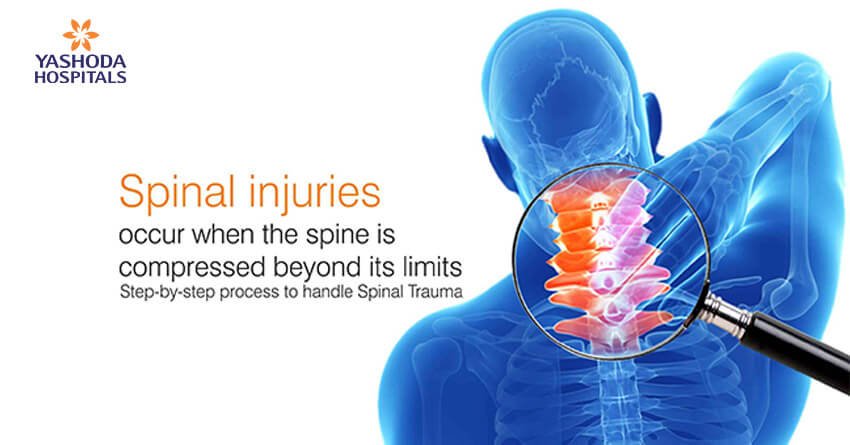 The spine provides support to the back of the neck (cervical), chest (thoracic), abdomen (lumbar) and lowers abdomen (sacral) regions of the body. It is one of the most highly used organs of the human body that is continuously under stress and pressure.
Spinal injuries occur when the spine is subjected to take a position way beyond its limits of compression, flexion, extension, rotation, bending, distraction and penetration.
Handling a spinal injury is not as easy as it looks. It demands the support of an expert, with adherence to a set of live-saving practices associated with pre-hospital situation.
Manual spinal protection should be instituted immediately
The neck should be kept in the neutral position. If the patient is awake/conscious, the neck can be moved into line. However, if the patient is unconscious the neck should be splinted in the current position
Shift the patient to the spine (rescue) board and shift to the hospital
At the hospital, the spinal injury patient should be shifted to the trolley, as continuing the patient for a long time on the spine board may lead to pressure injuries.
During examination or procedures the protection to the injured spine should be manually provided by log-roll technique, the patient's spine can be examined, and transferred on and off back boards for diagnosis (X-ray and CT scan) or conduct a procedure (operating table).
There should be four people to do the roll, one holding the head and coordinating the roll, and other three rolling the chest, pelvis and limbs. However, anesthesia may be necessary to allow for adequate diagnosis.
A proper understanding of the impairment/injury will help in following the right course of treatment and follow-up. The American Spinal Injury Association has provided the spine impairment grading system.
A = Complete: No motor or sensory function of sacral segments
B = Incomplete: Sensory but not motor function
C = Incomplete: Motor function is preserved below the neurological level (less than 3)
D = Incomplete: Motor function is preserved below the neurological level (muscle grade of 3 or more)
E = Normal: All functions (motor and sensory) are normal
Spinal injuries are referred to surgical procedure only when it needs deformity correction, and stabilization of the spine. It has been found that, cervical injuries show greater recovery potential than thoracic injuries.
The age and health of the patient make a huge difference in the treatment of spinal injuries. Internal hemorrhage may sure delay the process of treatment and recovery of the patient.
The Advanced Centre for Spine Surgery at Yashoda Hospitals is pioneered by a team of experienced Spine Surgeons, Neuro-surgeons, Neuro-physicians, and Rehabilitative surgeons.
The Centre has facilities to handle any kind of spine traumas. The Centre performs complex spinal deformity corrections and takes care of degenerative spinal disorders using minimally invasive spine surgeries (keyhole surgeries).