Itchy Skin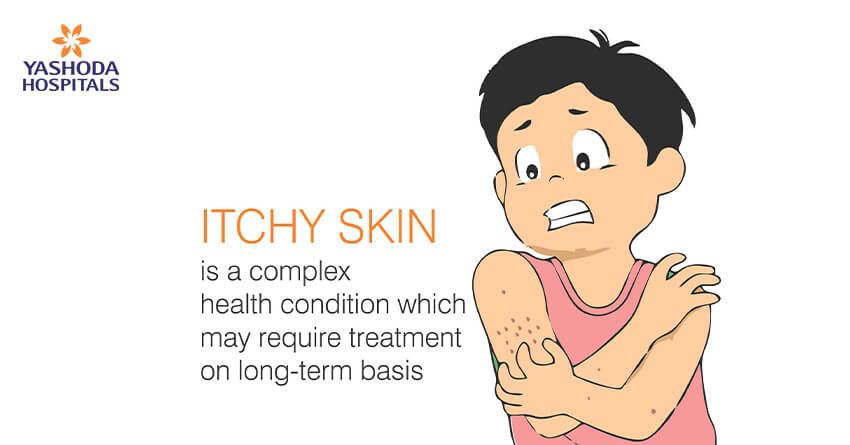 Itchy skin is a complex health condition which may require treatment on long-term basis
Pruritus or itchy skin may occur due to rash or another skin condition. It may represent an underlying disease or serious condition viz. liver disease or kidney failure. Itchy skin can be seen in people with dry skin, eczema, allergies, hives, chronic kidney diseases, fungal diseases and scabies. Itchy skin is evident as red or rough or bumps or blisters. Itchy skin may require long-term treatment under the guidance of the specialist doctor or multi-specialty team of doctors.
CAUSES
There are different causes for itchy skin. Significantly, dry skin, rashes, internal diseases, certain medications and allergic reactions may cause an itchy skin condition. People with nervous disorders and pregnant women also develop itchy skin. During pregnancy women may experience itch on the abdomen, thighs, breasts and arms.
SYMPTOMS
Itchy skin is marked by redness, bumps, spots or blisters, dry and cracked skin, leathery or scaly skin. Itchy skin may last for a long time and can be intense. Continuous scratching the itching area results in skin damage and causes infection.
RISKS AND COMPLICATIONS
The risks and complications of itchy skin are evident as skin injuries, infections and scarring of the skin.
TESTS AND DIAGNOSIS
The skin specialist or dermatologist examines the itchy skin and enquires about your medical history, diet and life-style habits. To know about the underlying medical condition of itchy skin, the doctor may recommend for blood test, chemistry profile, thyroid function test and chest X-rays. Blood test helps to know about the internal condition causing the itch viz. iron deficiency. Chemistry profile helps to know about liver and kidney functioning. Thyroid function test helps to study thyroid abnormalities such as hyperthyroidism which may cause itchy skin. X-ray helps to identify the underlying disease by providing details of enlarged lymph nodes.
TREATMENT
Treatment for itchy skin includes an in-depth scrutiny of each patient's health condition and his/her family's medical history. Also, it demands the involvement of multi-specialty doctors and appropriate diagnosis to understand the underlying causes of itchy skin.