Why does Gynecomastia occur? What are the various treatment options for Gynecomastia?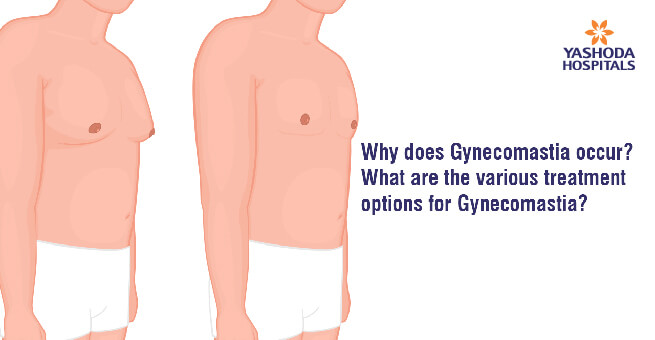 Gynecomastia is a condition in which men's breasts become overdeveloped or enlarged at any age and is usually idiopathic (without any cause) or sometimes due to hormonal changes, heredity, obesity, or the use of certain drugs. Gynecomastia can cause emotional distress and impair one's self-confidence, leading some men to avoid certain physical activities, psychological distress, depression, and poor social well-being, negatively impacting mental health and poor performance in education, hindering even daily activities and intimacy in order to conceal their condition.
Gynecomastia is defined by excess localized fat, excess glandular tissue development, sometimes excess breast skin, and large nipple and areola skin similar to females. It can happen unilaterally (one breast) or bilaterally (both breasts). Gynecomastia isn't a disease, but it can be difficult to live with. Gynecomastia symptoms usually include enlarged breast tissue (also called MALE BOOBS), pain, which is uncommon, and nipple sensitivity. Gynecomastia is best treated by plastic surgeons due to their extensive training, experience, and current knowledge of newer technologies and techniques. The best results are at the hands of plastic and cosmetic surgeons.
Why does it occur?
Some of the crucial causes of gynecomastia include:
Idiopathic: (most common) occurs in the absence of an underlying cause, disease, or illness.
Natural hormone changes: Gynecomastia is caused by a decrease in the amount of the hormone testosterone compared to oestrogen, which can be caused by conditions that block the effects of testosterone, reduce testosterone, or increase oestrogen levels.
 Gynecomastia in infants. Because of the effects of their mother's oestrogen, more than half of all male infants are born with enlarged breasts. Swollen breast tissue usually goes away two to three weeks after birth. 
Gynecomastia during puberty. Gynecomastia caused by puberty hormone changes is fairly common, but the swollen breast tissue might resolve over time. Hence, it is important to consult the specialist and stay in follow-up.
Gynecomastia in adults. The prevalence ranges between 24 and 65 percent among men aged 50 to 80, according to the researchers. However, the majority of men with the condition have no symptoms. 
 Medications: Anabolic steroids and androgens to treat hormone deficiencies, delayed puberty, or muscle loss from another disease; AIDS medications; ADHD medications containing amphetamines; anti-anxiety medications; tricyclic antidepressants; antibiotics; ulcer medications; chemotherapy to treat cancer; heart medications such as digoxin (Lanoxin) and calcium channel blockers; and stomach-emptying medications. 
Illicit drugs and alcohol: Alcohol, anabolic steroids used to build muscle and improve athletic performance, amphetamines, marijuana, heroin, and methadone are all substances that can cause gynecomastia. 
Health conditions: Hypogonadism, aging, tumors, hyperthyroidism (in this condition, the thyroid gland produces too much of the hormone thyroxine), kidney failure, liver failure, cirrhosis,
Herbal products: Plant oils used in shampoos, soaps, or lotions, such as tea tree or lavender,
Gynecomastia can be emotionally upsetting and undermine one's self-esteem, causing men to refrain from engaging in specific physical activities.
Why does gynecomastia need treatment?
Treatment begins with an assessment of the symptoms, followed by a medical exam that includes a careful examination of your breast tissue, abdomen, and genitals; basic blood tests; and an ultrasonogram. Rarely, gynaecomastia in the elderly with a lump in the male breast associated with other symptoms like pain, and nipple discharge, requires further tests.
In some cases, gynecomastia can be cured without treatment if the patient discontinues taking medications that cause breast enlargement. If gynecomastia is caused by an underlying condition such as hypogonadism, malnutrition, or cirrhosis, that condition may require treatment. 
Surgery Options
Gynecomastia management options are
Liposuction and high-definition contouring: This procedure removes excess fat in the chest and the breast gland through miniature cuts made at strategic points. It is then combined with liposuction around the muscle borders to give a high-definition muscular look. 
Mastectomy: This surgery removes the breast gland tissue.
Mastectomy: This surgery involves removing the breast gland using a small cut and is done mostly in combination with liposuction.
Nipple and areola correction: The size of the areola is also corrected to male patten and size if it is larger than normal.
Is the surgery safe?
In general, gynecomastia surgery is extremely safe, with quick recovery times.
However, complications can occur even when the patient and surgeon pay the utmost attention to safety. Bruising, bleeding, fluid collections, contour irregularities, loss of nipple skin, visible scarring, numbness of the nipples, inverted nipples, loose breast skin, and asymmetries are known complications but are infrequent. Good outcomes require meticulous surgical technique, experience, and pre/postoperative management.
What is the recovery time? When can you get back to your routine?
The average recovery time is one week. It is recommended to rest and avoid physical activity for a few days. During the recovery period, the patient is given support garments to wear, which aid in healing and reduce swelling and bruising. In addition, the doctor will prescribe medications to keep the patients comfortable and pain-free. Patients may experience a tingling sensation near the nipples and areola for 3–4 months following surgery, but this will not last forever.
Does Gynecomastia come back after surgery?
The answer is no. But if the person gains excessive weight, some increase in chest size can be expected. Well-managed health and fitness will keep you in shape for a long time.
Why choose Yashoda Hospitals Department of Plastic and Reconstructive Surgery?
Yashoda Hospitals' Department of Plastic and Reconstructive Surgery is well-equipped, with six highly experienced plastic surgeons spread across three campuses in Secunderabad, Malakpat, and Somajiguda. The surgeons have specialized training and skills in one or more subfields of reconstructive and cosmetic surgery, such as aesthetic plastic surgery, breast surgery, reconstructive surgery, craniofacial surgery, facial reconstructive surgery, reconstructive microsurgery, pediatric plastic surgery, laser surgery, and hand surgery.
Whether it's cosmetic surgery to improve appearance or reconstructive surgery to correct defects, Yashoda Hospitals' Center for Plastic & Reconstructive Surgery provides cutting-edge facilities, cutting-edge technology, and expert surgeons. Our surgeons have extensive experience with a wide range of plastic surgical problems, from the common to the unusual.
About Author –
Dr. Jammula S Srinivas, Consultant Plastic and Cosmetic Surgeon, Yashoda Hospital, Hyderabad
MS, Mch (Burns and Plastic Surgery)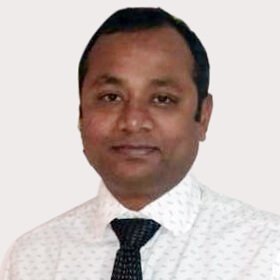 Dr. Srinivas S Jammula
MS, MCh (Burns and Plastic Surgery)
Consultant Plastic and Cosmetic Surgeon