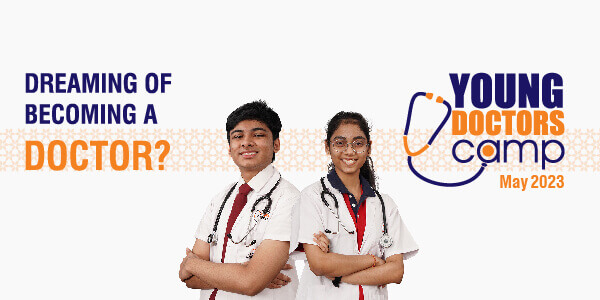 Why should you enroll in Young Doctors' Camp?
Welcome to Young Doctors' Camp 2023!
If you are a 9th standard student aspiring to be a doctor, we invite you to register for Young Doctors' Camp 2023. The camp is open to students who will be entering the 10th standard in the upcoming academic year of 2023-2024.
We value both academic excellence and enthusiasm in selecting participants for the camp. To apply for the Young Doctors' Camp 2023, please follow these steps:
Fill in the registration form with your relevant information and submit it.
Send an email to yashodaydc2022@gmail.com with the following information:
A copy of your up-to-date 9th standard report card(s).
A 60-second video titled "Why do you want to be a part of the Young Doctors' Camp at Yashoda Hospitals?" Please add the subject of the email as "Your Name & Video File Name."
Please note that it is mandatory to complete both of these steps in order to finish the registration process.
The deadline for submitting entries is May 10, 2023.
Selected students will receive notifications from May 10th to 12th. The camp will be held on May 25th & 26th at Hitec City, and on May 26th & 27th at Somajiguda, Secunderabad, and Malakpet. The closing ceremony will take place on May 27th.
If you have any questions or concerns, please call us at 040-4567 4567 or reach out to us at the following address:
YDC Coordinator,
Plot No. 64, Co-operative Housing Society,
Nagarjuna Hills, Punjagutta, Hyderabad – 500082
Telangana
Thank you for your interest in the Young Doctors' Camp 2023. We look forward to hearing from you soon!
Young Doctors' Camp 2023 starts from May 26th.
Registrations Closed