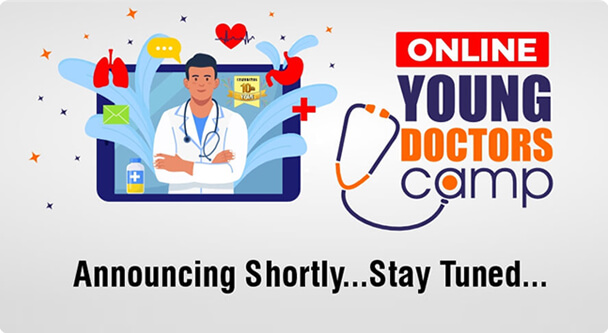 Every summer, Yashoda Hospitals gives all young and aspiring doctors the opportunity to work alongside some of the best doctors in town and experience what it is really like to be in this profession.
Yashoda Hospitals strongly believes that if you enjoy what you do, you will excel at your work. Vital decisions, like career choice, cannot be made in vacuum. The more informed the decision, the higher the chance of success. Therefore, we bring to you an invaluable hands-on opportunity to all the students to work together with the best doctors in town in a superior hospital environment.
About the Programme
Students starting 10th standard are at crossroad, in constant conflict with their parents over their career. Science or Math, a degree in arts or commerce, and in the bigger picture the question of work-for-passion's-sake vs. work-for-money's-sake, this is a tough choice for children in today's world.
Though parental pressure, peer influence and social commitments are very often the deciding factors in carving out the future, taking the aspirations and aptitude of the student should be considered as will. The ideal situation is to guide them so they may live a successful life while doing justice to their inherent skill and interests.
It is to help make this daunting task simple that Yashoda Hospitals offers a three day camp called 'The Young Doctors' Camp' for students going to enter 10th standard in the upcoming academic year of 2022-2023. The idea is for them to get a firsthand experience in getting an understanding of the medical world by interacting with patients and accompanying doctors during treatment procedures, watch surgeries and living the life of a doctor for a week.
Doctor as a profession
Medicine is a noble profession. However it is not merely a job in the usual sense. It is a calling, a commitment to serve the society, to care for the distressed. In India there is a severe dearth of doctors as out of 10,000 people in the country there are only six doctors, compared to nearly 55 in the United States and nearly 21 in Canada. Choosing the medical profession can be an ideal choice for those with an aptitude for biology and chemistry and with tenacity for long years of study and a heart to care and cure.
The sudden splurge of medical tourism has made medicine an even more rewarding and demanding profession and the horizon of possibilities seem endless.
Objective
The objective of the YDC is to inspire bright young students to be quality doctors by giving them a clear conception about the hospital atmosphere and a doctor's life. The camp will provide an invaluable opportunity for the students to work together with the best doctors in town in a superior hospital environment. It will enable them to gain a deeper understanding and enhanced understanding of the advantages, challenges and excitement of being a doctor thus enabling them to make the right career choice.