Yashoda Hospitals is known as the pioneer in bringing modern technology to the common person and enabling revolutionary technology to provide services and treatment with high precision and optimal results.
Our advanced technology includes the availability of a Modular Embryo Lab. The embryo lab at Yashoda Hospitals' fertility center is one of the finest labs in the state with modern technology and advanced equipment including:
MINC Incubator: It is an incubator that is controlled by a microprocessor, and is gassed and humidified. It has a heated chamber baseplate and a lid to provide a stable thermal environment for embryo culture. 
Eppendorf Microprocessor-controlled Micromanipulator Equipment: Successful in-vitro fertilization requires precision and fast processing. At Yashoda Hospitals, we have one of the fastest and the finest micromanipulators that helps us get optimal results and satisfy the patients with the best services.
OCTAX Microsurgical Laser System: It is a laser system that is used in microsurgery to ensure precision and optimal results.  
IMSI System: IMSI stands for intracytoplasmic morphologically selected sperm injection. It is a technique that is used to examine and select the best sperm using a high-magnification digital imaging microscope. Once the sperm is selected, it is then microinjected into the egg to complete the fertilization process.
We also house a high-tech air filtration system that purifies the air for all IVF procedures to help them get the best quality of embryos. 
FAQs
1. Is the technological advancement of a hospital important? 
Yes, the technological advancement of a hospital is extremely important because the more highly equipped the hospital is, the better services it can provide to its patients. Apart from that, good technological backing also provides optimal results and a higher success rate of treatments. 
2. Which is the most technologically-advanced hospital in Hyderabad?
Yashoda Hospitals is one of the most technologically-advanced hospitals in Hyderabad and in the surrounding cities. We house the top technologies to ensure the best treatment facilities and customer service to all the patients. 
3. How has technology been beneficial for patients and hospitals?
Apart from surgical benefits, advancement in technology in the medical sector has made admin-work easy and fast. It is now easier and quicker to store and retrieve data, communication is swift, be it between the hospital staff and patients, or doctors and patients. Patients now do not have to spend hours waiting for an appointment, they can book an appointment from the comfort of their homes and arrive just minutes before their scheduled appointment. 
4. Are treatments involving highly technical equipment expensive? 
With advancements made in the technological sector, treatment procedures may not be very expensive. At Yashoda Hospitals, Hyderabad provides the best services at affordable prices, as the patients' health is their top priority. We also make sure that a patient gets what he needs instead of unnecessarily adding procedures in their treatment plan and charging them excessively. We are 100% honest and transparent with the consultation and try to ensure that the patients' treatment bill remains as minimal as possible with the best quality of treatment.
Patient Testimonials For Fertility
Treatment For:Infertility Treatment
Treated By:Yashoda fertility institute
Patient Location:Hyderabad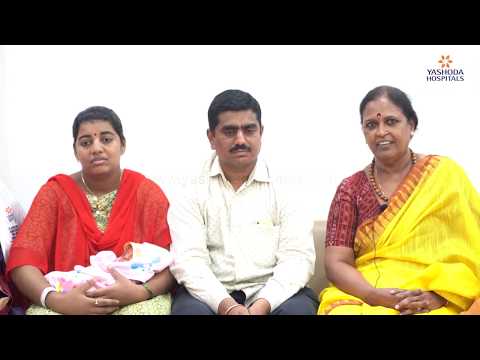 Mrs. Pooja Mahadev having infertility problems for seven years and she
Health Blogs for Fertility