Yashoda Seva Kendram – Creating Employment Opportunities in Warangal District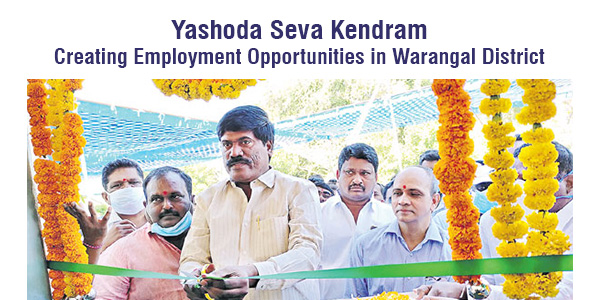 We are delighted to inform you that the Yashoda Charitable Foundation, a CSR initiative of Hyderabad's leading Yashoda Hospitals Group, has achieved a significant milestone in its service activities. The Yashoda Charitable Foundation (YCF) inaugurated the "Yashoda Seva Kendram" Mega Function Hall and Skill Development Center complex at Medipally – Rampur villages in Nallabelli Mandal, Warangal District, on on 22nd December 2021 as a continuation of its service and CSR activities by Narsampet MLA Sri Peddi Sudharshan Reddy.
Sri Peddi Sudharshan Reddy stated on this occasion that the Yashoda Charitable Foundation assisted and supported thousands of orphans and needy youth by training them in professional-social skills, thereby creating employment opportunities and orphan youth empowerment. It is critical to assist and guide orphans in developing confidence and encouraging them to contribute to their community.
MLA Sri Peddi Sudharshan Reddy thanked Yashoda Hospitals Group and Yashoda Charitable Foundation for constructing a Mega function hall and a skill development centre complex for the public and youth at a cost of Rs 1.50 crore as part of the development of their native place Medipalli-Rampur villages near Narsampet – Warangal and providing it completely free of charge to the people of Medipalli-Rampur villages. Sri Gorukanti Devender Rao, Executive Director of Yashoda Hospitals, Narsampet MLA Sri Peddi Sudharshan Reddy, and others took part in the programme.