Complex Brain Surgery Successfully Performed Using IMRI & Neuronavigation At Yashoda Hospitals Hyderabad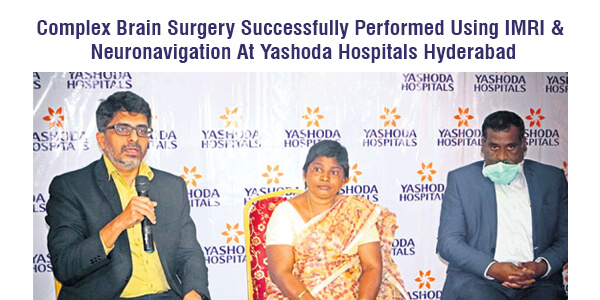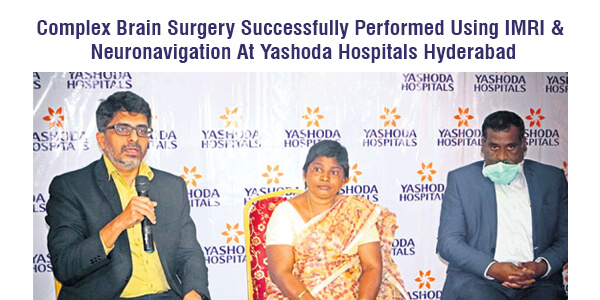 Yashoda Group of Hospitals has established state-of-the-art brain surgery procedures such as Intraoperative 3T MRI (IMRI) and Neuronavigation, which have radically changed and secured the management of brain surgeries in renowned clinics for the first time in Telugu states. During the last few months, Yashoda Group of Hospital surgeons have successfully used IMRI and neuronavigation. On Wednesday, they shared their experiences with media representatives after completing over 1000 complex brain tumour operations.
On January 12, 2022, Yashoda Hospitals neurosurgeons gave Mrs. Chandramma, a sanitation worker at Kodada Municipal Corporation in Suryapet, a new lease on life. Mrs. Chandramma, 42, had been suffering from frequent headaches for nearly a year. She had been suffering from headaches for a long time and had only found temporary relief from over-the-counter pain relievers. Because of her financial situation, she never sought medical help. However, after experiencing sudden weakness on one side of her body and mouth deviation (hemiparesis), she was rushed to a nearby doctor, who performed a CT scan of her brain and discovered a large tumour, referring Chandramma to Yashoda Hospitals in Malakpet.
On reaching the hospital, Senior Neurosurgeons from the Department of Neurosurgery, Yashoda Hospital Malakpet, Dr. Raveesh Sunkara and Dr. Rama Krishna Chowdhary said Chandramma was taken to a state-of-the-art 'neuro-cath lab' where further tests revealed that she had a large tumor in her right brain that occupied a large part of her brain and there was no risk of vascular complications during the surgery. Intraoperative 3T MRI (IMRI), Neuronavigation were used as there was a risk of affecting major nerves in the brain during surgery. The tumour in the brain was successfully removed after surgery on September 9 last year, Chandramma was able to recover in a very short time after the surgery without any post. Operative deficits and was discharged from the hospital. Dr. Raveesh Sunkara, Dr. Rama Krishna Chowdhary said.
Yashoda Hospitals' Director Dr. Pavan Gorukanti said that surgery on the brain, which controls all the organs of the body, can be fatal and can cause panic attacks related to changes in the function of parts of the body. "However, the introduction of microscopes into the field of neurosurgery has made these surgeries safer and more effective. We can perform surgeries for tumours even on sensitive areas using  Neuronavigation, another advanced modality. However, the soft tissue of the brain is not stable during surgery and is subject to shift. This allows images obtained by Neuronavigation before the start of surgery to have a margin of error during the operation. In this situation, IMRI Plays a key role to overcome these small margins of error to give ultra-precise guidance during surgeries. Normally after completion of the surgery,, it is never clear whether there is complete removal of the tumour. Surgeons can get this information only after the operation when the patient undergoes another MRI or CT Scan. Based on this, if the tumor still has some residue, surgery had to be performed again on another day. This can lead to multiple surgeries to remove the entire brain tumor. With IMRI, a scan can be performed during surgery to make changes to the surgery on the spot. That means there is no need to do repeated surgeries.