Spinal stenosis – Narrowing on Narrow Spaces of Your Spine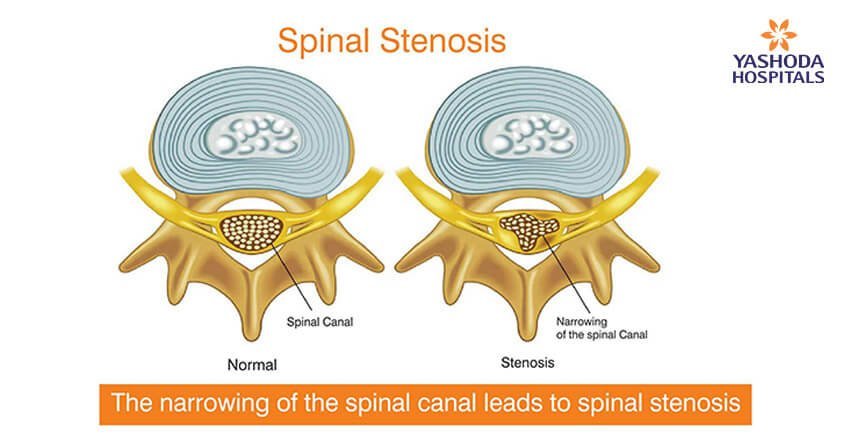 Spinal stenosis is a condition in which space gets narrowed in the vertebral column. This causes pain and pressure in the nerves and on the backbone. The pain is due to the compression of the root nerves. Pain in the back and leg will be experienced due to this condition. The neck region and lower back often get affected due to spinal stenosis.
Symptoms
Symptoms are not visible enough for one to know and understand this condition. However, there are some specific signs which will help one detect spinal stenosis. They are:
Numbness in leg
Muscle weakness
Disorder in bowel system
Back pain
Problem in walking or standing straight
 Causes
Arthritis: Some forms of arthritis may cause the vertebrae to get narrow, causing pain and damage to the nerves and back bone.
Spondylolisthesis: If one vertebrae gets in contact with the other, it may cause a slip which tends to result in this condition.
Injuries and accidents: Physical trauma like accidents and injuries may cause the pressure on nerves and spine and result in a fracture. This later develops into stenosis.
Spinal tumors: If a person has an abnormal growth, for example tissues, the bones cells get hyperactive. This results in bone collapse and person is most likely to get spinal stenosis. 
Risk factors and complications
There are some of the factors which pose as a risk for a person to developing spinal stenosis. They are:
Age: Age is the prime factor which may cause wear and tear of the bones. The bone strength gets hampered by the thickening of ligaments and spurs. There may be a case of slip disc which adds to the risk and further results in stenosis.

Hereditary: If one has a family history of this condition, there are high risks of getting affected. If a person's spinal canal is too narrow, then that person stands a high chance of developing stenosis at an early age.

Bone structure: If the bone structure is by default in a poor position, then all the more vulnerable. The structural deformities play an important role.
Test and Diagnosis
MRI Scan or CT scan Primary tests involves MRI or CT. This will help in figuring out the deep and hidden causes and also the bone structure. The severity of nerve compression and bone narrowing are also detected through scan.

CT Myelogram — In this ct scan is conducted after injecting a contrast dye by which the dye outlines spinal cord and nerves and can reveal herniated discs and tumours.
Treatment
Non-surgical treatment – If the spinal stenosis is in its earlier stage, the best neurosurgeon in hyderabad non-surgical treatments are advised. These include exercise, epidural injections that alleviate pain, activity modifications like discretion in the types of activities that can be done and what can be avoided.
Nutritional supplements: Medical advisors provide a prescribed b-complex or multi-vitamin capsules that will cure stenosis. Folic acid is also said to improve the condition.
Spinal stenosis surgery: If non-surgical methods don't help, then a surgery is strictly needed. During the procedure, compression of nerves is treated through a formal surgery called decompression surgery. It is said to focus on all the components of stenosis.
The surgery is effective and stands a high chance of correcting stenosis but a detailed anatomical study of a patient is need to be undertaken through complete health checkup prior that. Also metabolic and physical state of the person is vital for the surgical process to commence.