Ectopic Pregnancy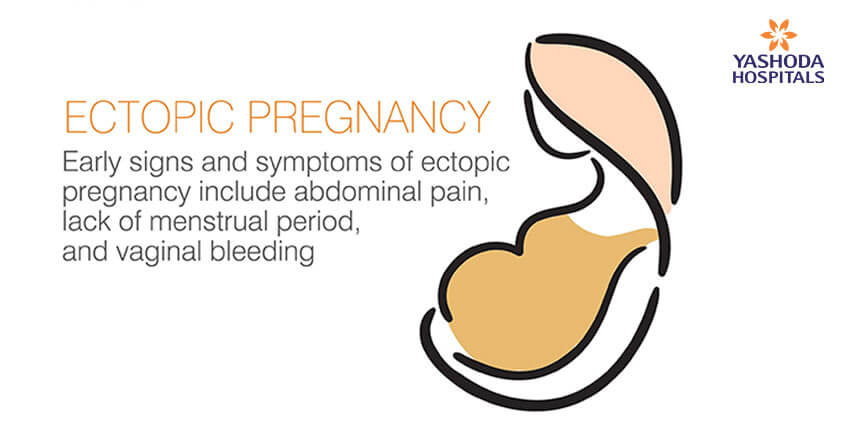 Early signs and symptoms of ectopic pregnancy include abdominal pain, lack of menstrual period, and vaginal bleeding
Ectopic pregnancy is different from a normal pregnancy. In a normal pregnancy, the fertilized egg moves into the uterus to attach to the lining and continues to grow for the next 9 months. However, in very rare cases, the fertilized egg stays in the fallopian tube, a condition described as tubal pregnancy or ectopic pregnancy. In some women ectopic pregnancy may occur in abdominal cavity, ovary or neck of the uterus (cervix).
Ectopic pregnancy or tubal pregnancy is a life-threatening condition and requires emergency treatment. Tubal pregnancy is very complicated as the aggrieved woman does not know that she is pregnant, growing tissue destroys different maternal structure. For the doctors, ectopic pregnancy is a major challenge as they can discover it only in the 8th week of pregnancy.
CAUSES
Tubal pregnancy, the most common type of ectopic pregnancy may occur due to inflammation or damage of the fallopian tube. It may also occur due to hormonal imbalance or abnormal development of the fertilized egg.
SYMPTOMS
The symptoms of ectopic pregnancy are missed period, breast tenderness, nausea, lightheadedness, fainting and shock. It is also characterized by severe abdominal bleeding, pelvic and shoulder pain.
RISKS AND COMPLICATIONS
The risks of ectopic pregnancy are disastrous. Women with ectopic pregnancy in the first may experience it again during their second pregnancy. Other risks of ectopic pregnancy include, inflammation of the fallopian tube, fertility issues, and unusually shaped fallopian tube. The complications are seen as life-threatening bleeding and losing the ability to bear children in the future.
TESTS AND DIAGNOSIS
The doctor looks for specific symptoms associated with ectopic pregnancy. By pelvic exam, your gynaec specialist may check for pain, tenderness and mass in the fallopian tube or ovary. To confirm the condition of ectopic pregnancy, your doctor may recommend for blood tests and imaging studies.
Ultrasound test helps the doctor to study the condition of the tissues in the abdominal area. To know the exact condition of the ectopic pregnancy the doctor may advise for an ultrasound within four to five weeks after conception. In cases where there is severe bleeding, the doctor may advise for immediate surgery.
TREATMENT
Ectopic pregnancy is a highly complicated medical condition. The treatment for ectopic pregnancy depends on a number of factors, and differs from case to case.