Chronic back pain is a fall-out of spinal muscles, nerves, bones, discs or tendons' problems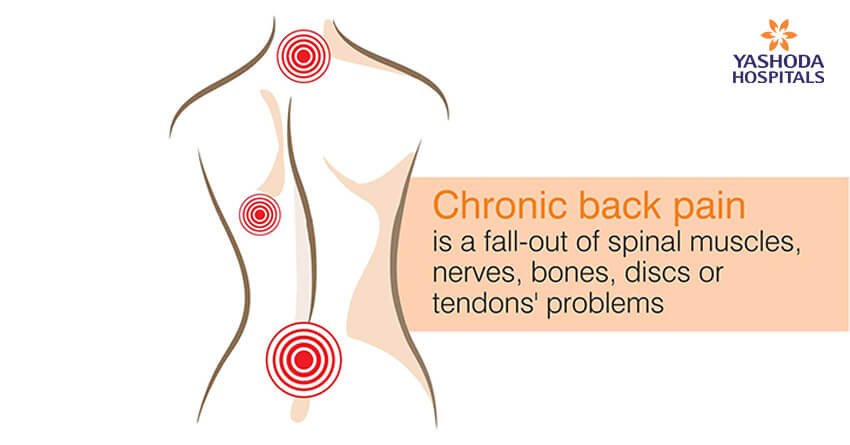 Back pain is one of the most common health problems seen in all age groups, worldwide. Most of the back pains can be prevented by simple home-based treatments and correcting the body mechanics. Surgery is considered as a last resort in the treatment of back pain.
CAUSES
Back pain occurs due to muscle or ligament strain, bulging or ruptured disks, arthritis, skeletal irregularities and osteoporosis. The doctor may look for any of these causes that are responsible for back pain. Muscle or ligament strain is due to heavy lifting or sudden awkward movement that strains the back muscles and spinal ligaments.
SYMPTOMS
The signs and symptoms of back pain include, muscle ache, shooting or stabbing pain, pain in the legs, and limited or no movement of the back. Most of the back pains are treatable at home, with no serious medical problem. However, certain back pains do not go with simple treatments, and definitely demand the intervention of a specialist. Health condition that accompanies back pain like, fever, bowel and bladder problems, back injury by accident need doctor's advice and correction. Back pain is also seen in people who are above 50, and those with history of cancer, osteoporosis, steroid use and alcohol abuse.
RISK FACTORS AND COMPLICATIONS
Only a few suffer from back pain, as the reasons are evident. The age of the person, life style habits that includes lack of exercise, excess weight, improper lifting, smoking and psychological conditions.
TESTS AND DIAGNOSIS
People with back pain should visit the doctor for proper treatment. Neglect of back pain may lead to other complications, and demand a surgical procedure. Initially, the doctor asks the patient to sit, stand, walk, and lift legs. This helps the doctor to identify the source of the pain, and assess the movement of the body sans pain. Significantly, the muscle spasms may signal the seriousness of back pain.
Depending on the seriousness of the back pain the doctor may advise on one or more tests that include X-ray, MRI or CT Scans, Blood Tests, Bone Scan and Electromyography or EMG. Nerve compression (spinal stenosis) and the resultant back pain can be identified by electromyography or EMG.
TREATMENTS AND DRUGS
In many cases, back pain can be treated by home-based methods like applying heat or ice, and taking up light exercise that includes walking, and stretching. However, if the pain continues unabated, a visit to specialist doctor or neurologist will be of great help.
Surgery is reserved for treating back pain caused by structural problems. Spine surgery is done with there is narrowing of the spine (spinal stenosis) or a herniated disk. However, surgery for back pain is taken as a solution of last resort, when all other treatments or therapies are not responding.