Yashoda Hospitals launches special package on the occasion of World Obesity Day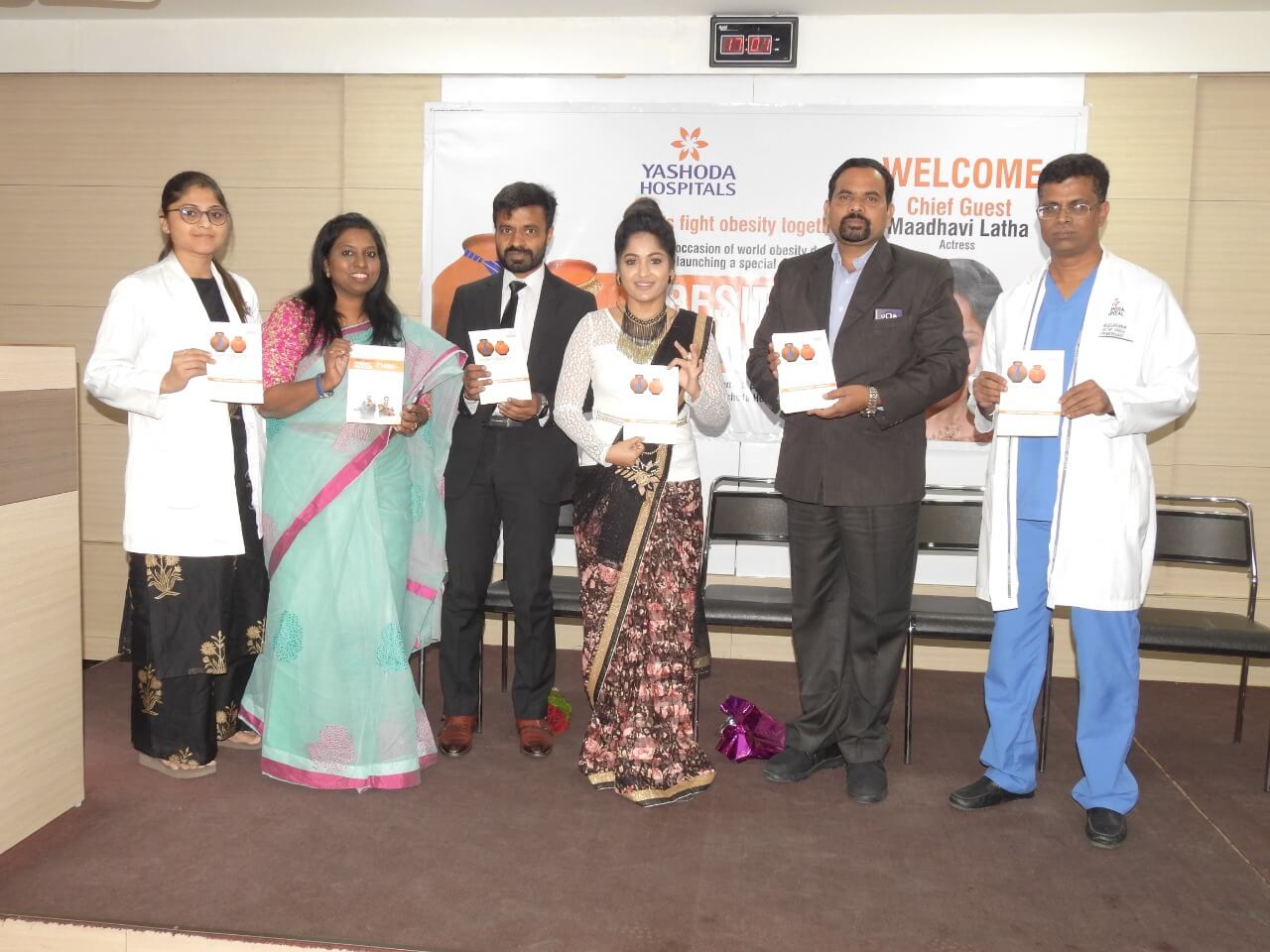 Hyderabad, 11th October 2018: Yashoda Hospitals launch Wellness package on the occasion of World Obesity Day that is celebrated today, every year. Special guest, Actress Madhavi Latha, Dr. Pavan Gorukanti, Chief Guest, Director, Yashoda Hospitals Group, Dr. Vijay Kumar, Chief operating officer, Yashoda Hospitals, Malakpet and Dr. Manishegaran, Gastroenterologist, Yashoda Hospitals, Malakpet were present at the occasion.
Actress Madhavi Latha spoke about her experience of being overweight and how she maintained her weight with healthy weight and exercise. She mentioned the importance of eating millets and listening to the indications which body gives when we gain weight and she said that diet, exercise and stress management are pillars of maintaining overall health.
Dr. Pavan Gorukanti described that the wellness package is a necessity for every person. A full body analysis gives a clear picture of body mass, fat and muscle distribution and other parameters that directly impact our general health. The wellness package is therefore launched at a very reasonable cost. This wellness package not only estimates the risk of obesity but also related diseases such as cholesterol, diabetes, heart risk, and bone & joint diseases.
Dr. Manishegaran,  Surgical Gastroenterologist, Yashoda Hospitals, Malakpet said "Lifestyle changes such as diet and exercise mostly work. However, in some people they lifestyle changes do not have clear outcomes. When the BMI is more than 32, bariatric surgery is a weight loss option. Surgical weight loss thus achieved are protective against diseases such as cardiac disorders and diabetes. Therefore, this wellness package focuses on comprehensive approaches that include full body analysis, counseling for lifestyle changes, physiotherapy for obesity-related bone & joint diseases and health check and counseling for overall health." Dr. Harshila, Physiotherapist, Yashoda Hospitals, Malakpet added, "Knee pains and back pains can be effectively managed with exercise under medical supervision and other physical therapy."
Ms. Sujatha Stephen, Nutritionist, Yashoda Hospitals, Malakpet spoke that obesity is a major health threat all thanks to the lifestyle havocs of the era. Stress, poor eating habits, and no or little physical activity are accountable for growing incidences of obesity. In Hyderabad, 30-35% of the population are either overweight or obese, and 25% of this population includes school going children. One in 3 women is obese due to improper food habits, genetics, inactive lifestyle. Ms. Sujatha recommends a healthy, nutritious diet and a minimum of 30-35mins of exercise to manage weight.
News Coverage
https://www.thehindu.com/news/cities/Hyderabad/yashoda-launches-wellness-package/article25195957.ece
https://telanganatoday.com/obesity-package-launched-at-yashoda-hospital
https://www.nyoooz.com/news/hyderabad/1234019/yashoda-launches-wellness-package/