Madhavi, an assault victim recovers miraculously at Yashoda Hospitals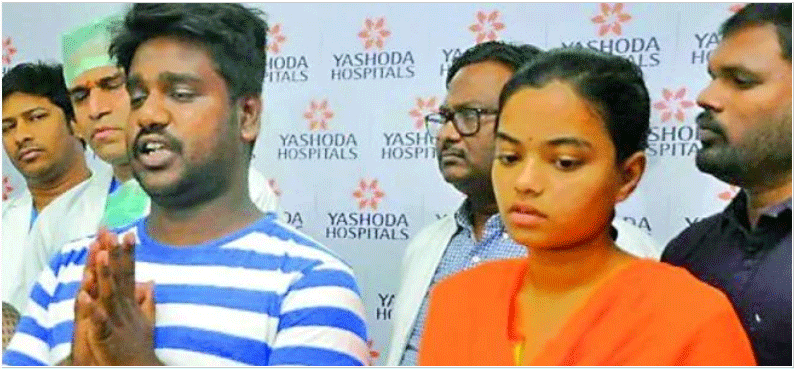 Almost a month after the brutal attack, Ms. Madhavi, a 20-year-old woman was discharged from Yashoda Hospitals. She was transferred to the hospital in an extremely critical condition of severe blood loss and shock. She has successfully recovered from the injuries and weakness. Her vitals are stable and her haemoglobin back to normal as she leaves for home.
Madhavi had sustained severe injuries to face, neck and upper limbs, and severe blood loss (hypovolemic shock) when she was brought in to the emergency. The patient was profusely bleeding through carotid artery and multiple veins in the neck and face due to the deep lacerations. She also suffered near, total amputation of right wrist, and deep cuts on upper left arm.
A team of senior doctors including vascular surgeon Dr Devender Singh, plastic surgeon Dr N. Rambabu, orthopaedic surgeon Dr Sunil Dachepalli, senior neurosurgeon Dr Ravi Suman Reddy and a team of senior healthcare providers from departments of emergency medicine, critical care and anaesthesia monitored her case and provided her with the best possible care.
A team of 15 doctors at Yashoda hospitals tended to her and was immediately taken up for an emergency surgery. After which, the patient underwent series of complex surgeries to control bleeding, reconstruct facial nerve & blood vessels, ears and muscles. Further, surgeries to reconstruct blood vessels, nerve, tendons and muscles and to fix bones in the left hand and right wrist were done successfully.
Madhavi continued to remain under observation and made a slow, yet miraculous recovery. Her body vitals normalized as she continued to heal in the ICU. Doctors provided her with multiple blood transfusions to maintain steady pulse rate and blood pressure. The haemoglobin levels significantly improved from 3% at the time of admission to 10.8% in a few days. Her condition is now stabilized and she is out of danger.
Madhavi and her husband, Sandeep were attacked together on September 20, 2018. Both have recovered completely and hope to restart their life together. The couple are thankful for the tremendous efforts of the doctors and staff at Yashoda Hospitals.
News Coverage
https://www.thenewsminute.com/article/month-after-her-own-father-tried-kill-her-madhavi-discharged-hyd-hospital-90124
https://telugu.news18.com/news/telangana/victim-madhavi-discharge-from-yashoda-hospital-58146.htmlhttp://www.manamnews.com/content/madhavi-discharge-yashoda-hospital-28932
https://telanganatoday.com/honor-killing-victim-discharged-from-hospital-after-recovery
http://www.andhrajyothy.com/artical?SID=650619
https://www.deccanchronicle.com/nation/current-affairs/181018/hyderabad-madhavi-discharged-security-issues-raised.html
https://www.thehindu.com/news/cities/Hyderabad/time-may-heal-wounds-but-memories-remain/article25252698.ece
https://m.sakshi.com/news/telangana/madhavi-discharged-hospital-1126545
http://10tv.in/Erragadda-Attack-Madhavi-Speaks-To-Media-After-Discharge-10TV
https://m.gulfnews.com/news/asia/india/india-to-me-my-father-is-dead-madhavi-who-was-attacked-for-marrying-a-dalit-says-1.2291212
http://www.thehansindia.com/posts/index/Telangana/2018-10-18/Madhavi-who-attacked-by-her-father-at-Erragadda-discharged-from-Hospital/427167
http://www.newindianexpress.com/states/telangana/2018/oct/18/scars-will-always-remind-me-of-my-fathers-brutality-madhvi-1886957.html