A Milestone Achievement – 500 Heart & Lung Transplants by Dr. Jnanesh Thacker of Yashoda Hospitals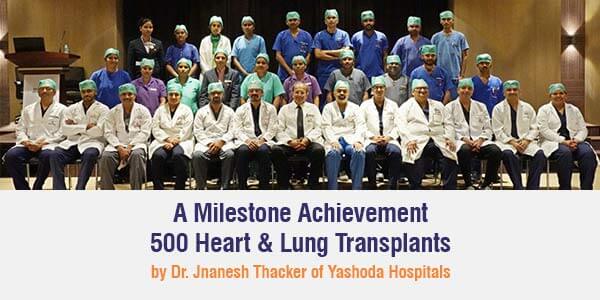 Hyderabad, 22nd September: Dr. Jnanesh Thacker; Surgical Director of Heart, Lung and Heart-Lung Transplantation and Mechanical Assist Devices, and Minimally Invasive Lung Transplantations achieves a rare and significant milestone of completing more than 500 Heart and Lung transplants with successful outcomes.
He was an accomplished Cardiothoracic surgeon before going to the USA to intensify his experience in Heart and Lung Transplantation. He trained in UPMC, Pittsburg, the mecca of Heart and lung transplants before becoming full-time faculty there and subsequently led the Heart and lung transplant program in Temple University, Philadelphia.  He has even been featured on the cover page of Temple's CAPSULE magazine for performing more than 70 transplants in just 4 months with Temple times recognizing him as the fastest lung transplantation surgeon in the world. 
He was also active academically, publishing numerous papers and training fellows and postgraduates. He trained numerous Advanced Fellows in doing Heart and Lung Transplantations during his tenure of 4 years as a Faculty at Temple University and the University of Pittsburgh.
Since then despite multiple offers to continue in the USA he relocated back to India to pioneer the Heart and Lung transplantation program in India in 2011. He was the first to perform successful Lung Transplantation for an Indian patient, in India, the first lung transplantation in a teaching hospital in India, and also the first minimally invasive double lung transplantation in India. Minimally invasive transplantation is technically a highly demanding operation. He does them with ease and with successful outcomes.
Yashoda Hospitals has distinguished themselves in multiple fields offering the latest and best in the country in most specialities. In particular, during the COVID-19 1st and 2nd waves, the Group catered to the largest number of critically ill patients in the country and more than 100 Air ambulance transfers from across the country and besides regular ICU care, also catered to among the highest number of patients treated on ECMO care, some for more than 3 months, with among the best results.
Similarly, with Dr. Jnanseh Thacker leading the way, supplemented by a world-class team of Transplant pulmonologists, Transplant cardiologists, Cardiothoracic and Thoracic surgeons, dedicated transplant anaesthetists, 24/7 Critical care specialists, Dietary, Physiotherapy, Nursing, and allied services with State – of –art OTs, ICUs with stringent Infection control practices offering international quality transplant services for these sick patients including many with irreversible severe post-COVID fibrosis. Now doing about 5 to 10 transplants per month with best outcomes
Dr. Thacker has been a catalyst in stimulating a spurt of growth in Heart and Lung transplants in India. His passion is to increase awareness of Heart and Lung transplants in India, which he feels is still at the beginning stages compared to advanced countries, and in particular with all the new advances in medical, immunosuppressive, and surgical treatments long term survival with good quality of life becoming fairly routine, feels Heart and Lung transplantation is poised for exponential growth in the country helping thousands and giving a new lease of life to people with no other options otherwise and aims to eventually do among the highest number of such transplants in the world from right here.