World class "Biplane Neuro Cath Lab" inaugurated by the Telangana Governor on World Stroke Day 2021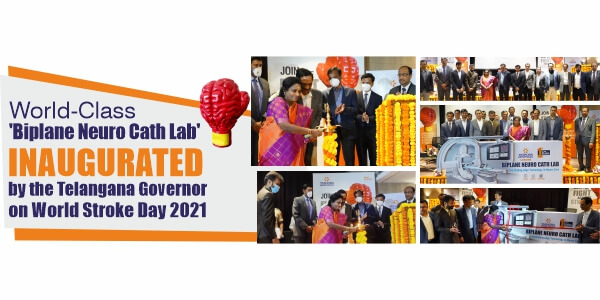 A high-end 'Bi-plane Neuro Cath Lab' for effective and quick treatment of brain stroke patients was inaugurated here on Friday at Yashoda Hospitals, Secunderabad. 
The state-of-the-art neuro cath lab, which was inaugurated by Governor, Tamilisai Soundararajan, will enable neurologists to conduct scanning tests of brain stroke patients, take subsequent treatment decisions and initialise the treatment protocols in one single room and on the same machine, cutting down treatment time significantly that allows patients to recover quickly and avoid the threat of paralysis, according to a press release. 
Getting stroke patients to a well-equipped hospital in time is crucial to saving their lives. "It is fitting that we are launching this world-class biplane neuro angio procedure suite on the occasion of World Stroke Day. The new facility will go a long way in saving the lives of such patients and more importantly avoid paralysis," Director, Yashoda Hospitals Group, Dr Pawan Gorukanti during the launch said.
"Stroke patients have a better chance of getting good results as soon as they reach the stroke center after the onset of symptoms. Delaying every one hour before initiation of treatment significantly reduces the chance of a good result by 30 percent. The neuro suite will ensure timely treatment, can move the patient 360 degrees around and it essentially equips our team to provide the patient life-saving care with the highest speed and accuracy," said Dr. Suresh Giragani,  Senior Neuro and Interventional Radiologist,  Yashoda Hospitals. 
Governor Tamilisai Soundararajan congratulated the Yashoda Hospitals Group for the new facility and urged the public, especially those who are predisposed to chronic diseases like diabetes, blood pressure and obesity and are aged above 50 years, to get regular medical checkups. 
Senior neurosurgeon, Dr. Anand Balasubramaniam, senior neurologist, Dr. Komal Kumar and others were present.