Yashoda Foundation expands vaccination drive for remote villages Yellandu Mandal, Bhadradri Kothagudem District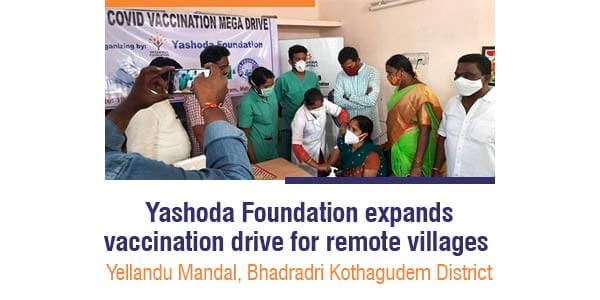 Hyderabad, September 20, 2021:  India is geared up for mass vaccinations, especially rural India is fuelled by the country's aggressive vaccination drive. On that path, Yashoda Foundation taking an appeal from the local social workers has reached out and arranged a vaccination drive on 19th September 2021, Sunday with an aim to vaccinate the remote rural communities. 
Yellandu Mandal in Bhadradri Kothagudem district has few of the remotest villages in the state. While the covid wave continues to exist even in such places having access to vaccination is a matter of right awareness and timely access.
The drive is conducted following all the social distancing norms with the experienced team from Yashoda Hospitals. The villages include Challasamudram, Voddugudem, Repellewada, Dhaniyalpadu, Lachagudem, and the surroundings.
The foundation through its CSR interventions continues to focus on the poorest of the poor and people living in the most difficult to reach terrains to receive similar healthcare support such as that of urban citizens.
While emphasizing the role of vaccination as the most important tool to fight the covid19. Dr Abhinav, said, "We are grateful for this opportunity to serve the remotest part of Telangana thanks to the local social workers, administration and many leaders to have come together to make the vaccination drive a success"