Yashoda Anaesthesia Crammer Course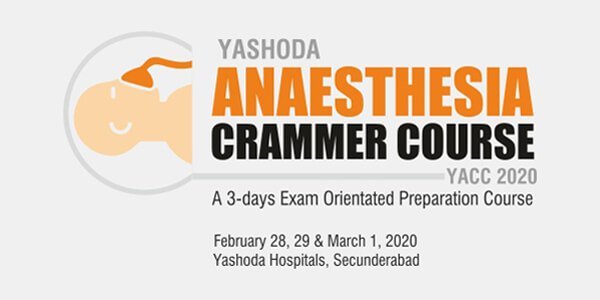 Yashoda Anaesthesia Crammer Course
Dear Students,
It is indeed a pleasure to invite you to a 3 days Exam oriented preparation course at Yashoda Hospitals, Secunderabad on February 28, 29 and March 1, 2020. This intensive, interactive 3-day crammer course is intended to help Anaesthesia trainees become more comfortable in a viva setting and help them to come out with flying colors in the final exam.
This course is meant for candidates sitting the final DA, MD and DNB Anaesthesia exam and also for unsuccessful candidates. The course focuses on Exam Preparation, Exposure to Questions Patterns, Viva Skills, Mock Test, Masterclasses and Mock Viva.
Course Highlights:
Exam focused lectures
Tutorials on high yield exam topics
Practice vivas covering long and short cases
Interpretation of CXR, ECG, PFT, ABG, CT scan, etc
Anaesthesia machine: Checks & Safety features
CPR session
Critical incidents in Anaesthesia (anaphylaxis, laryngospasm, bronchospasm, etc.)
Candidates will benefit from the extensive knowledge imparted by former and current DNB examiners as candidates who attended the YACC earlier had a 100% success rate for the last 6 years.
We request you to utilize this opportunity and gain immense expertise from this Crammer Course.
Regards
Dr. G. Ram Mohan
MD, FRCA
Course Director & Organizing Secretary
Dr. Vishnu Reddy
HOD Anaesthesia & Chief of Operations
For more details, contact: 8096235305
February 28,29 & March 1, 2020
Registration Fee: 4500/-
Venue:
Yashoda Hospitals, Secunderabad
For Online Payment
Beneficiary Name: YASHODA HEALTHCARE SERVICES PVT LTD
Bank A/c No: 043202000002936
Name of the Bank: Indian Overseas Bank
Branch: R. P. Road Branch
RTGS/IFSC Code: IOBA0000432
MICR Code: 500020013
Please pay online and send the transaction number / screenshot with your name to:
SMS / WhatsApp: 8096235305