ISMRM Indian Chapter Annual Meeting 2020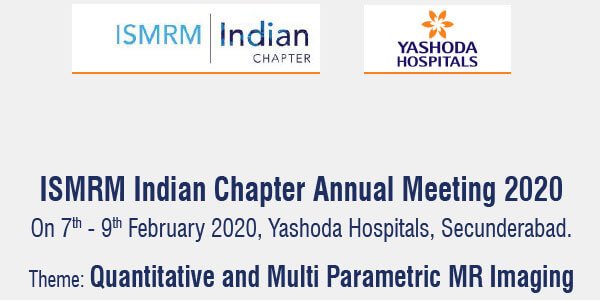 Quantitative and Multi Parametric MR Imaging
Greetings from Hyderabad, as Chair of our ISMRM India Chapter Annual Meeting it is my sincere pleasure to welcome you to Hyderabad for 2020 meeting. This city known for its Historical grandeur, City of Pearls, City of Nizami culture and now HITEC City.
The meeting start on 7th February with faculty talks and Keynote address and ends on 9th February Sunday evening with the closing remarks and prize distributions.
This year's theme of our meeting is QUANTITATIVE AND MULTIPARAMETRIC MR IMAGING. This will cover the various aspects and systems of applications.
Superb Educational Program is designed with cutting-edge material to be delivered by the most dynamic and renowned speakers. This program provides a comprehensive review of everything from basic MR physics to translational science, state-of-the-art clinical research and AI.
On behalf of our ISMRM Executive Committee I invite you all to Hyderabad for this excellent academic feast on MR Imaging.
Dr. Sikandar
Chair, ISMRM India Chapter, Annual Meeting &
Governing Council Member, ISMRM India Chapter
 
Upto 31st Dec
Upto 31st Jan
After 1st Feb
onwards & spot
Students
Rs 3500/-
Rs 4500/-
Rs 5500/-
Faculty
Rs 5000/-
Rs 6000/-
Rs 7000/-
Delegate
Rs 6000/-
Rs 7000/-
Rs 8000/-
Trade
Rs 7500/-
Rs 8000/-
Rs 9000/-
Payment by DD payable at Bengaluru , in favour of "ISMRM India Chapter" or through RTGS.
Scanned copy of counter foil and filled registration form to be sent to idrsikandar@gmail.com
Registration fees include GST.
No refund after registration. No substitute for Registered Delegate.
Name of the Bank: CANARA BANK Padmanabhanagar Bengaluru
Account Name: ISMRM India Chapter
Account Number: 2512101019839
IFS Code: CNRB0002512