Cardiothoracic Surgery
The Center for Cardiothoracic surgery, Minimal Invasive surgery and Thoracic Organ Transplant surgery perform a wide range of surgeries. The Center's complete spectrum of cardiothoracic surgeries include robot-assisted cardiothoracic surgery, adult cardiac surgery, pediatric and congenital cardiac repairs, aneurysm surgery, thoracic surgeries, heart transplantation, lung transplantations and heart failure surgery & thoracic and lung surgery. We have the best of expertise and each team member is trained in one of the top institutions of the country, Also the surgeons bring international experience to treatments and procedures at the center. The best and most advanced technologies and instrumentations are available in the center. The success rate of coronary bypass surgery is 99%. The success rate of transplantation (heart & lung) has been very promising due to the recent developments in the technology. Many of the healthy persons who have undergone heart/lung transplantation have survived even beyond 10 years after the procedure.
First Inter-State Heart Transplantation in the Telangana and AP
First Ever Combined Heart-Lung Transplantation in the Telangana and AP
Leader in minimally invasive cardiac surgeries with more than 20,000 cardiac procedures every year
Top 2 Ct Surgery Doctors in Hyderabad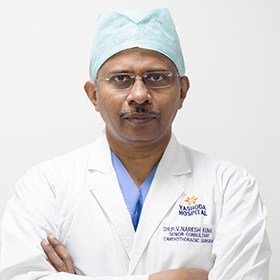 Dr. P. V. Naresh Kumar
MS, MCh (Cardiothoracic & Vascular Surgery)
26 Years Of ExperienceConsultant Cardiothoracic & Transplant Surgeon
Expertise
Trained and participated in various Heart and Lung Transplantation along with Dr. K. M. Cherian at F
20 years of cardiothoracic surgical experience, and performed over 8000 Cardiac surgeries.
Off pump coronary revascularization and total arterial revascularization
Minimally Invasive Cardiac Surgery and can do MIDCAB for triple vessel disease also.
Available on Request
MON - SAT
08:30 AM - 10:00 AM & 03:30 PM - 05:00 PM
Locations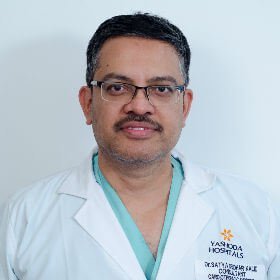 Dr. Kale Satya Sridhar
MBBS, M.S.(General Surgery), M.Ch (Cardiovascular Surgery)
16 Years Of ExperienceConsultant Cardiothoracic Surgeon
Expertise
Mitral valve Repairs
Aortic surgery
Minimally Invasive surgery
Surgery for heart failure
Available on Request
MON - SAT
09:00am - 3:00pm
Locations