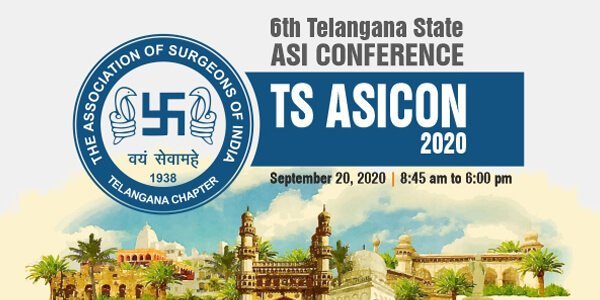 6th Telangana State ASI Conference TS ASICON 2020
Date & Time: September 20, 2020, 8:45 am to 6:00 pm
Platform: Please join the webinar by clicking on this Zoom link
WELCOME ADDRESS
Greetings from the office of TSASI. We invite you all to register and participate actively in the 6th Annual TS ASICON-2020. We never stopped our academic activities no matter what. We strongly believe in #CovidCantStopSurgeons. In view of the COVID-19 Pandemic, we have converted the traditional TS ASICON to an online conference with the provision for speakers to attend but at their own choice. The meeting will be webcast from the 9th floor of Yashoda Hospitals, Secunderabad. We welcome all Surgeons to attend this online conference after registering. A weblink id will be mailed to registrants. And, online certificate on their name with CME points will be generated which can be stored as such or printed at home.
Our Vision:
To become the organization looked to around the world as the leader in development and dissemination of information about the surgical practices.
Our Mission:
To promote the exchange of scientific and surgical knowledge and maintaining an active role with organizations and industries interested to encourage basic and clinical research
To promote the professional and educational development and to encourage, represent, and sponsor surgeons who want to specialize in areas like diabetic foot or coloproctology and many more.
Looking forward to meeting you all online.
Regards,
Chairman
Dr. A. Narayana
Hon. Secretary
Dr. Jagdishwar Gajagowni Goud
ASI EC Members
Dr. C. R. K. Prasad
Dr. G. Kanaka Raju
Dr. L. Sridhar
Zonal Vice Chairmen
Dr. M. V. Ranga Reddy
Dr. R. Raghunanadan
Dr. Guruva Reddy
Chairman Elect
Dr. Mandala Ilaiah
Hon. Joint Secretary
Dr. Raghu Rachha
Immediate Past Chairman
Dr. Sudhakar Appal
Hon. Treasurer
Dr. B. Umakanth Goud
Zonal Joint Secretaries
Dr. Praveen Pallam
Dr. Venkanna
Dr. Arun Katari
EC Members
Dr. Venkateshwar Perugu
Dr. H. K. Patel
Dr. T. Surender Reddy
Dr. M. Chennaiah
Dr. G. Vijay Bhargav
Dr. G. Santhi Vardhani
Dr. Prashant Kurdukar
Dr. Anil Wattamwar
Dr. Ramesh Koorapati
Dr. Tumma Shalini
Dr. Prashant
Dr. Anand Babu
Dr. Syed Nusrath Farees
Dr. P. Bhaskar Rao
CO-Opted EC Members
Dr. Sai Rajendra
Dr. M. B. V. Prasad
Dr. P. Chandra Shekar
Dr. K. Nagesh Reddy
Dr. Ch. Pradeep Kumar
Dr. Ch. Madhusudhan
Dr. Hemanth. V
Dr. Narsing Rao. T
Dr. SubodhDr. Prashant Kudoor
Dr. K. Praveen
Dr. Sujeeth Kumar. B
Dr. D. Ramesh
Dr. Ajmeera Ranga
Dr. Rajasekhar Reddy
Dr. M. Ramakrishna
PROGRAMME SCHEDULE
September 20, 2020
September 20, 2020
TIME
TOPIC
SPEAKER

08:00 am – 08:45 am

Postgraduate's Poster award Session

Dr. Jagdishwar Goud G
Dr. Surya Ramachandra Verma

08:45 am – 09:15 am

SESSION 1 – Breast Session

08:45 am – 09:00 am

Benign Breast Disease

Dr. N. V. N. Reddy

09:00 am – 09.15 am

Breast Conservation Surgery

Dr. SVS Deo

09:15 am – 11:30 am

SESSION 2 – Prestigious Orations – Introduction and Orations

09:15 am – 10:00 am

Dr. A. K. Chari Oration – Surgical
Research – What, When, Where and by Whom – A Personal Journey

Dr. G. Raghavendra Prasad

10:00 am – 10:45 am

Dr. G. P. Ramayya Oration –
Surgical Approach to Low Rectal Cancer

Dr. A. S. Ramakrishnan

10:45 am – 11:30 am

Dr. B. Narsaiah – Endowment lecture – "From Scalpel Thyroidectomy To Robotic Thyroidectomy"

Dr. Amit Agarwa

11:30 am – 12:00 pm

Inauguration and Lamp Lighting TS ASI Protocol Based Program

12:00 pm – 12:45 pm

SESSION 3 – Diabetic Foot Session
Moderator: Dr. Prasan Kumar Hota

Surgeon & the Diabetic Foot Disease
Offloading the Diabetic Foot: Need of the hour
Diagnosis & Revascular Procedures for PAD in Diabetic Foot

Dr. Srinivas. S
Dr. Prasan Kumar Hota
Dr. Nihar Ranjan Pradhan

12:45 pm – 01:30 pm

SESSION 4 – Acute Abdomen Session
Moderator: Prof. Dr. N. Bheerapp

General Principles of Management of Acute Abdomen – Including Investigations, Principles of Management
Gastric Perforation

Dr. Ch. Madhusudhan
Dr. Ramchandra Varma

01:30 pm – 02:00 pm

Lunch

02:00 pm – 05:15 pm

SESSION 5 – Postgraduates Session

02:00 pm – 02:15 pm

Publish or Perish-Ten Commandments

Dr. Pankaj Chaturvedi

02:15 pm – 03:15 pm

Postgraduate's Best Paper Award Presentations

Dr. Ramachandra Varma

03:15 pm – 04:15 pm

Postgraduate's Quiz

Dr. Sai Babu (Quiz Master)

04:15 pm – 05:15 pm

Postgraduate's Case Presentation

Moderators
Dr. L. Sridhar
Dr. Umakant Goud
TS ASI Executive Meeting
02:00 pm – 03:00 pm Board Room 9th Floor, Yashoda Hospitals, Secunderabad
TS ASI Online General Body Meeting 05:30 pm
Declaration of Chairman TS ASI 2021 – 2022
Medallion Transfer to Dr. Manadala Ilaiah, Chairman TS ASI, 2020 – 2021
Vote of thanks: Dr. Raghu Raacha
Date & Time: September 20, 2020 (Tuesday), 8:45 am to 6:00 pm
Registration is Mandatory Except Surgeons Aged 70 Years And More
Registration Details:
Fees: Rs. 600 for Surgeons & Rs. 300 for Postgraduates
Bank Details: SBI, Sultan Bazar
SB Account No: 62457876384
IFS Code: SBIN0020062
Assoc of Surgeons of India T S Chapter
Address for correspondence: asitelangana@gmail.com