Dr. Manusrut
Consultant ENT, Head & Neck Surgeon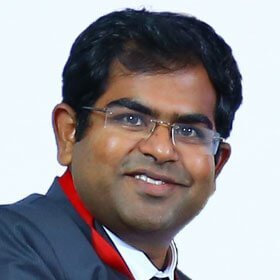 Dr. Manusrut
Designation:
Consultant ENT, Head & Neck Surgeon
Languages:
English, Hindi, Telugu, Kannada, Tamil
Med Reg No:
68108 - TS Med Council
Dr Manusrut is an expert Ear Nose Throat (ENT) Head and Neck surgeon with advanced training in Cochlear Implantation and Ear surgery. He is one of the first and youngest Fellowship trained Cochlear Implant Surgeons in India. He has an experience of performing more than 1500 surgeries encompassing all subspecialties of Ear, Nose, Throat and Head and neck diseases.
Education Qualifications
Post-Doctoral Fellowship in Implant Otology 2014 - 2016, Christian Medical College, Vellore, Tamil Nadu
Diplomate of National Board (DNB) – Otorhinolaryngology 2014, National Board of Examinations, New Delhi
Master of Surgery (MS) in ENT Head and Neck 2011 - 2014, Kasturba Medical College, Manipal University, Manipal, Karnataka
M.B.B.S 2004 - 2010. Gandhi Medical College, Secunderabad Dr. NTR University of Health Sciences, Vijaywada, Andhra Pradesh
Advanced Cochlear Implant Training April to July 2016 Institute of Cochlear Implant Training Advanced Bionics, Valencia, California, USA
Visiting Physicians Programme July 2016 House Ear Clinic, Los Angeles, California, USA

Experience
Senior Registrar - ESI Hospital, Sanathnagar,Hyderabad July 2018
Visiting Consultant NOVA ENT Hospital April 2017
Consultant – The Ear & Sinus Clinic, Hyderabad Sep 2017
Senior Registrar - ESI Hospital, Sanathnagar,Hyderabad 2018-19
Senior Registrar, Dept of ENT, King Koti Dist Hospital 2017
Ali Yavar Jung National Institute for the Hearing Handicapped , Hyderabad From April 2018 [Visiting faculty]

Services offered
Otology ( Ear Diseases): Cochlear Implantation, Baha and other Hearing Implants, Myringotomy and Grommet Insertions, Endoscopic Ear Surgery, Stapedotomy, Mastoidectomy and Cavity Obliteration, Tympanoplasty, Ossiculoplasty, Facial nerve decompression, Revision Ear Surgery, Lateral Skull Base surgery, CSF Otorrhea Repair, Aural Atresioplasty, Vertigo and Balance, Intratympanic injections for Tinnitus and Vertigo
Snoring and Sleep Surgery: DISE (Drug induced sleep endoscopy), Palatoplasty, Tongue base Surgery, Glossoepiglotopexy
Rhinology (Diseases of Nose and Sinus): FESS, Septoplasty, Turbinoplasty, Fracture Nasal Bone Correction, Endoscopic Medial Maxillectomy, Endoscopic Nasal Mass/tumour Excision, Septal perforation Closure, Endoscopic CSF Leak Repair Surgery, Pituitary and Anterior Skull Base Surgery
Laryngology ( Diseases of Voice): MLS – Micro laryngeal Surgery. Phonosurgery, Medialisation Thyroplasty, Cordotomy, Vocal Cord Injections
Pediatric ENT: Coablation Adeno Tonsillectomy, Pediatric Airway Procedures, Choanal Atresia Repair
Head & Neck Surgery: Thyroid Surgery, Thyroglossal cyst surgery, Parotidectomy, Submandibular Gland Excision (Transoral Scarless), Head and Neck Onco surgery

Special Interest and Expertise
Auditory Implants – Cochlear Implants, BAHA etc.
Primary and Revision Mastoidectomy with cavity Obliteration
Primary and Revision Tympanoplasty
Stapedotomy
Endoscopic Ear surgery
Ossiculoplasty
Facial nerve decompression and Rehabilitation
Surgery for Vertigo
Intratympanic injections
Lateral Temporal Bone Resection
Subtotal Petrosectomy

Professional Membership
Cochlear Implant Group of India (CIGI)
Indian Society of Otology (ISO)
Association of Otolaryngologists of India (AOI) - Hyderabad Chapter
Association of Otolaryngologists of India (AOI) - Telangana Chapter

Research & Publications
INVENTIONS: Manipal Mobile Adapter for Smartphone Endoscopy – Patent pending
Ramaswamy B, Singh R, Manusrut M, Hazarika M, Sclerosing lipogranuloma of the eyelid: unusual complication following nasal packing in endoscopic sinus surgery. BMJ Case Rep. 2015 Mar 6;2015.
Raja Kalaiarasi, Avvaru Satya Kiran Chellappa Vijayakumar, Ramakrishnan Venkataramanan, Manusrut, and Ravi Prabhu. Anatomical Features of Intratemporal Course of Facial Nerve and its Variations. Cureus. 2018 Aug; 10(8): e3085.
Post Graduate THESIS- "Comparison of quality of life in advanced laryngeal cancer patients after total laryngectomy and postoperative radiotherapy vs concurrent chemoradiotherapy"
Temporal Bone Dissection Manual for Cochlear Implantation, Dr. A Satya Kiran, Dr. Manusrut [Book]
Textbook of Ear, Nose, Throat and Head & Neck Surgery, 3rd edition, Hazarika, Nayak, Balakrishnan Contribution to chapter on chemotherapy. [Book]
Manipal Manual of endoscopic Sinus Surgery, 2nd edition, DR Nayak Proof reading of textbook. [Book]
"Sclerosing lipogranuloma of the eyelid secondary to a paraffin nasal pack" , AOIKCON 2013, Manipal 22-25th August 2013 [Case report]

Awards and Achievements
Sri Late PL Bhooma Reddy Gold Medal for Best Paper in Junior teaching faculty category 5th TSCON,Nizambad , 2019. For Bone cement ossiculoplasty.
Gold Medal for Best Video Presentation in junior consultant category, 4th TSCON, SIDDIPET, 2018 for Aural atresia repair surgical video.
Smt Susheela Krishna Memorial Gold Medal in Jr Consultant Paper Presentation, 3rd TSCON 23-24th September , Mahboobnagar for "3D Printed Mobile Adapter for Smartphone ENT Endoscopy System"
Gold Medal in Video Presentation, 25th Silver Jubilee ISOCON -18to 20 Novemebr 2016, Calicut, for " Mastoid Obliteration Case series- Eliminate the cavity and its problems".
Silver Medal in Video Presentation, 24TH ISOCON,20-22nd Novemeber 2015, Vishakapatnam - for "Stage 4 Congenital Cholesteatoma Excision – A Surgical Challenge"
Winner of "The Thyroid Quiz", Thyroid CME, AJ Institute of Medical sciences, Mangalore, 21st ,22nd Dec 2013.
Dr. Kishore Chandra Prasad Gold Medal for best case report, AOI Karnataka Conference 2013, Manipal 22-25th August 2013—for "Sclerosing lipogranuloma of the eyelid secondary to a paraffin nasal pack" a case report,
Dr. M.C.Veluswamy Gold Medal for Quiz in Post Graduate Category at International ENSICON 2013, 19-21st July 2013, Pollachi, Tamil Nadu.
Book Doctor Appointment
Choose the mode of consultation