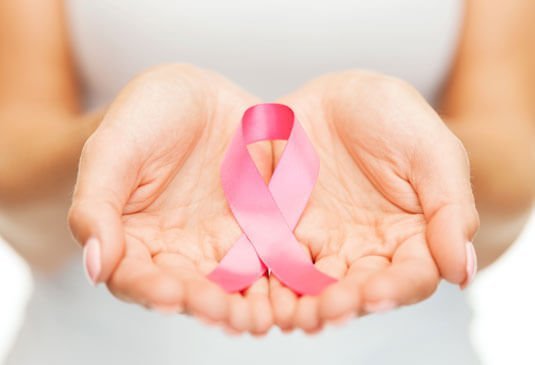 Abnormal cells that grow in the breast and impede the functioning of healthy cells lead to breast cancer. Like all cancers, it can spread to other parts of the body as the stages progress. Thus, early detection and treatment of breast cancer are crucial. It is one of the most commonly occurring cancers in women, therefore, periodic cancer screening improves the chances of early diagnosis and effective breast cancer treatment.
What are the causes of breast cancer?
Breast cancer may be caused due to a variety of reasons. Certain risk factors for breast cancer are hormonal imbalance, medical or family history, and an unhealthy lifestyle. 
However, family history does not guarantee that a person will have breast cancer. The malignant tumors mostly arise due to a complex process of interaction between environmental triggers and the person's genetic makeup. 
Early symptoms of breast cancer include:
lump(s) in the breast
Constant pain in a certain area
Inverted nipple (which was not there before)
Nipple discharge
Dimpling of the skin of the breast
Dark pigmentation of nipple/any part of the breast 
Peeling of skin around nipple/any part of the breast
If you notice any breast cancer symptoms, seek medical advice immediately.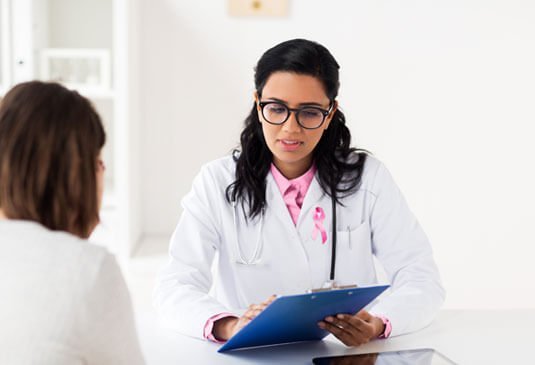 Treatment
Yashoda Hospitals has a team of expert breast cancer doctors, who confirm the diagnosis using the world-class facilities for taking a mammogram or breast ultrasound. A multidisciplinary team of doctors evaluates and handles each case. Based on this evaluation, each patient's mode of treatment varies depending on the type, size, stage, and other specific features of breast cancer. Certain complications may arise in triple-negative breast cancer treatment and metastatic breast cancer treatment. Typically, the various modes of treatment offered at our facility are:
Oncoplasty

ROLL technique – 'J' wire localization

Nipple Sparing Surgery

Breast Reconstruction

Chemotherapy port placement

Radiation therapy
Hormone therapy

Targetted therapy

Immunotherapy

Endocrine therapy

Prophylactic Mastectomy
Latest Technology
At Yashoda Hospitals, we deliver excellence in healthcare by keeping apace with the latest advances in medical technology. Our multispecialty hospitals are equipped with modern technologies that provide accurate diagnosis and enable minimally invasive procedures. This guarantees that our patients receive the best care and return to normal life at the earliest.
Some of the latest technologies we are equipped with are:
Gamma Probe
In the case of metastasis cancer, the handheld gamma probe allows us to accurately locate the sentinel lymph nodes or the positions that the cancer is most likely to spread. Our doctors use it during surgery for higher resolution images of the targeted sites.
Digital Mammography
Digital mammograms provide great accuracy to patients. With the ability to be stored electronically, there is more scope for analysis by both the computer and certified radiologists. Through this technology, more images of the breast can be taken while using lesser radiation than a conventional film mammogram.
Intraoperative Radiation Therapy (IORT)
We have the facility to administer radiation treatment during surgery. This allows direct radiation to the target area and spares the surrounding tissue. Tumor resection is more accurate and efficient through this technology.
CT Scan
Doctors have access to better images for accurate diagnosis and decision-making using 64-slice CT scans. It offers more clarity and detail into soft tissues like the heart than earlier scans of much lower quality.
RapidArc Linear Accelerator
Used for Intensity Modulated Radiation Therapy (IMRT) and Image-Guided Radiation Therapy (IGRT), it delivers beams of high dose radiation that eliminate cancer cells while avoiding peripheral healthy cells. It is a major advance in medical technology that improves efficiency while shortening the duration of treatment.
Triple F Radiosurgery
The Flattening Filter Free (FFF) beam is a breakthrough in radiotherapy. With 4D imaging, it gives greater precision and safety. It reduces treatment time to up to 3 minutes for 1-3 days (as compared to conventional 3-4 weeks of radiotherapy).
Why choose Yashoda Hospitals?
Our team of leading oncologists is equipped with advanced technology and provides the best treatment for breast cancer in India.
Expertise in Healthcare: With three decades of experience in serving patients, we are equipped with advanced technology to perform a variety of procedures. The combined expertise of our doctors ensures the provision of quality healthcare that addresses every patient's needs.
Holistic personalized care: Each patient's condition is evaluated by a team of oncologists, who interact with the patient personally. The treatment is decided on a case-to-case basis and handled by a multidisciplinary team, assuring the holistic recovery of the patient.
Latest technology: Our multispecialty hospitals house state-of-the-art technology under a single roof. We ensure complete recovery of the patient by providing world-class healthcare, which is proven to be the best.
Advanced care: Equipped with the latest technology, we provide accurate diagnosis and treatment. Our multidisciplinary team of doctors has proven expertise in minimally invasive procedures that help patients to quickly return to normal life.