Institute of Minimally Invasive Thoracic Surgery
Experience of over 600 VATS Procedures
Thoracic surgery treats non-cardiac conditions present in the chest. The abnormalities could be in the lungs, esophagus, ribs, etc. Thoracic surgeons at Yashoda Hospitals offer innovative surgical interventions for conditions related to:
Lungs
Trachea (windpipe)
Ribs
Diaphragm
Esophagus (food pipe)
Mediastinum
Pleura (chest cavity)
Chest wall
Thoracic surgery procedures
Conventionally, thoracic surgery treatment was done through open-chest surgery. A single incision of 20-25 cm on the side of the chest would allow the surgeon to access various organs and operate. It increases the time of recovery and can cause complications, including the loss of shoulder function.
At Yashoda Hospitals, the Institute of Minimally Invasive and Robotic Thoracic Surgery aims to provide the most beneficial outcomes for the patient through minimally invasive thoracic procedures. These are:
Video-assisted thoracic surgery (VATS):
VATS keyhole procedure involves making around 3 small keyhole incisions (around 5-10 mm) on the side of the chest. The surgeon inserts an HD camera that offers 2.5X magnification. With the projected image on a monitor, specialized instruments are used to operate on the targeted area.
Benefits of VATS:
Minimal pain
Low risk of wound infection
Preserved lung and shoulder function
(Minimal) cosmetic scars
Reduced hospital stay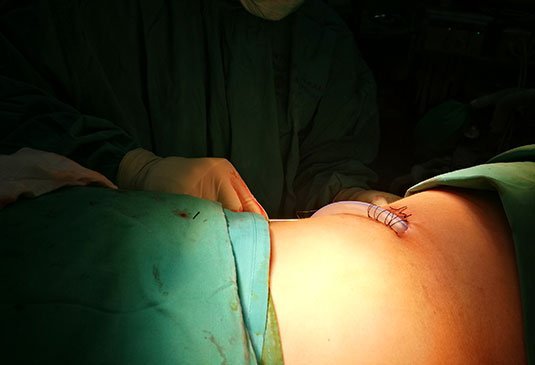 Robotic thoracic surgery (RTS):
The use of robots has revolutionized thoracic surgery. The 'endowrist' present in robotic instruments has much greater flexibility than the human wrist, which allows it to perform complex surgical procedures in areas that may be difficult to reach. Robotic lung surgery, including robotic lobectomy, robotic thymectomy, robotic mediastinal tumor excision, etc. can be performed.
Benefits of robotic thoracic surgery:
3D camera with 10X magnification
8 mm incisions
Minimized pain
Low risk of wound infection
Preservation of lung and shoulder function
(Minimal) cosmetic scars
Shorter hospital stay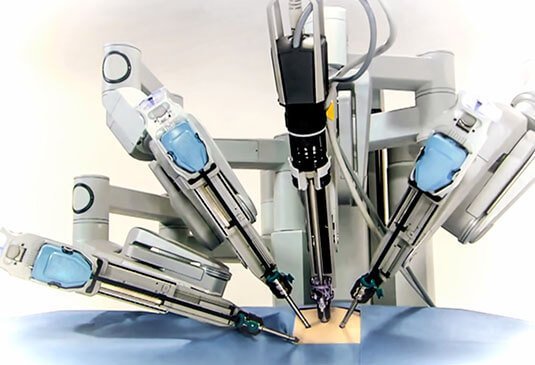 Conditions we treat
At Yashoda Hospitals, specialists in VATS keyhole procedure and robotic thoracic surgery have extensive experience in treating a wide range of thoracic conditions. These include:
Lung cancer: People who smoke or are exposed to toxic fumes have the greatest risk of lung cancer, though it may occur in others as well. At Yashoda Hospitals, a multidisciplinary team of thoracic surgeons, radiation oncologists, medical oncologists, pulmonologists, physical therapists, etc. provide holistic care to the patient. Minimally invasive techniques and lung-conserving surgeries are preferred.
Benign tumors of the lung: Benign tumors such as hamartoma and papilloma are caused due to rapid cell division that leads to an abnormal build-up of tissue. They are not cancerous or life-threatening and may grow slowly or even shrink. Minimally invasive surgical removal may be required if the patient experiences trouble breathing or if tests indicate the presence of cancer.
Palmoplantar Hyperhidrosis: It causes increased sweating in the palms (of the hands) and soles (of the feet). Thoracic sympathectomy is the most effective treatment for hyperhidrosis, especially, if it does not respond to other medical treatments.
Disorders of the thymus gland

Thymoma: It originates in the epithelial cells of the thymus gland and is generally slow-growing. It can be surgically removed once detected.
Thymic hyperplasia: This is the enlargement of the thymus gland, which may be related to myasthenia gravis, an autoimmune disorder.

Chest Trauma and complications

Hemothorax: The accumulation of blood between the lungs and the chest wall. It may be caused due to chest trauma or injury. Keyhole surgery is used for surgical drainage.
Pneumothorax: If air leaks into the space between the lungs and the chest wall, it may cause the lung to collapse. It may require minimally invasive surgery to resolve complications and prevent further collapse of the lung.
Flail chest: A portion of the rib cage breaks and detaches from the chest wall due to injury to the chest. Depending on the severity, varying levels of medical support or treatment approach may be required.
Some other diseases that are treated are infections of the lung such as tuberculosis, aspergilloma, and hydatidosis; mediastinal tumors such as schwannoma, teratoma, and cystic tumors; bullous disease of the lung, emphysema, refractory ventricular arrhythmias, tracheal stenosis, etc.
Why choose Yashoda Hospitals?
Yashoda Hospitals has been the trusted healthcare partner of numerous Indians and people from abroad for 30 years now. As pioneers in the field of thoracic surgery, our doctors have vast experience in treating numerous conditions of the lung, chest wall, esophagus, etc. We perform advanced minimally invasive procedures to maximize the functional outcome for our patients and rank among one of the best thoracic surgery hospitals in India.
Expertise in healthcare: Our clinical excellence and provision of world-class facilities have allowed us to build a 30-year legacy of serving the people with diverse medical needs.
Multidisciplinary treatment: To ensure a well-rounded and successful treatment, a multidisciplinary team of thoracic surgeons, pulmonologists, and other required specialists evaluate and treat each patient.
Latest technology: All our units are equipped with modern infrastructure that provides patients access to the latest procedures that will prove beneficial for their health.
Holistic care: Personalized treatment that accounts for the individual needs of each patient enables the best functional outcome for the patient along with quick recovery.