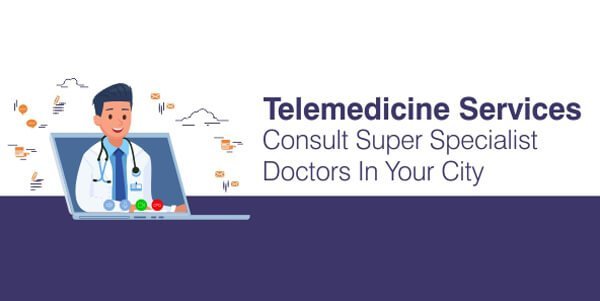 Are you looking to speak to a doctor in your city? With Telemedicine consultations, now you can remotely connect from our Telemedicine centre locations and talk to super specialist Doctors and Surgeons at Yashoda Hospitals Hyderabad.
Diagnosing a disease or an ailment can be a complicated process and may not end with just the initial diagnosis, it may require follow up consultations also. From the first to the second or third opinion, it is important for a patient to protect themselves from probable misdiagnosis. Telemedicine offers the opportunity to have more options and multiple opinions. From the initial diagnosis to the second (or third) opinion, a patient can make an informed decision to get appropriate treatment for a particular medical condition. With Telemedicine consultations, one can consult top super specialists at Yashoda Hospitals to confirm the diagnosis and the treatment journey.
Our expertise
With over 3 decades of experience with clinical excellence and cutting-edge technologies Yashoda Hospitals has had successful patient outcomes. With the unique combination of state-of-the-art technology, intuitive care and clinical excellence, we are one of the healthcare pioneers in India. Our evidence based healthcare services are a result of the trust that millions of patients across 40 countries place up on us.
Ease of access: Experienced, senior doctors and specialized surgeons on-board.
Minimal waiting time: Reduced waiting time for booked appointments.
Lesser cost: Only consultation charges applicable
Confidential and secure: Your personal records and medical information is secure with us.
Privacy: Video consultations are conducted such that allow the privacy that clinic visits have.
Single-point connect with Yashoda Hospitals
Arthroscopy Sports Medicine
Bariatric Surgery
Bone Marrow Transplant
Cardiology
Cardio Thoracic Surgery
Dermatology
Endocrinolog
Ent
Gastroenterology
General Medicine
Gynaecology
Hematology
Kidney Transplant
Liver Transplant
Nephrology
Neurology
Neuro Surgery
Oncology
Orthopaedics
Paediatric Surgery
Pain Management
Pediatrics
Plastic Surgery
Psychiatry
Pulmonology
Rheumatology
Spine Surgery
Urology
Vascular Surgery
Yashoda Hospitals Telemedicine Centres
Yashoda Hospitals Medical Information Centre
Guwahati
2nd Floor, Anil Plaza 2, ABC,
GS Road, Near Rajiv Bhawan,
GMC Ward Number 44,
Ganeshguri, Guwahati, Assam – 781005
9108032915
Yashoda Hospitals Information Centre
Siliguri
53, ground floor,
Near saint Teresa statue,
Meghnath Saha sarani road
Pradhan nagar,
Siliguri, West Bengal – 734003
9108032912