First in India: Yashoda Hospitals Hyderabad Launches Cone Beam CT Guided Lung Biopsy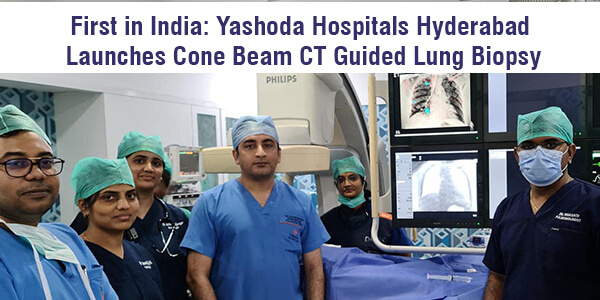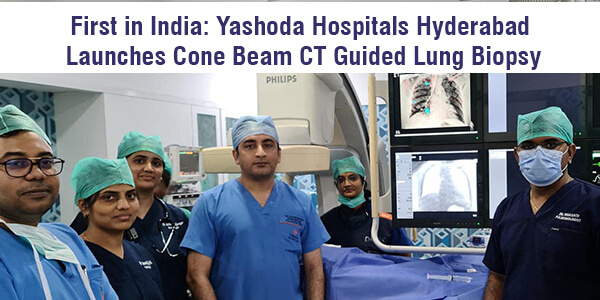 Division of Interventional Pulmonology of Yashoda Hospitals, Hyderabad becomes the first in the country to perform Cone Beam CT Guided Lung biopsy – The Gold Standard for Diagnosing Lung nodules. 
This state-of-art technology will help pulmonologists to diagnose Lung Cancer in the very early stages, helping the patient get an early surgical resection. One of the prominent causes of Cancer death worldwide is Lung cancer. As per the survey, more than 60% of lung cancer patients are diagnosed at the last stage, reducing their odds of survival. 
To overcome this and aid in early detection, senior interventional Pulmonologist Dr. Hari Kishan Gonuguntla and Team at Yashoda Hospitals introduced this technology and performed the 1st case in the country. 
Doctors used the newly developed Lung Suite by Philips, which is a revolutionary real-time 3D imaging platform that addresses the need for earlier precision diagnosis and minimally-invasive treatment with an all-in-one platform that enables doctors to perform a biopsy, ablation, marking of lesions, and/or thoracic surgery procedures in the same room, allowing patients to be both diagnosed and treated. Its ability to locate and characterize small-sized lesions could significantly enhance future lung cancer care. 
Speaking about the technology, Dr. Hari Kishan Gonuguntla, Consultant Interventional Pulmonologist, Yashoda Hospitals Hyderabad said,  "Cone Beam CT guided lung biopsies can detect early lung cancers making patients potential candidates for surgical resection thus improving the overall survival. The Philips lung suite also helps in the ablation of small lung cancer nodules making diagnosis and treatment possible in a single setting. CBCT is the gold standard for augmented fluoroscopy and tool confirmation during biopsies. This is the first time the procedure was done in India, helping a 30-year-old patient from Malta save her lung from surgical resection, as the biopsy reports showed the nodule was not malignant." 
Dr. Hari Kishan Gonuguntla expressed his gratitude to Dr. Pavan Gorukanti, Director, Yashoda Hospitals, and Dr. Vijay Kumar, Unit Head Yashoda Hospitals for their continued support and efforts to make this milestone achievement.