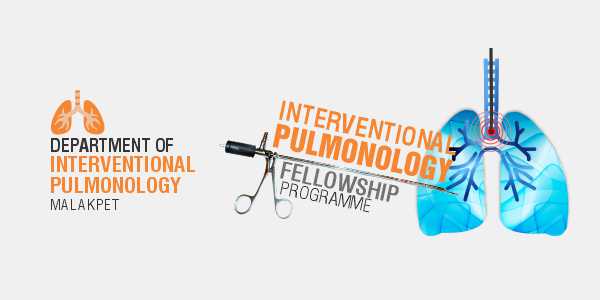 About the Department
The department of Interventional Pulmonology at Yashoda hospitals, Malakpet, Hyderabad is a high volume centre performing more than 1200 interventional pulmonology procedures every year. The bronchoscopy suite of the department is one of the most advanced in the country. Equipments available include adult and pediatric flexible bronchoscopes, linear and radial endobronchial ultrasound, flexirigid and minirigid thoracoscopes, adult and pediatric rigid bronchoscopes, electrocautery accessories, argon plasma coagulation, cryoprobes, bronchial thermoplasty, virtual bronchoscopic navigation and bronchoscopic thermal vapor ablation.
The department was the first to introduce bronchoscopic cryotherapy in the state and use the cryoprobes for performing diagnostic (trans bronchial cryo lung biopsies) and therapeutic indications. This was also the first department to launch bronchial thermoplasty and Virtual bronchoscopic navigation in the state. Advanced procedures like tracheobronchial stenting, balloon bronchoplasties, tumor removals and bronchial thermoplasty are performed regularly.
Dr. Viswesvaran. B
MD, DNB, DM (Pulmonary & Critical Care)
Fellowship in Interventional Pulmonology & Sleep Medicine,
Lead Consultant – Interventional Pulmonology &Sleep Medicine,
Yashoda Hospitals, Malakpet, Hyderabad
Dr. Ugandhar Bhattu. C
MD (Pulmonary Medicine)
Sr. Consultant Pulmonologist
Yashoda Hospitals, Malakpet
Dr. Ravikanth
MD (Radiology), FRCR
Consultant Radiologist
Yashoda Hospitals, Malakpet
BASIC Interventional Pulmonology Fellowship
Eligibility Criteria:
Duration of the Course: 6 Months
Intake: 2 candidates every six months
Doctors who have the following degrees may apply for IP Fellowship programme:
DM Pulmonary Medicine
MD Respiratory Medicine
DNB Respiratory Medicine
DTCD
Preference will be given to students who have clinical / IP experience after their medical training
Objectives Of The Ip Fellowship Programme:
By the end of the IP fellowship programme, the candidate shall be able to confidently perform
Basic bronchoscopic evaluation and diagnostic procedures
Endo bronchial ultrasound guided procedures
Medical diagnostic thoracoscopy
During the six month training period, each fellow shall have hands on experience of the following (at least):
Fifty basic bronchoscopic procedures
Twenty linear EBUS guided TBNA procedures
Twenty medical thoracoscopic pleural procedures
Depending on the proficiency of the candidate he / she shall also be trained on Rigid Bronchoscopy, Therapeutic Thoracoscopy, Cryotherapy and Bronchial Thermoplasty. During the course, It is also mandatory for the IP fellows to conduct and publish an observational/interventional study on any topic of his/her interest. The candidate shall also be required to perform out patient / in patient clinical work (as required). This will aim at improving their clinical skills.
At the end of the course candidate shall receive a completion certificate from the department of interventional pulmonology , yashoda hospitals, somajiguda.
How to Apply:
The application form can be filled online with the below link www.yashodahospitals.com/interventional-pulmonology-fellowship/
Deadline for submission of application form January 30, 2022
The application form shall be reviewed by the course coordinators and the decision shall be informed by January 30, 2022.
Course shall begin from February 15, 2022.
For any queries, contact: Dr. Visweswaran B – 987 114 7787
Email: drviswes89@gmail.com