What is Heart Valve Replacement?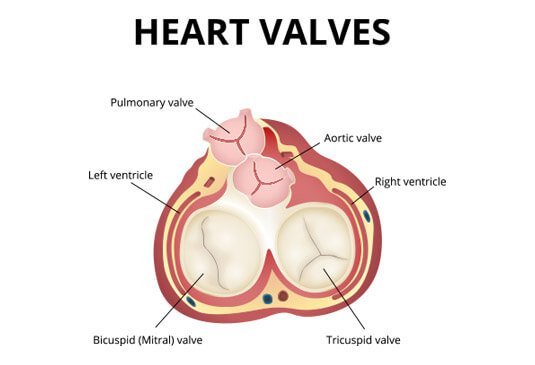 Heart Valve Replacement surgery is a medical procedure that is performed to replace the damaged valve(s) in the heart due to heart valve disease.
The heart is a blood passage pump made up of muscle tissue. Which contains four chambers two atria and two ventricles. To regulate the blood flow between these chambers heart has four valves. The job of these four valves is to make sure the hearts blood flow in the right direction. If any of the valve(s) are damaged or diseased, it obstructs or affects the blood flow in the heart in two ways.
Leaky Valve – If the valves don't close appropriately then it will affect the blood flow, which means it will enable blood flow to leak backward. This condition is named as leaky valve or regurgitation or valve incompetence.
Valve Stenosis – In the second case if the valves don't open completely, it will obstruct the blood flow. Which is known as valve stenosis or valve narrowing.
People who have heart valve disease will definitely need treatment, based on the patient severity doctor advises to have surgery. This will greatly improve the quality of healthy life.
How much does TAVR or heart valve replacement surgery cost in India?
The average cost of TAVR or heart valve replacement surgery in India is approximately Rs. 3,00,000 to 5,00,000. However, the prices may vary depending upon the hospitals in different cities.
What is the average cost of TAVR or heart valve replacement surgery in Hyderabad?
The cost of TAVR or heart valve replacement surgery in Hyderabad depends upon multiple factors and ranges from Rs. 2,40,000 to 5,00,000.(excluding implant cost)
Why Heart Valve Replacement surgery is done?
Doctor monitor patient's symptoms and health condition, depending upon the valve problem surgeon suggest heart valve surgery. If the diseased heart valve is completely damaged then it is replaced with a new valve.
In heart valve replacement surgery the damaged valve is replaced with mechanical valve(s) or biological valve(s).
Different surgical procedures are followed by surgeons for this heart valve replacement procedure. Which includes open heart surgery, minimally invasive heart surgery, Transcatheter aortic valve implantation (TAVI). The surgical procedure completely depends on patients age, health severity, valve condition, etc.
For example, TAVI the minimal invasive heart valve replacement procedure is performed in adults whose condition is not enough to have open heart surgery.
Which type of valves are used in heart valve replacement surgery?
Heart valve replacement surgery mostly required for aortic valve replacement or mitral valve replacement. In some cases patients need more than one valve replaced or repaired. When it comes to valve replacement two types of heart valves are used by surgeons.
Mechanical valves are typically made with some materials, like, plastic, carbon, or metal. Mechanical valves are solid, and they keep going quite a long while. Usually, blood tends to stick in mechanical valves and forms blood clots. Therefore, patients should take blood-dilution medicines (anticoagulants) for their remaining life.
Biological or Tissue Valves are produced by using animal tissue (xenograft) or taken from the donated heart human tissue (allograft or homograft). In some cases, a patient's own tissue is also used for valve replacement surgery (autograft). These valves are not as strong as mechanical valves, patients need not take blood-dilution medications. These valves should be replaced for every ten years or whenever required.
Different types of heart valve replacement surgical procedures are available
Open heart surgery
Minimally Invasive Aortic Heart Valve Replacement (MIAVR)
Doctor decides which type of valves are the best suited for patient's heart.