Dr. Rajeev Kamble
Consultant Interventional & Neuroradiologist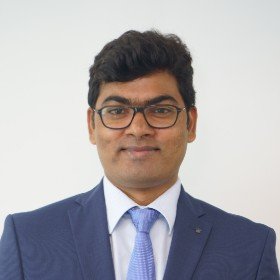 Dr. Rajeev Kamble
Department:
Interventional Radiology
Designation:
Consultant Interventional & Neuroradiologist
Education Qualifications
DM (Neuroradiology): PGIMER, Chandigarh, 2014 - 2018
MD (Radio Diagnosis): PGIMER, Chandigarh, 2011 - 2014
MBBS: Al-Ameen Medical College, Bijapur, Karnataka, 2004 - 2009

Experience
Senior resident: Department of Radio-Diagnosis PGIMER Chandigarh, 2014 - 2018
Junior resident: Department of Radio-Diagnosis PGIMER Chandigarh, 2011 - 2014

Special Interest and Expertise
MRI: (1.5 and 3 Tesla) Brain, Spine, Neck, Brachial plexus, MR Angiography, MR venography, Diffusion, Perfusion, Magnetization transfer, Spectroscopy, fMRI.
MDCT: HRCT temporal bone, CT angiography, CT Head and Neck, CT perfusion, and CT Bronchoscopy.
USG: Neck, Small parts, Ocular USG and Carotid doppler
Vascular Intervention: Diagnostic Cerebral and peripheral angiography, Coill embolization of visceral pseudoaneurysm, coil embolization of head and neck aneurysms(in relation to ECA), TACE, peripheral revascularization procedures including stenting. Intracranial aneurysm coiling, Mechanical thrombectomy for AIS, AVM/AVF embolization, spinal vascular malformation embolization, Head and neck venolymphatic malformation percutaneous sclerotheraphy etc.
Non Vascular Intervention: Pigtail drainage of liver abscess and any collections, Percutaneous Nephrostomy(PCN),PercutaneousTranshepatic Biliary Drainage(PTBD) and Biliary stenting, USG/CT guided FNACs and Biopsy.

Research & Publications
Liver Acoustic Radiation Force Impulse(ARFI) in Childhood Obesity: Comparison with biochemical changes: Published(J Ultrasound. 2016 Dec 28;20(1):33-42. doi: 10.1007/s40477-016-0229-y. eCollection 2017 Mar)
Split and splayed C3'-Traumatic lateral C2-C3 dislocation without neurological deficits: Unique case and its management: Published(Eur Spine J. 2017 May;26(Suppl 1):213-217. doi: 10.1007/s00586-017-5039-1. Epub 2017 Mar 21)
Case of atlantoaxial dislocation with assilimilated C1, absent posterior C2, butterfly C3 and fused subaxial cervical spine: Management dilemma with multiple segmentation and formation defects: Published(J Pediatr Neurosci. 2017 Jan-Mar;12(1):72-74. doi: 10.4103/jpn.JPN_154_16)
Endovascular Stroke Treatment: Is its everybodies cup of tea? : Published(Ann Indian Acad Neurol. 2017 Apr-Jun;20(2):157-158. doi: 10.4103/0972-2327.205781)
Middle Menigeal Arteriovenous Fistula Causing Unilateral Proptosis: Published(Neurol India. 2018 Jan-Feb;66(1):260-262. doi: 10.4103/0028-3886.222864)
Bilateral intra-orbital masses in a child: Published(Cytopathology. 2018 Aug 12. doi: 10.1111/cyt.12622
Interesting case: Telescopic flow diverter placement for Giant Fusiform ICA aneurysm: 1st Neurovascular Intervention Concept Elucidate(NICE conference)- Organized by Medanta Hospital neurointervention team(2016)
Interesting case: Management of Iatrogenic Dissection of ICA during Guider Placement: 6th ANVI(February 2018) Organized by Artimis Hospital Gurugram, Haryana
To compare and correlate gray scale ultrasound, ARFI elastography and biochemical findings in evaluation of hepatic changes in overweight and obese children
To study the factors predicting aneurysm recanalization following endovascular treatment presented in 56th ASNR annual meeting held at Vancouver on 2-7th June 2018
Book Doctor Appointment
Choose the mode of consultation