Dr. Hari Kishan Boorugu
Consultant Physician & Diabetologist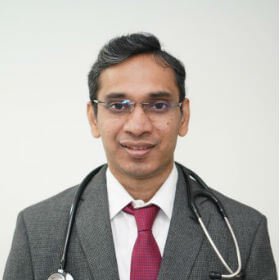 Dr. Hari Kishan Boorugu
Department:
General Medicine
Designation:
Consultant Physician & Diabetologist
Languages:
English, Hindi, Telugu and Tamil
Education Qualifications
Post Graduation in Internal Medicine, Christian Medical College (CMC), Vellore. Mar 2003 - Feb 2006
M.B.B.S, CMC, Vellore. July 1995 - Dec 1999

Experience
Consultant Physician, Apollo Hospital - Hyderguda, Hyderabad
Consultant Physician, Mediciti Hospital, Hyderabad, April 2009 to April 2011
Consultant Physician, Fernandez Hospital , Hyderabad, April 2009 to April 2011
Assistant Professor, Department of Internal Medicine, CMC, Vellore, Mar 2006 to Mar 2009

Special Interest and Expertise
Patient care especially infectious diseases, HIV and obstetric medicine.

Research & Publications
Harikishan Boorugu, K Prasad Mathews, Anugrah Chrispal, Thomas V Paul. Liddle's Syndrome Presenting with Periodic Paralysis. J Assoc Physicians India. 2009 May;57:481
Sara Chandy, Kumiko Yoshimatsu, Hari Kishan Boorugu, Anugrah Chrispal, Kurien Thomas, Abraham Peedicayil, Priya Abraham , Jiro Arikawa, Gopalan Sridharan. Acute Febrile Illness caused by Hantavirus: Serological and Molecular evidence from India. Trans R Soc Trop Med Hyg. 2009 Apr;103(4):407-12. Epub 2009 Feb 23
Chrispal A, Prabhakar T, Booruga HK. A bizarre appearance of a common disease - Tuberculous Dactylitis involving multiple digits in an adult. Tropical Doctor. 2009 Jan;39(1):51-2
HK Boorugu, A Chrispal. Calcinosis Cutis. J Assoc Physicians India. 2008 Nov;56:869
Chrispal A, Sathyendra S, Elsa Mary T, Boorugu H, Mathew KP. Multifocal Idiopathic Fibrosclerosis Mimicking Tuberculosis of the Abdomen. J Assoc Physicians India. 2008 Nov;57:72-75.
Hari Kishan. Expert comments from CMC faculty on Eicosapentaenoic acid (EPA) for hypercholesterolemia. Current Medical Issues. 2008 April;10(2):23
Hari Kishan. Expert comments from CMC faculty on Probiotics and Prebiotics. Current Medical Issues. 2008 Oct;10(5):04
Paul N, Kannagai R, Robert K, Harikishan B, Rupali P, Abraham OC. A HIPS- mimic. J Intern Med. 2005 Dec;258(6):579-80
Immunization Survey Group. Awareness, utilization and cost of newer childhood vaccines in a lower middle and middle class urban population of Vellore Town, South India. Immunization Survey Group. Indian Pediatr. 1999 Sep;36(9):954-5
S Chandy, H Boorugu, A Chrispal, K Thomas, P Abraham, G Sridharan. Hanta Virus infection: A case report from India. Indian J Med Microbiol. 2009:27(3):267-70
Hari Kishan Boorugu, Anugrah Chrispal, Elsa Mary Thomas. Tuberculous osteomyelitis of sternum presenting as pulsatile swelling. Indian J Tuberc 2009; 56: 154-156
Kishan H. Chlorine dioxide induced Acute Hemolysis. J Med Toxicol. 2009 Sep;5(3):177
Chrispal A, Boorugu H, Prabhakar AT, Moses V. Amikacin-induced type 5 Bartter-like syndrome with severe hypocalcemia. J Postgrad Med. 2009 Jul- Sep;55(3):208-10
Anugrah Chrispal, Hari Kishan Boorugu. Benign masticatory muscle hypertrophy. J Assoc Physicians India. 2009 Nov;57:764
Chrispal Anugrah, Hari Kishan Boorugu, Alice M. A rare cause of pericardial Effusion – Cryptooccal pericardial effusion in HIV. The Alumni Journal of Christian Medical College Vellore. Dec 2009:60-61
Chrispal Anugrah, Hari Kishan Boorugu. Paraneoplastic dermatomyositis following remission in a patient with Non Hodgkins Lymphoma. The Alumni Journal of Christian Medical College Vellore. Dec 2009:26-28
Anugrah Chrispal, Appaswamy Thirumal Prabhakar , HariKishan Boorugu, Elsa Mary Thomas. Peduncular Hallucinosis in Top of the Basilar syndrome, an Unusual complication following coronary angiography. Natl Med J India.2009 Sep-Oct:22(5):240-41
Anugrah Chrispal, Zoa Vasuki, Harikishan Boorugu. Mixed connective disease and Castleman's disease, A rare association. Accepted for publication in JAPI
Anugrah Chrispal, Hari Kishan Boorugu, Kango Gopal Gopinath etal. Scrub Typhus: an unrecognized threat in South India. Clinical profile and Predictor Of mortality. Trop Doct. 2010 Jul;40(3):129-33. Epub 2010 Apr 1
Chrispal A, Boorugu H, Gopinath KG, Chandy S, Prakash JA, Thomas EM etal. Acute undifferentiated febrile illness in adult hospitalized patients: the disease spectrum and diagnostic predictors - an experience from a tertiary care hospital in South India. Trop Doct. 2010 Oct;40(4):230-4. Epub 2010 Sep 24.
Gopal GK, Anugrah C, Boorugu H. Scrub typhus associated macrophage activation syndrome. Trop Doct. 2010 Oct;40(4):249-50. Epub 2010 Jul 28
Basu G, Chrispal A, Boorugu H, Gopinath KG, Chandy S, Prakash JA etal. Acute kidney injury in tropical acute febrile illness in a tertiary care centre RIFLE criteria validation. Nephrol Dial Transplant. 2010 Aug 11
Harikishan Boorugu, Dinaker M, Nina Dutta Roy, John A Jude. Reporting a case of Scrub Typhus from Andhra Pradesh. J Assoc Physicians India. 2010 Aug;58:519
Boorugu H, Chrispal A, Gopinath KG, Chandy S, Prakash JJ, Abraham AM, Abraham OC, Thomas K. Central nervous system involvement in scrub typhus. Trop Doct. 2014 Jan;44(1):36-7
Pankaj Jariwala, Harikishan Boorugu, Gopal Chevuru etal. Guillain–Barré syndrome after acute myocardial infarction: A rare presentation. Apollo Medical Journal. June 2014 Volume 11, Issue 2, Pages 110–114

Awards and Achievements
Panelist - Liver diseases in pregnancy, RCOG International conference, March 2014, Hyderabad
October 2010: Participated as speaker in National level conference in Hyderabad - " Medical emergencies in pregnancy", topic: 'H1N1 infection in pregnancy'
Best case report for the year 2008, "JAPI. Chrispal A, Sathyendra S, Elsa Mary T, Boorugu H, Mathew KP. Multifocal Idiopathic Fibrosclerosis Mimicking Tuberculosis of the Abdomen. J Assoc Physicians India. 2008 Nov;57:72-75"
Senatus award for best publication (co-author) of the year, 2010 at CMC, Vellore.
Guest speaker in Annual conference orgnaised by Society of Hematology and Transfusion medicine -"Physicians' perspective on automated cell counter" - July, 2011

Videos
Dr. Hari Kishan Consultant Physician & Diabetologist Speaking About Coronavirus and precutions
Dr. Hari Kishan Consultant Physician & Diabetologist Speaking About Viral Fever
Dr. Hari Kishan Consultant Physician & Diabetologist Speaking About Flu & Vaccines
Dr. Hari Kishan Consultant Physician & Diabetologist Speaking About Symptoms of Dengue
Dr. Hari Kishan Consultant Physician & Diabetologist Speaking About Diabetes -Insulin
Dr. Hari Kishan Consultant Physician & Diabetologist Speaking About Pre -Diabetes
Dr. Hari Kishan Consultant Physician & Diabetologist Speaking About Insomia -Diabetes
Dr. Hari Kishan Consultant Physician & Diabetologist Speaking About Post Pregnancy - Thyroid
Book Doctor Appointment
Choose the mode of consultation