Home
>>
Deep Brain Stimulation (DBS) Cost
Deep Brain Stimulation Cost in Hyderabad
We have one of the best team of neurosurgeons and neuro specialists in Hyderabad, who are highly specialized in treating for the DBS and Parkinson's.
What is deep brain stimulation?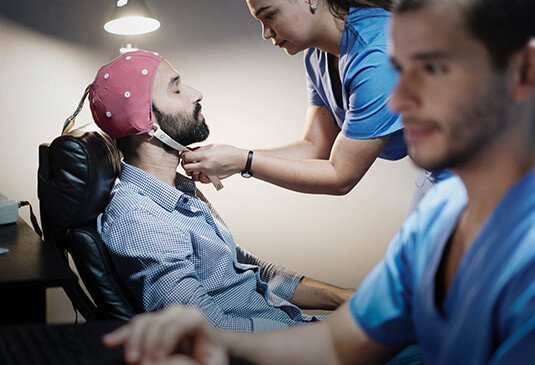 Deep brain stimulation is a surgical procedure to treat neurological conditions. It involves placing a pacemaker under chest skin, below the collarbone, which sends electronic impulses to a part of the brain that controls movements.
DBS is generally an option when traditional medications or therapy are not effective to treat neurological disorders. It helps patients to reduce medication and return to normal life.
What is deep brain stimulation procedure?
It is typically used for conditions like Parkinson's disease, dystonia, tremors, etc that are resistant to other forms of treatment. The procedure involves two parts:
Placement of electrodes at the targeted brain area(s): The surgeon needs to locate the areas of the brain which need to be targeted. This is done through an MRI/CT scan or electrode recording technique. Electrodes are placed in the target area, with the loose ends placed under the skin of the head. This procedure is done under general anesthesia.
Placement of pacemaker in the chest: Under general anesthesia, a pacemaker is placed just below the collarbone under the skin of the chest. It is connected to the electrodes using extension wires.

Signals are generated from the pacemakers and sent to the brain, which block the impulses that cause tremors in various parts of the body. 
The patient is expected to stay in the hospital for 1-2 days after the surgery. Recovery time is quick, though there might be disorientation or itchiness near the stitches initially.
What is deep brain stimulation cost in Yashoda Hospitals?
Yashoda Hospitals is a regional pioneer in treating neurological conditions. It has leading doctors in the field who are equipped with excellent infrastructure to treat patients. Yet, the procedure is offered at an economical rate, comparable to the cost of deep brain stimulation surgery in India. It offers specialized treatment for every patient's needs. Due to highly personalized treatment, DBS surgery cost may vary for patients. The average cost will be 12,00,000 – 16,00,000 INR. 
Yashoda Hospitals is a leading multispecialty hospital and pioneers in neurosciences in the Telugu states. We have a team of leading neurologists and neurosurgeons from across the nation, who have expertise in delivering comprehensive and skillful care to the patients. We team this up with state-of-the-art technology, ensuring that our patients receive excellence in healthcare. We are at the forefront of neurological healthcare with several milestones to our credit.