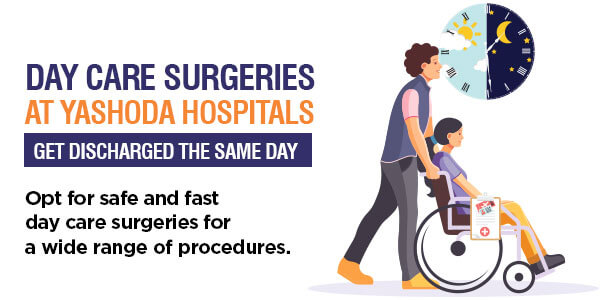 About Day Care Procedures
For many minor procedures or treatments, patients can avoid overnight hospitalisation. At Yashoda we provide day care services for all kinds of surgeries, chemotherapy, endoscopy, preventive health programs and even certain types of outpatient antibiotic therapy. Our dedicated surgical daycare suite allows patients quick and efficient single point admission, treatment and discharge.
Daycare or Ambulatory care is a personal health care consultation, treatment or intervention using advanced medical technology or procedures delivered where the patient's stay at the hospital or clinic, from the time of registration to discharge, occurs on a single calendar day. Many medical investigations and treatments for acute illness and preventive health care can be performed on an ambulatory basis, including minor surgical and medical procedures, most types of dental services, dermatology services, and many types of diagnostic procedures (e.g. blood tests, X-rays, endoscopy and biopsy procedures of superficial organs). Other types of ambulatory care services include emergency visits and rehabilitation visits.
ENT
FESS Functional Endoscopic Sinus Surgery
Foreign Body Removal-ear/nose
Antral Wash
Antral Puncture
Adenotonsillectomy
Tonsillectomy
Adenoidectomy
Nasal Polypectomy
Excision of nose granuloma
Myringotomy with Grommet
Myringotomy
Myringoplasty
Aural Polypectomy
Chemical Cauterization Ear /Nose/Throat
Endoscopic antrostomy
Removal of Cyst & Benign Tumour of Palate
Cystolithotripsy (CLT)
Ear Lobule Repair
Endoscopic DCR
Ethmoidectomy
Excision of Branchial Cyst and Sinus
Excision of Thyroglossal Cyst or Sinus
Bronchoscopy with Foreign Body removal
Closed Reduction of Facial Bones
Facial Nerve Decompression/Repair
Intraoral Removal of Submandibular Duct Calculus
Laryngofissure
Lateral Rhinotomy
Lymph Node Biopsy
Marsupialization of Ranula
Mastoidectomy
Mastoidectomy Cavity Obliteration
Modified Radical Mastoidectomy
Radical Mastoidectomy
Ossiculoplasty / Other operation on the auditory ossicles
Fenestration of the inner ear
Revision of a fenestration of the inner ear
Varicose vein stripping or ligation
Pre-auricular Sinus Excision
Uvulo-palato Pharyngoplasty
Uvulectomy
Tympanomastoidectomy
Removal of Tumor of external Auditory Canal
Tympanoplasty I,II,III,IV,V
Tympanoplasty with Ossicular Chain Reconstruction
Removal of a tympanic drain
Stapedotomy
Stapedectomy
Revision of a stapedectomy
Styloidectomy
Submandibular Gland Excision
Endoscopic Turbinectomy/Turbinoplasty
Quinsy drainage
Tracheostomy
Direct Laryngoscopy with or w/o biopsy
Excision of Vocal Cord Polyp
Nasal Endoscopy with Biopsy
Nasopharyngoscopy with Biopsy
Reduction of Fracture Nose
Retropharyngeal Abscess Aspiration
Infected Sebaceous Cyst Neck Excision
Septoplasty
Septoplasty with FESS
ORTHOPAEDICS
Bankart Repair
Shoulder Arthroscopy
Total Hip Replacement
Knee Arthroscopy
Rotator cuff repair
Total Knee Replacement
Arthroscopic meniscectomy
Arthroscopic sad +ac joint excision
Meniscal repair and Menisectomy
ACL and PCL reconstruction
Amputation – digit of hand/ foot
Arthroscopic debridement
Arthroscopic meniscal excision/repair / removal of loose body
Arthroscopic slap repair
Biopsy/ lavage / arthrotomy – hip/shoulder
ORIF of Capitellar,trochlea -elbow /scaphoid
Debridement wound with secondary closure
Dislocation open reduction-elbow /shoulder
De quervains release
Dwyer osteotomy (calcaneum)
Excision distal radius/ulna
Excision lateral end-ac joint(acromioclavicular joint)
ORIF of acromioclavicular joint
Arthroscopic sad +ac joint excision
Excision of bursa
External fixation-humerus / forearm
Fasciotomy-Upper/lower limb
Ganglion-foot/Wrist
Implant removal-kwire,rods,plates,metalic wires,etc
K wire fixation in closed fracture-foot,Hand,Digits
Mallet finger repair/fixation
MTP joint arthrodesis
ORIF-distal radius/ forearm
ORIF-humerus tuberosity-excision
ORIF-lateral malleolus / medial malleolous
ORIF-distal radius
ORIF-single bone-forearm
Shoulder arthroscopy stabilization
TA release
Closed reduction on fracture, luxation or epiphyseolysis with osteosynthesis
Incision on bone, septic and aseptic
Suture and other operations on tendons and tendon sheath
Reduction of dislocation under GA
Surgery of ligament tear
Surgery for hemoarthrosis/pyoarthrosis
Removal of fracture pins/nails
Excision of Bursirtis
GEN SURGERY/ SURG GASTRO
Sphincterotomy for fissure in ano
Repair of fissure in ano
Haemorrhoidectomy
Stapled haemorrhoidectomy
Hemorrhoids – sclerotherapy/banding
Herniotomy
Fistula in ano
Fistulectomy
Incision of a pilonidal sinus
Incisional hernia repair(with or without mesh)
Inguinal hernia repair with mesh
Umbilical hernia repair
Ischiorectal abscess
Laparoscopic appendectomy
Laparoscopic cholecystectomy
Laparoscopic inguinal hernia repair
Incision and excision of tissue in the perianal region
Surgical treatment of anal fistulas
Surgical treatment of hemorrhoids
Other operations on the anus
Therapeutic Laparoscopy with laser
Cholecystectomy and Choledocho- jejunostomy/Duodenostomy/Gastrostomy/Exploration Common Bile Duct
Appendicectomy with/without Drainage
GYNAEC/SURG ONCOLOGY
Breast Lump excision
Lumpectomy
Breast abscess
Chemoport Insertion
GEN SURG / UROLOGY
operations on the foreskin
Local excision and destruction of diseased tissue of the penis
Amputation of the penis
Plastic reconstruction of the penis
Other operations on the penis
GEN SURGERY/ SURGICAL ONCOLOGY
Thyroidectomy
Hemithyroidectomy
Excision of thyroglossal cyst
UROLOGY
Lap varicocelectomy
Varicocelectomy
Varicocele: Laparoscopic varicocele ligation/ high ligation/ inguinal or subinguinal ligation
Hydrocele surgery
Radical prostatovesiculectomy
Rectopexy (SA)
Laser Prostatectomy
Transurethral resection of the prostate (TURP)
Laparoscopic Nephrectomy
Percutaneous nephrolithotomy (PCNL)
Laparoscopic Radical Prostatectomy
Pyeloplasty
Epididymectomy/ spermatocelectomy
Cystoscopic removal of foreign bodies/stones
Cystoscopic clot evacuation
Epididmal cyst excision
Testicular biopsy
Ureteric meatotomy
Orchidectomy
Orchidopexy
Endoscopic removal of stone in bladder
uprapubic Cystolithotomy
Endoscopic teflon injection
Lithotripsy -ESWL ,PCNL
Urethrostomy
Cystoscopic stent removal
Hydroceletomy
suprapubic cystostomy
Cystoscopy with bladder biopsy
CAPD catheter removal
D/J stenting
D/J stent removal bilateral
Meatoplasty
Reduction of paraphimosis
Transrectal prostate biopsy
Turbt(small bladder tumor resection)
Ureteric basketting
Ureteric dilatation
Ureterocele repair
Transurethral excision and destruction of prostate tissue
Excision of renal cyst
Drainage of pyonephrosis/Perinephric Abscess
Incision of the prostate
Transurethral and percutaneous destruction of prostate tissue
Open surgical excision and destruction of prostate tissue
Operations on the seminal vesicles
Other excision and destruction of prostate tissue
Other operations on the scrotum and tunica vaginalis testis
Other operations o the prostate
Incision of the scrotum and tunica vaginalis testis
Excision and destruction of diseased scrotal tissue
Incision and excision of periprostatic tissue
Incision of the testes
Excision and destruction of diseased tissue of the testes
Surgical repositioning of an abdominal testis
Reconstruction of the testis
Implantation, exchange and removal of a testicular prosthesis
Other operations on the testis
Surgical treatment of a varicocele and a hydrocele of the spermatic cord
Catheterisation of Bladder
PLASTIC SURGERY
Gynaecomastia-unilateral-breast
Free skin transplantation, donor site
Free skin transplantation, recipient site
Incision of the hard and soft palate
Excision and destruction of diseased hard and soft palate
Incision, excision and destruction in the mouth
Plastic surgery to the floor of the mouth
Palatoplasty
Revision of skin plasty
Other restoration and reconstruction of the skin and subcutaneous tissues
Destruction of diseased tissue in the skin and subcutaneous tissues
GEN SURGERY/SURG ONCO/ ENT
Superficial parotidectomy
Endoscopic Drainage of Pseudopancreatic cyst
GYNAEC
Operations on the nipple
Laparoscopic ovarian cystectomy
Laparoscopically assisted vaginal hysterectomy (LAVH
Laparoscopic Hysterectomy
Bartholin cyst excision
Hysteroscopic polypectomy
Laparoscopic aspiration of cyst
Biopsy of cervix/Vulval & Vaginal
Hysteroscopy & D&C – Except for Infertility
Cryocautery of cervix
Hysteroscopy /D&C for DUB,Endometriosis ,menorhagia – Not for Contraception or Infertility etiology
Fractional Curettage for Uterine bleeding except for Infertility
Myomectomy
Lap ovarian hystectomy
Cervical /Uterine Polypectomy
Laparoscopic ablation of endometriotic spots
Laparoscopic adhesiolysis
Drainage of vulval haemotoma/Abscess
Laparoscopic surgery for Endometriosis
MRI-HIFU – Non-Surgical treatment of Uterine Fibroids
Incision of the ovary
Insufflations of the Fallopian tubes
Other operations on the Fallopian tube
Dilatation of the cervical canal
Conisation of the uterine cervix
Therapeutic curettage with Colposcopy/Biopsy/Diathermy/Cryosurgery
Laser Theraphy of Cervix for various lesions of Uterus
Other operations on the uterine cervix
Incision of the uterus (hysterectomy)
Local excision and destruction of diseased tissue of the vagina and the pouch of Douglas
Incision of vagina
Incision of Vulva
Culdotomy
Salpingo-Oophorectomy via Laparotomy
OPTHALMOLOGY
Blepharoplasty
Cataract surgery
Chalazion excision
Conjunctival mass excision/repair/suturing
Ectropion /Entropion correction
Debulking
Electroepilation
Endoscopic curettage
Epicanthal fold correction
Excision / Incisional biopsy
Exenteration of Orbit
Exploration of orbit
Flap division
Frontalis sling
Lateral orbitotomy
Tarsorraphy
Lateral tarsorraphy
Lid reconstruction/repair
LPS resection ptosis
Medial canthal reconstruction
Medial orbitotomy
Mucous membrane graft
Orbital decompression
Orbital fracture repair
Orbitotomy – anterior
Punctal cautery/suturing
Socket reconstruction -Acquired etiology
Removal of a foreign body from the lens of the eye/posterior chamber of the eye/Orbit
Operations for pterygium
Iridotomy
Lamellar Keratoplasty (Deep Anterior Lamellar Keratoplasty and Endothelial Keratoplasty)
Corneal perforation Repairs
Trabeculotomy
Dacryocystorhinostomy
Dacryocystectomy
Corneal Collagen crosslinking for Keratoconus
Intravitreal Injections – CNVM, proliferative diabetic retinopathy, neovascular glaucoma, diabetic macular edema, retinopathy of prematurity and macular edema secondary to retinal vein
Glaucoma Surgery
Surgery for retinal detachment
GEN SURGERY/ PLASTIC SURGERY
Surgical wound toilet (wound debridement) and removal of diseased tissue of the skin and subcutaneous tissues
Incision & drainage of abscess
Excision biopsy of mucous cyst
Excision of Carbuncle
Excision of Infected sebaceous cyst
Trucut needle biopsy
Endoscopic Foreign Body Removal – Trachea /- pharynx- larynx/ bronchus/Oesophagus/stomach /rectum
Other incisions of the skin and subcutaneous tissues
Local excision of diseased tissue of the skin and subcutaneous tissues
Other excisions of the skin and subcutaneous tissues
Simple restoration of surface continuity of the skin and subcutaneous tissues
Reconstruction of Deformity/Defect in Nail Bed
Incision, excision and destruction of diseased tissue of the tongue
Parotid abscess (incision & drainage)
SURG ONCOLOGY
Simple Mastectomy
Breast conservation surgery for cancer
Partial glossectomy
Glossectomy
Reconstruction of the tongue
Other operations on the tongue
LN Biopsy Under GA
Wide excision of Tumours
SURG GASTRO
Percutaneous liver abscess drainage
Feeding Jejunostomy
Feeding Gastrostomy
Abdominal exploration in cryptorchidism
Trans-endoscopic balloon dilatation for Strictures
Percutaneous endoscopic gastrostomy
Gastrostomy
Duodenostomy
Nissen fundoplication for Hiatus Hernia /Gastro esophageal reflux disease
GEN SURGERY
Therapeutic cystoscopy
Scrotal abscess (incision & drainage)
Laparotomy for grading Lymphoma with Splenectomy/Liver/Lymph Node Biopsy
SPINE/ NEUROSURGERY
Percutaneous Endoscopic Lumbar Discectomy (PELD)
Percutaneous Transforaminal Lumbar Interbody fusion
Percutaneous Endoscopic Lumbar Foraminoplasty
Fully Endoscopic Lumbar Foraminoplasty
Fully Endoscopic Lumbar Disectomy
Nucleoplasty
Kyphoplasty
The Centre offers Day Care Surgery providing high quality surgical care to patients without overnight hospitalization. Yashoda Hospitals has been a pioneer in the field of day care surgeries and has helped increase awareness about single day surgeries. In day care or ambulatory surgery a patient does not stay overnight at a healthcare centre, but gets discharged within a few hours of the procedure. As the patient is treated in an outpatient setting, it is also known as outpatient surgery.

Dedicated Day Care Facilities
Fully-equipped operation theatres, latest equipment and trained personnel ensure optimum patient safety and satisfaction. Latest technology, along with excellent post-operative care and effective pain relief enable the patients to recover in just a few hours.

Skilled Team of Physicians
Our Daycare is adequately staffed by well trained doctors, nurses, pharmacists and support staff. Daycare has a dedicated Chemo Admixture Unit to ensure minimum delay in getting mixed chemo drugs by the patients.

Quick Treatment & Fast Recovery
Doctors are available from all specialities to attend to patients. Patients can go home a few hours after their treatment. Patients can recuperate at their home after getting treatment done during the day. The patient can go home the same day.

Expert Care and Advice
Eliminates hospital admission, reduces the total time spent in the hospital and saves cost. Our Day Care centres are designed to help you get back home faster and in the best possible health.
1. What are the most common daycare surgeries?
Mostly, daycare surgeries involve a lot of medical departments. It ranges from Pediatrics to elderly people. Some of them include the general surgery department, ENT, Orthopedics, Gynaecology, Cardiovascular department, Neurology and more. The most common procedures that are done in general surgery include thyroid cysts, benign swellings in the neck, submandibular glands, superficial parotidectomy and others.
If there are small cysts anywhere in the body, they can be removed through daycare surgeries. The daycare surgeries will be involved in any of the aforementioned departments. These kinds of surgeries can be done to people right from the kids to adults.
2. What are the benefits of daycare surgery over traditional surgery?
There are several benefits of daycare surgery over traditional surgery.
In the case of traditional surgery, the patient has to stay in the hospital for a few days or weeks. Moreover, the patient may get infections for remaining in a room for more than a week. The charges for staying in the hospital also increases in traditional surgeries.
Early mobilization i.e., ability to walk around is one of the greater advantages of daycare surgery.
The patient may feel less pain in the location of the surgery as it involves minimally invasive surgical techniques.
The patient can be discharged from the hospital on the same day of the surgery.
3. What is the recovery process after daycare surgery?
After the completion of the surgery, the patient goes through two phases. The first phase is the recovery phase. In this phase, the patient will be stabilized until the vitals are stable. The patient will have less pain, minimal dizziness, less nausea and less vomitings. Such patients can directly go for the second phase of the recovery room.
In the second phase, the patient is absolutely fine and is conscious enough, they can go back home in the evening after the surgery. If the patient takes more time in the first recovery phase, they will remain for some more time in the hospital than usual.
4. What kind of post-operative complications are expected in a daycare surgery?
Usually, the complications are classified into two types i.e., major and minor. But, in the case of daycare surgery, the patient will be evaluated at least a few weeks before the surgery. The surgeons will proceed with the surgery only after ensuring that there are no complications post-surgery.
They make sure that there are no complications in the surgeon's aspect as well as in the anesthetist aspect. There will be minor complaints after a daycare surgery. Mostly, the patient complains of having pain or not passed the urine or stools after the surgery. By informing these problems to the nursing staff or the concerned doctor, they will provide effective treatment immediately.
5. What are the advantages of daycare surgery?
Faster Recovery
Lesser Hospitalization course
Peacefulness to the patient
Not prone to hospital infections i.e., nosocomial infections
6. What are the contraindications for a daycare surgery?
If the patient has uncontrolled hypertension, severe respiratory disorders, smoker, obese is considered the major contraindications for daycare surgery. The surgeons often suggest such patients go for elective surgeries. In any kind of surgery, such patients will be recovered in a better way without confronting any of the complications. Whether it is a traditional or elective or a daycare surgery, proper care should be taken for such patients.