Best Thoracic Surgery Doctors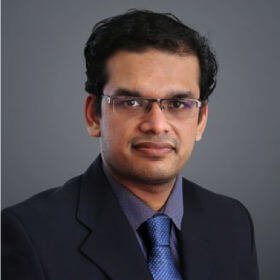 Dr. Balasubramoniam K R
MS (General Surgery), MCh (CTVS)
11 Years Of ExperienceConsultant Minimally Invasive and Robotic Thoracic Surgeon
7 awards
Available on Request
MON - SAT
9am - 04pm
What surgeries does a thoracic surgeon perform?
A thoracic surgeon performs operations on the heart, lungs, and oesophagus which are usually referred to as thoracic surgery. Coronary artery bypass surgery, heart transplantation, lung transplantation, and the removal of cancer-affected lung tissue are all examples of thoracic surgery.
What does a thoracic surgery doctor do?
The operative, perioperative, and surgical critical treatment of patients with acquired and congenital pathologic disorders of the chest is referred to as thoracic surgery. The oesophagus, trachea, pleura, mediastinum, chest wall, diaphragm, pericardium, heart, and lungs are among the organs in the chest that are diseased or damaged by thoracic surgeons. Heart lesions, such as coronary artery disease and valve complications, lung cancer, chest trauma, esophageal cancer, emphysema, and heart and lung transplantation are among the most common diseases requiring thoracic surgery.
Is Thoracic Surgery hard?
Cardiac surgery is a high-pressure, challenging field. It is just as important to have the right attitude and people skills as it is to have the surgeon skills that they've spent years honing. A heart surgeon's career is challenging and complicated, however he or she can save a lot of lives.
What is thoracic disease?
Thoracic disorders affect the heart, lungs, mediastinum, oesophagus, chest wall, diaphragm, and blood vessels. These include:
Achalasia

Barrett's esophagus

Chronic obstructive pulmonary disease (COPD) 

Cystic fibrosis (CF)
How long does thoracic surgery take?
A thoracotomy usually takes 3 to 4 hours, and you will be given medication to help you sleep through it. When the procedure begins, the surgeon will make a 6 inch cut just below the tip of your shoulder blade on either your left or right hand.