Pneumonectomy and foreign body removal through transbronchial ventilation and median sternotomy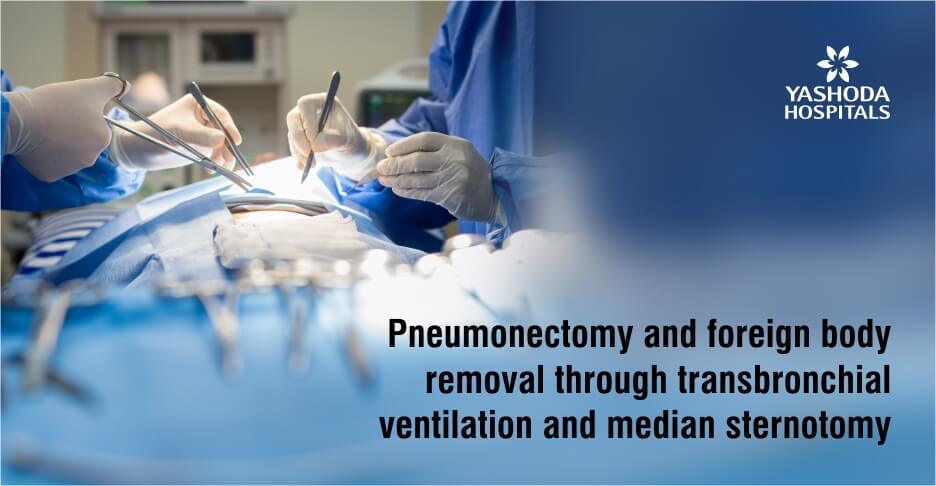 Background
A 6-year-old girl presented to pediatric OPD with a complaint of cough and a high fever of 2 weeks.
Diagnosis & Treatment
A chest X-ray revealed a white left lung field and no air entry on the left side chest. CT scan chest showed collapse consolidation of the left lung with a foreign body (glass piece) in the left paratracheal region, causing transection of left main bronchus. Pneumonectomy and foreign body retrieval, with single lung transbronchial ventilation (right lung), the median sternotomy approach was done. The foreign body (8x15 cm) was retrieved. Left pneumonectomy was done as the left lung was fibrosed. The child recovered well and was discharged from the pediatrics ward.
About Author –
Dr. P. V. Naresh Kumar, Consultant Cardiothoracic & Transplant Surgeon, Yashoda Hospitals - Hyderabad
MS, MCh (Cardiothoracic & Vascular Surgery)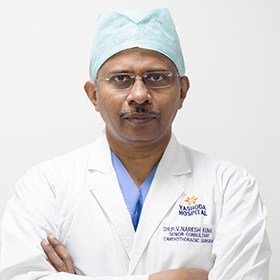 Dr. P. V. Naresh Kumar
MS, MCh (Cardiothoracic & Vascular Surgery)
Consultant Cardiothoracic & Transplant Surgeon