Robotic surgery saves the life of a priest who swallowed a construction pin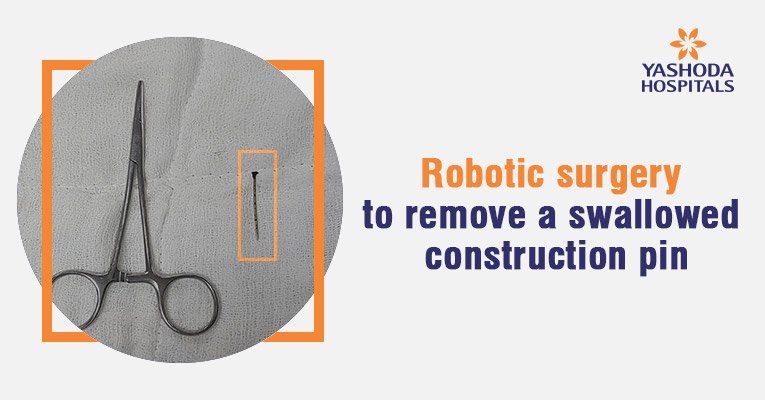 A wedding feast led to several complications for Fr John Thomas who accidentally swallowed a construction pin during the meal. The pin, which had entered the upper part of his right lung, was removed with complex surgical procedures and robotic surgery.
When Fr John Thomas was having his meal at the wedding, little did he know that the sharp object he had swallowed was a pin. He dismissed the pain in his throat and thought it was due to a fish bone. However, eating rice did not reduce pain. After persistence of pain, he sought medical opinion. A few tests and scans found out that he had a pin lodged in the trachea. 
This was a weird case of a construction pin which got stuck in the trachea and slipped downwards into the deeper part of the lung on further manipulation, ending up in one of the small airways in the lower lobe of the right lung. Attempts by the ENT to retrieve the pin only pushed it further down the airway. Due to this, there was a severe risk of infection, further migration, and injury to other vital organs. He was originally treated with bronchoscopy. However, due to the precarious position of the pin, bronchoscopic tools were insufficient. He was referred to the cardiothoracic surgery team.
Surgery was combined with simultaneous bronchoscopy and fluoroscopy to localise the pin and remove it successfully. Dr Balasubramaniam K R, Consultant Minimally invasive and Robotic Thoracic surgeon, led the thoracic team in performing the surgery. He stated, "Locating the pin in the small airways in the deepest part of the lung was a big challenge during surgery."
He led the team in innovating with fluoroscopy and bronchoscopy techniques that helped in successfully performing the robotic surgery. 
The minimally invasive procedure saved Fr John Thomas' life without creating large incisions on his body. He was kept in the ICU under observation for only 2 days. Soon after recovery, he was allowed to go back home and return to a normal life.
Great team work by thoracic surgery, pulmonary medicine and cardiac anesthesia collegues to retrieve the 'Aani' which was served with BiriyAani !!!
About Author –
Dr. Balasubramoniam K R, Consultant Minimally Invasive and Robotic Thoracic Surgeon, Yashoda Hospitals - Hyderabad
MS (General Surgery), MCh (CTVS)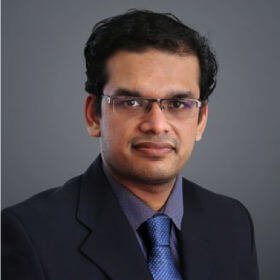 Dr. Balasubramoniam K R
MS (General Surgery), MCh (CTVS)
Consultant Minimally Invasive and Robotic Thoracic Surgeon