Giant Renal Pelvic Calculus Removed Laparoscopically in Toto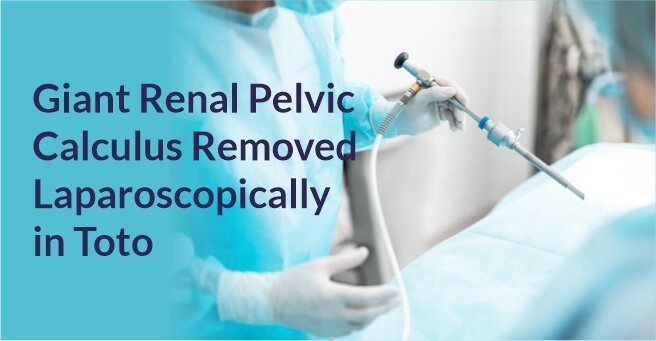 Background
66 years old female patient presented with on and off right loin pain and dysuria since 6 years.
Diagnosis and Treatment
Plain CT, KUB (Kidneys, Ureters, Bladder) revealed 8x6cm calculus with 1250 HU (Hounsfield Units), with well-preserved cortical thickness and few air pockets around the right kidney. Urine analysis revealed loaded pus cells and serum creatinine 1.0mg/dl. Urine culture showed Escherichia Coli and was treated according to the urine culture sensitivity. Intravenous Pyelogram (IVP) revealed large renal pelvic calculus in a malrotated right kidney with significant drainage of contrast at 2 hours.
Right double J stenting was done. Laparoscopic pyelolithotomy was done after 3 weeks and stone was removed in completion. Stone weighed 195 grams and measured 9x7cm. The stone analysis by FTIR (Fourier-Transform Infrared Spectroscopy) showed carbonate apatite stone. Patient recovered well and is on follow up since one year.
Discussion
Giant renal pelvic calculus is a rare entity in modern urology practice. In many cases, kidney will become non-functional at the time of presentation. Long-standing stones may predispose to development of squamous cell malignancy in some cases. As continuous urine is required for the stone to grow in size, it is rare for a renal pelvic calculus to grow more than 100 grams as the kidney will be non-functional by that time.
The above is a case of giant renal pelvic calculus in a well-functioning kidney, removed laparoscopically in toto.
Intra operative picture of calculus
About Author –
Dr. V. Surya Prakash ,Consultant Urologist, Laparoscopic, Robotic & Transplant Surgeon
MS (Gen Surgery), FRCSED, M.Ch(Urology), DNB(Urology), D.Lap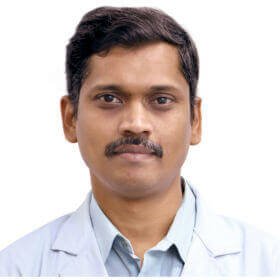 Dr. V. Surya Prakash
MS (Gen Surgery), FRCSED, MCh (Urology), DNB (Urology), Diploma (Laparoscopy)
Consultant Urologist, Laparoscopic, Robotic & Transplant Surgeon