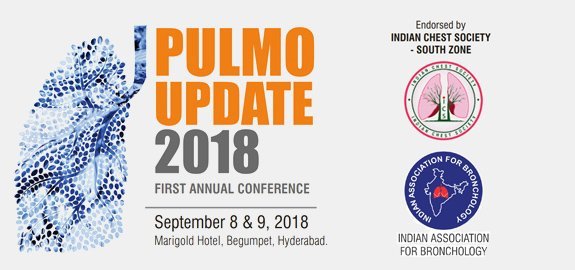 Please read the terms and conditions carefully before registering. By registering, you acknowledge that you have read, understood and agree to the terms and conditions below.
Workshop will be limited strictly to 50 participants only (25 for the basic IP workshop and 25 for the advanced IP workshop). This is to ensure that all the participants would get adequate time during the hands on sessions. Last date for registration for the workshop is 1st September 2018.
The CME programme will be limited to 200 participants. In view of the limited registrations, you are requested to register at the earliest both for the CME and the workshop. No spot registrations will be allowed for the workshop.
Registration fee:
Bronchoscopy & Medical Thoracoscopy Workshop : Rs 5000/-
Advanced Interventional Pulmonology Workshop : Rs 10,000/-
CME Programme on Pulmonology Medicine : No Registration fee
Payment information:
Beneficiary Name : YASHODA SUPER SPECIALITY HOSPITAL
Bank A/c No. : 118002000002727
Name of the Bank : Indian Overseas Bank
Branch : Rajbhavan Road Branch
Address of Bank : 6-3-899/1, RV'S Kamala Castle, Somajiguda, Hyderabad – 500082
IFSC Code : IOBA0001180
After emailing the registration form, call in with the payment information (bank name, transaction ID and date of payment) to Mr. Girish – Ph no: 986 634 9043. After registration and payment information is informed, an email confirming t he registration will be sent after payment verification (please wait for four working days before we can email) – this finishes the registration process.
Contact the following numbers ONLY if you face any issues (9 am to 5 pm)
Dr. Raghavendra A. : 917 716 4711
Any cancellation or replacement has to be conveyed in writing. If the cancellation is made before the closing date, 50% of the fee will be levied as cancellation charges. There will be no refund if cancellation is made thereafter.
The organizer reserves the right to cancel the workshop and fully refund the participants should unforeseen circumstances necessitate it.
Decision of the organizing committee is final.