Dr. Venkata Ramakrishna T
Consultant spine surgeon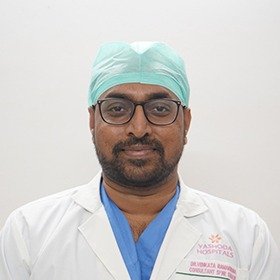 Dr. Venkata Ramakrishna T
Department:
Spine Surgery
Designation:
Consultant spine surgeon
Languages:
English, Telugu, Hindi, Tamil, Kanada
Education Qualifications
MBBS: N.T.R University of Health Sciences, Vijayawada
M.S.( Orthopedics): Vinayaka Mission University, AVMC (2011-2014)
International - Fellowship in Spinal Deformity - Hokkaido University - Sapporo, Japan
National - Fellowship in spine surgery - Sakra World Hospital (AO spine centre), Bangalore, Karnataka

Experience
Worked in department of spine surgery in Sakra World Hospital as a fellow in spine surgery from June 2016 to June 2018
Worked as a fellow in spine surgery in Hokkaido medical centre, Sapporo, Japan. (March 2018 – May 2018)
Worked in Institute of Spine, Apollo BGS hospital, Mysore from June 2014 to May 2016.

Services offered
Minimally invasive spine surgery
Vertebroplasty, kyphoplasty
Spinal tumors & infections
Congenital & degenerative conditions
CVJ anamolies
ACDF & posterior cervical procedures
Spinal deformity or Kyphoscoliosis corrections
Spinal stabilization procedures

Special Interest and Expertise
Minimally invasive spinal procedures and microsurgeries.
Navigation and electrophysiology assisted complex spine surgeries,
Spinal stabilization
Deformity/ scoliosis correction
Cervical anterior and posterior procedures
CVJ anomalies
Spinal infections & tumours

Professional Membership

Research & Publications
Tukkapuram V, Abumi.K, Ito.M. Historical evolution, biomechanical advantage, clinical applications and safe insertion techniques of cervical pedicle screw fixation with review of literature. SSRR journal – Accepted for publication. Manuscript ID – SSRR – 2018 – 0055 – IRA.R1
Masapu D, Rudrapa S, Tukkapuram V, (2017)Intraoperative increased spinal cord pulsation – A good sign or disaster waiting to happen? Journal of Neurosurgical Anesthesiology. 10.1097/0468
Rudrappa, S., Tukkapuram, V. R., Govindasamy, R., Gopal, S., & Masapu, D. (2018). Partial Sacrectomy for Sacral Chordomas: A Surgical Perspective. The Journal of Spinal Surgery,5(1), 29-35. doi:10.5005/jp-journals-10039-1165
Rudrappa, S., Govindasamy, R., Tukkapuram, V. R., & Gopal, S. (2018). Lumbar pseudomeningocele presenting as decerebrate rigidity—A rare case entity. International Journal of Surgery Case Reports,47, 41-44. doi:10.1016/j.ijscr.2018.04.014
Tukkapuram, V., Rudrappa, S., Shabadi, V., Masapu, D., & Kumar, S. (2018). Sacral Ewings tumor: Use of neoadjuvant chemotherapy for preoperative cytoreduction of the tumor. Neurology India,66(1), 249. doi:10.4103/0028-3886.222848.
Vijaykumar S., Tukkapuram V, (2016) Congenital scoliosis due to hemivertebra: A review of literature and management strategies International Journal of Current Research Vol. 8, Issue, 12, pp.44330-44340.
Alkaptonuric patient presenting with black disc and multiple schmorl's nodes.Article ICJR. DOI: 10.21474/IJAR01/2609.
Posterior Hypoplastic C1 Arch with Neurological Deficits – A Case Report. IJSR. ISSN: 2319-7064.
Tukkapuram V, Rudrappa S, Nikunj G. (2016) reconciling life after spinal cord injury – "role of spinal disability support group", in international journal of current research vol. international journal of current research 8, issue, 12, pp.43019-43020.

Awards and Achievements
Gold medal and University topper in M S Orthopedics

Videos
Acute and Chronic Back Pain Causes | Yashoda Hospitals
Dr. Venkata Ramakrishna, sr. spine surgeon Yashoda Hospitals speaking about back pain
Testimonial for Dr. Venkata Ramakrishna T
I had pain stretching from my back to my right toes, which had gone numb. I...
Book Doctor Appointment
Choose the mode of consultation