Best Heart Valve Repair Surgery Doctors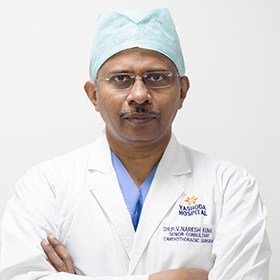 Dr. P. V. Naresh Kumar
MS, MCh (Cardiothoracic & Vascular Surgery)
26 Years Of ExperienceConsultant Cardiothoracic & Transplant Surgeon
Available on Request
MON - SAT
08:30 AM - 10:00 AM & 03:30 PM - 05:00 PM
Locations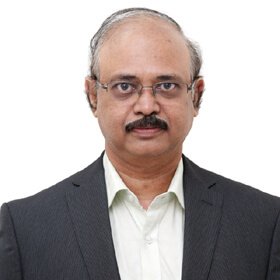 Dr. N Nageswara Rao
M.S, M.Ch. (Cardio - Thoracic & Vascular Surgery) FIACS
24 Years Of ExperienceConsultant Cardiothoracic Surgeon
2 awards
Available on Request
MON - SAT
10:00am - 5:00pm
Locations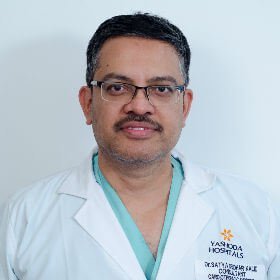 Dr. Kale Satya Sridhar
MBBS, M.S.(General Surgery), M.Ch (Cardiovascular Surgery)
16 Years Of ExperienceConsultant Cardiothoracic Surgeon
Available on Request
MON - SAT
09:00am - 3:00pm
Locations
Is a heart valve replacement major surgery?
Open-heart surgery or heart valve surgery is performed by making the incision through the breastbone into the chest. It is a major procedure that can take up to two hours to complete, and usually, the recovery time may take weeks. Yet, it depends from patient to patient.
What is the surgical repair of a heart valve called?
Transcatheter Aortic Valve Implantation or Replacement (TAVI or TAVR) is a less invasive, catheter-based procedure to replace the failing aortic valve. A transcatheter heart valve is a biological tissue valve made of human, pig or cow heart tissue. It comes in multiple sizes from which the heart team at Yashoda Hospitals determine the best fit for the patient. During the procedure, the cardiologist guides a catheter through the vessel in the leg or chest towards the heart. The replacement valve is inserted along and implanted in place of the failing valve. Cardiologists then remove the catheter and move the patient to recovery.
Open heart surgery is an invasive procedure and is known to have a long recovery time and may be challenging for elderly patients. Besides, patients may have additional comorbidities which increase the risk of death due to the surgical procedure. Transcatheter Aortic Valve Replacement (TAVR) technique is a novel treatment opportunity for individuals, especially the elderly who require a valve replacement but are inoperable or at an intermediate-to-high risk for surgical valve replacement procedure.
In many cases of aortic valve stenosis diagnosed in the elderly, the individual is not operable due to a high risk for complications. The operative risk is assessed using scoring systems – EURO and STS. TAVR is one such procedure that is advised for patients who cannot undergo conventional valve replacement surgery. 
TAVR is a minimally invasive, catheter-based technique during which the surgeon replaces the patient's diseased native valve, delivered via a catheter-mounted prosthetic valve which is commonly inserted through the femoral artery (a large artery in the groin) thus eliminating surgical trauma. This novel, interventional procedure is undertaken in the Cardiac Catheterization Lab (Cath-lab) where coronary angioplasty is regularly performed. Since these procedures are performed through small openings, the recovery is quicker than that from open-heart surgery.
How serious is heart valve surgery?
The following are some of the potential complications of heart valve repair or replacement surgery:
Bleeding before, during, or after surgery

Heart attacks, stroke, and lung complications due to blood clots.

Infection

Pneumonia 

Pancreatitis

Breathing difficulties

Arrhythmias (abnormal heart rhythms)

Improper functioning of the replaced valve

Death which is rare
There can be other possible complications depending on the medical condition of the patient. Before the treatment, make sure to address any questions you have with your healthcare provider.
What are the signs of a bad heart valve?
The following are some physical symptoms of heart valve disease:
Palpitations or chest pain

Shortness of breath

Fatigue

Fainting or lightheadedness

Swelling of ankles, feet and abdomen
The severity of the disease is determined by its symptoms. A valve can be damaged without presenting any symptoms. The problem can be minor in terms of leakage, but it can be troublesome due to the uncomfortable symptoms. It is important to let your doctor know if you have any new or unusual symptoms that may be related to your condition.
What are the disadvantages of heart valve replacement?
Valve replacement surgery, like all major heart procedures, has the potential for complications such as bleeding, infection, heart attack, and stroke. There are also the anticipated benefits of reduced symptoms, increased longevity, and improved quality of life.